The creative folks behind the AXIOM Alpha Project have been working hard on a few independent projects testing the camera in real world environments.
The field test projects for the AXIOM Alpha prototype ranged from urban daylight locations, including horse racing, to night exteriors and studio-based macro shots of insects and birds.
In the pics below, you can see the super complex rigging setup they used on the AXIOM Alpha prototype, which featured a buggy in a 3-axis gyro stabilised flight head on a 400 meter cable.
The massive footage acquired will help the creative team at Apertus to improve on the design of the upcoming Axiom Beta, which will be entering crowd-funding through Kickstarter very soon.
We've learnt a lot about the AXIOM Alpha from these projects, and were able to implement improvements to the camera's internal image processing routines between productions. Alongside problems, we've found other things that worked better than expected.
For those of you unfamiliar with the AXIOM Alpha project, it is a proof-of-concept working prototype of a 4K Super 35mm sized sensor camera, capable of Full HD output via HDMI in up to 12bit colour and up to 60fps. The camera is capable of 4K Raw stills, and the Full HD is down-sampled from a 4K Global Shutter sensor.

We covered the two camera projects in a previous post here on 4KShooters.net.
Although it won't be available for sale, the Axiom Alpha will be the foundation of the upcoming Axiom Beta 4K open-source camera.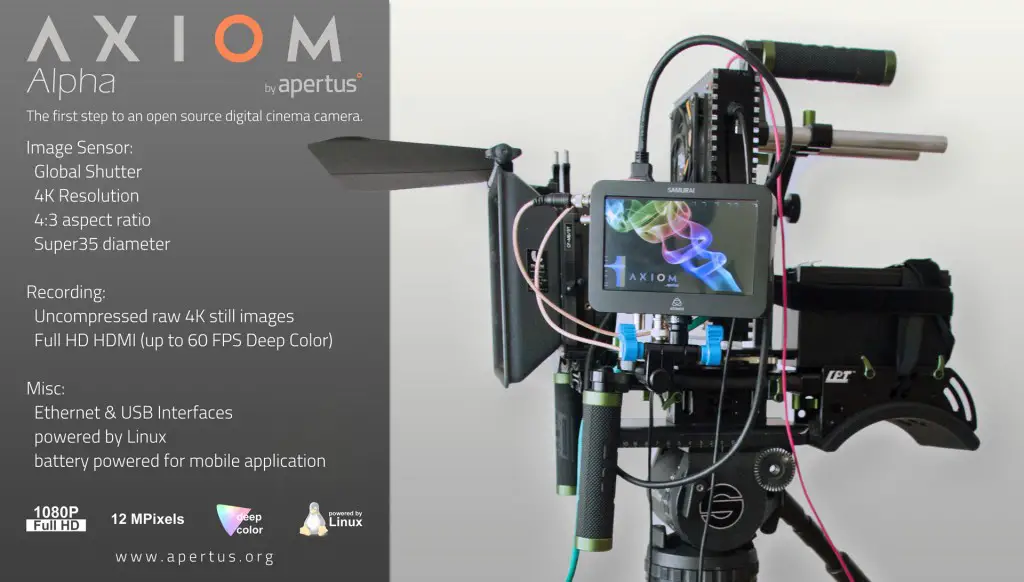 In addition to the AXIOM Alpha prototype, Apertus have been working hard in the past few months on finalising the particulars of the Axiom Beta crowd-funding campaign, which is due to be unveiled soon.
They just released the first illustrated concept images of the PCB Stack concept for the AXIOM Beta, which allows for a much more compact form factor (around 110 x 70 mm for the main body seen from the front) over the bulkier AXIOM Alpha. See image below: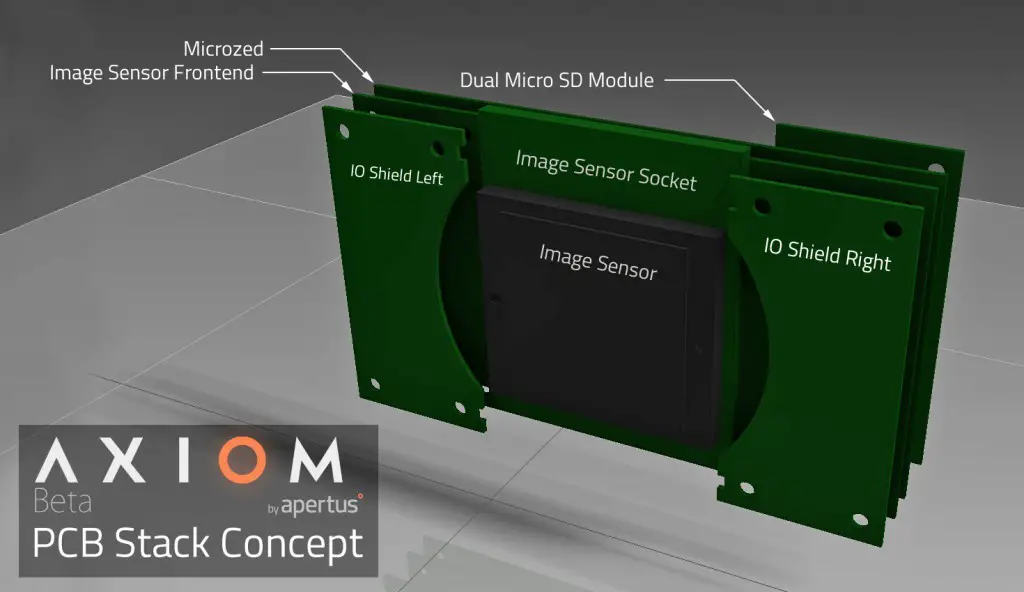 Apertus also report they've made progress with electronic component testing and part evaluation and currently awaiting arrive of new PCB test boards.
In brief here are the proposed current specs of the Axiom Beta 4K Open-Source Camera:
HDMI Full HD (4:4:4) output at up to 60 FPS
4K raw output via experimental HDMI formats
Capture full resolution, full bit depth raw still images to MicroSD card
Remote control of all camera functions from smartphone, tablet, laptop
Power management and monitoring (e.g. voltage, current, temperature)
Highly customizable via modular I/O add-ons (e.g. SDI)
Accelerometer, magnetometer and gyroscope e.g. for image stabilization
Different lens mount options (e.g. Nikon F-mount, EF and M4/3)
Wide input voltage range (5-40V)
Very lightweight and compact ~110x60x50mm
Embedded Linux (e.g. Raspian, ArchLinux)
LUTs, matrix color conversion, FPN compensation, false color display, overlays, dead pixel compensation
Using Microzed board (instead of Zedboard used in AXIOM Alpha)
We'll keep you updated on the details of the crowd-funding campaign, once those are revealed. What do you guys think of the Axiom Alpha & Beta? Is the DIY open-source platform the future of filmmaking in the digital age? Let us know in the comment section below.
[via Apertus.org]
Disclaimer: As an Amazon Associate partner and participant in B&H and Adorama Affiliate programmes, we earn a small comission from each purchase made through the affiliate links listed above at no additional cost to you.
Claim your copy of DAVINCI RESOLVE - SIMPLIFIED COURSE with 50% off! Get Instant Access!