Another pre-IBC announcement, this time it's from the makers of the successful PIX-E Series of 4K recording monitors Video Devices. The company just introduced the PIX-Base – a sturdy, flexible mounting accessory for its popular line of PIX-E Series 4K-compatible recording monitors. The tabletop-friendly PIX-Base is an easily adjustable design of durable, anodized aluminum that collapses flat for convenient storage and transport. PIX-Base offers an alternative to the camera mount setup, opening the door to more versatile use when recording live events. Users who require multiple recorded versions now have a reliable and affordable way to monitor, control, and record live programming from tabletop or wall-mount setups.
The unique ability of the PIX-E Series – PIX-E5, PIX-E5H and PIX-E7 – to simultaneously record H.264 files to an SD card and master-quality 4K ProRes files to the mSATA-based SpeedDrive offers users like those in the rental, staging and install markets an ideal way to streamline their workflow. At the end of a shoot, the user can simply pull the low-cost SD card, without transcoding, and deliver it to a client while retaining a 4K master file for editing and archiving. The compressed file size with H.264 makes uploading online files quick and easy.
It includes a standard 1/4-inch, 20-thread screw with thumbwheel knob to secure any PIX-E monitor or other device, rubber feet to minimize vibrations and prevent sliding, a bubble level, 7-inch hook-and-loop strap to secure cables, and hex key to make angle adjustments on the fly. The accessory's interlocking base allows multiple PIX-Bases to be linked together securely for multiple screen monitoring on more complex shoots.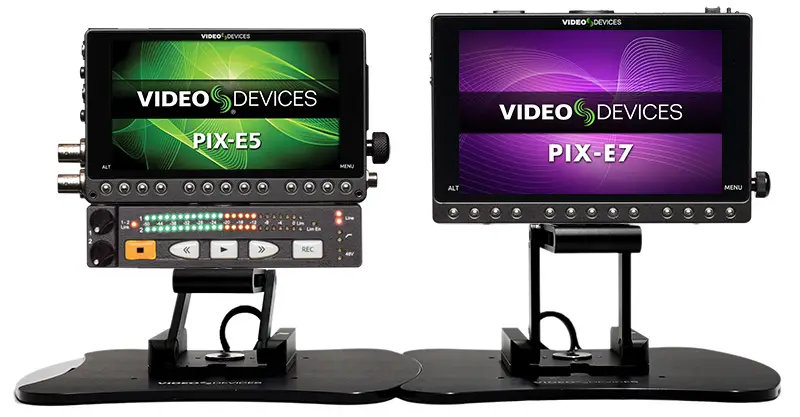 The stand also comes with mounting holes (sized for a #8 ANSI or M4 metric screw) to affix it to a table or wall for longer periods of time. While it pairs perfectly with the PIX-E Series, and can be used both with and without the PIX-LR audio interface, the PIX-Base can attach to any device with a 1/4-inch, 20-thread screw hole, including the PIX 240i video recorder and the Sound Devices MixPre-D, portable 2-channel mixer.
You can take a look at the new PIX-Base at IBC 2016, Stand 8.B59 in Amsterdam.
[source: Video Devices]
Claim your copy of DAVINCI RESOLVE 16 - SIMPLIFIED COURSE with 50% off! Get Instant Access!