At Photokina 2016, Chinese YI Technology announced their first Micro Four Thirds mirrorless camera – the Yi M1, which is features a 20 megapixel Sony sensor, a compact and minimalist design, UHD/30p video, built-in Bluetooth and Wi-Fi all for not a whole lot of money (less than $500 to be exact in the US supposedly). You may remember their sub-$500 drone, and their 4K action camera we covered here, but now the young tech company are entering a pretty busy segment, but one that if they get right, may help them reap the benefits. First off, what is it? The M1 is a compact, interchangeable lens Micro 4/3 mirrorless camera with a Sony-made IMX269 CMOS sensor all wrapped in a compact body (which bears a striking resemblance to that of a Leica T, a twice more expensive camera at $1,000 body only) that weights only 280 grams. Stills and video are recorded on the good old SDHC/SDXC card format.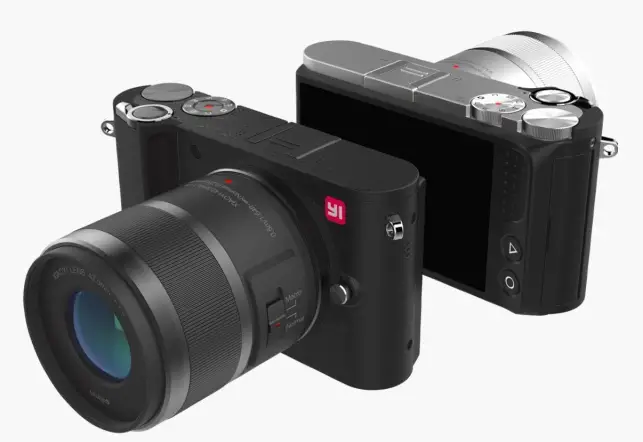 The YI M1 supports UHD (3840 x 2160) up to 30p as well (and interestingly enough) 2K/30p at 2048 x 1536 as well as "vanilla slow-mo" at 1920 x 1080/60p. The Yi M1 also supports ISO up to 25,600 and an intuitive, "smartphone inspired" 3-inch 720 x 480 LCD touch screen; the camera also features two buttons for navigation at the back. There is no built-in Flash or EVF here, though there is a 20 megapixel Raw DNG capture and a 81-point contrast detect AF system that may be enough for more demanding photography enthusiasts, who want to get into Micro 4/3 photography or just pick up a 2nd inexpensive body.
The camera will be accompanied by two lenses upon release – a 12-40mm F3.5-5.6 and a 42.5mm F1.8. Both lenses and the camera will be available in two colour options – Ice Silver and Storm Black.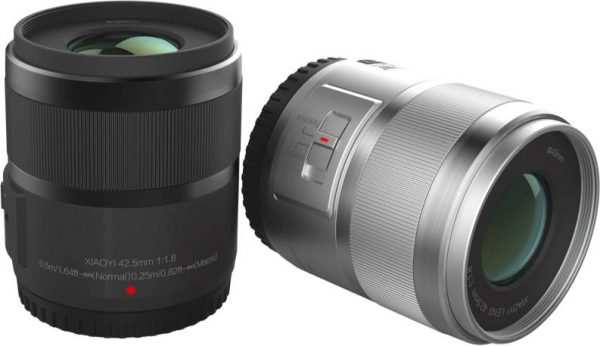 First impressions with English subs (make sure to select from the captions option):
Here is also some footage from the Yi M1, and dare I say – it looks pretty good (yeah, I know the video title says 4K RAW, but it's not Raw, probably what is meant here is that this is footage straight from the camera):
Interestingly enough, I can't find any mention of a 24p/23.98 or 25p frame rate option in the specs except in 1080p and 720p, so for 4K and 2K there is only 30p at the moment – not ideal, but something to keep in mind; hopefully a firmware update in the future will bring 24p in 4K and 2K (if not present already, but omitted from specs).
Also according to the specs posted on DPReview the UHD/4K resolution is oddly listed as 4096 x 2060? Not sure if type-o or something else. Also the codec is based on MPEG-4/H.264 and is in a .MOV wrapper.
More serious video users, however need to know that even though the YI M1 offers UHD and 2K recording in a very compact package, sadly there are no headphone jacks or mic inputs rending more professional audio on this camera a no-go. There is also no "flat" or LOG profile into the M1 at this stage.
The Yi M1 is currently available for sale in China via popular online retailer JD.com as of September 23 for ¥2,199 ($329) in a bundle with the 12-40mm f/3.5-5.6 lens or ¥2,999 (around $449) bundled with the faster 42.5mm f/1.8 lens.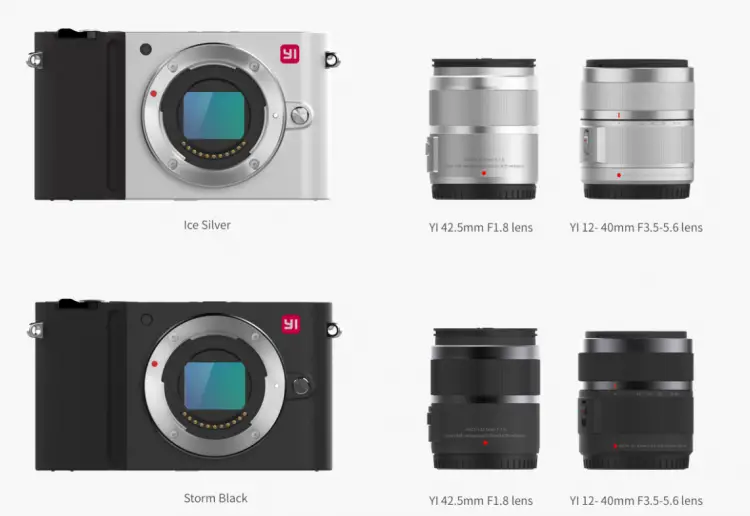 You can find pricing here YI M1 + 12-40mm f/3.5-5.6 , and here YI M1 + 42.5mm f/1.8 lens .
You can pre-order now links below. The Yi M1 is estimated to start shipping October 12th in the US.
PRESS RELEASE
COLOGNE – Photokina 2016– September 20, 2016
YI Technology, a leading, international provider of advanced, intelligent imaging technologies, today introduced the YI M1 Mirrorless Digital Camera, its first professional-grade camera. The YI M1 is a mirrorless, interchangeable lens camera that features Bluetooth connectivity and a simple app interface, offering the power and features of a professional camera with the ease and connectivity of a smartphone. YI will unveil the YI M1 at Photokina 2016, September 20-25 in Cologne, Germany.
"With the launch of the YI M1, we are aiming to re-energize professional quality photography by making it accessible and simple to use for the average person or amateur photographer," said Sean Da, CEO and Co-Founder of YI Technology. "Our mission is to bring top of the line technology to professionals and beginners alike in a simple, easy-to-use form and the YI M1 is no exception."
Stunning Image and Video Quality
The YI M1 offers the ultimate image and video quality capturing 20 megapixel still images and stunning 4K video at 30 frames per second. It features the latest SONY IMX269 Image Sensor, supports ISO up to 25,600, as well as 2000-megapixel and Wide Dynamic Range video. Two lens options include a 12-40mm F3.5-5.6 and 42.5mm F1.8. YI M1 also includes an MFT mount system which is compatible with more than 50 interchangeable lenses.
Simple, User-Friendly Design
Inspired by the ease of a smartphone, the simple yet sophisticated design of YI M1 means photographers of any level, from beginner to professional, can capture and share stunning video and images. It features a 3-inch LCD touch screen, intuitive design and comprehensive controls. The lightweight and compact design means the user can focus more on shooting and less on heavy equipment. With the "Master Guide" feature in the accompanying YI M1 App, users can access photography templates, composition guidelines and step-by-step instructions, to shoot like a professional.
Easy Sharing and Connectivity
Built-in WiFi and Bluetooth offer users a way to seamlessly connect to a smartphone for fast sharing to social networks.
Pricing & Availability
YI M1 Mirrorless Camera will be available soon in two colours, Ice Silver and Storm Black. US and European pricing and availability will be announced soon on YITechnology.com.
To view the YI M1 in person at Photokina 2016 in Cologne, Germany, please visit YI Technology booth A-032, Hall 09.1.
Claim your copy of DAVINCI RESOLVE - SIMPLIFIED COURSE with 50% off! Get Instant Access!