Zacuto's new and update VCT Pro Universal Baseplate, that I had a chance to get a quick peek at IBC 2016, is now available to pre-order with deliveries scheduled to commence October 17th. Zacuto are no stranger to making robust professional accessories and excellent EVFs, so when I learned about their new and upgrade VCT Pro baseplate, I was intrigued. With the new VCT Pro, they've managed to shed some weight – new baseplate weighs only 960 grams. The plate features a new and improved and unique camera sliding plate, which allows for quick adjustments to get the balance right or lens changes. The new VCT Pro baseplate is compatible with just about any pro camera on the market, whether its a Canon EOS C100 mark II, or a C300 Mark II or Mark 1, Sony FS5/FS7, even RED DSMC2 cameras like the Raven and Scarlet-W, as well as the Varicam LT.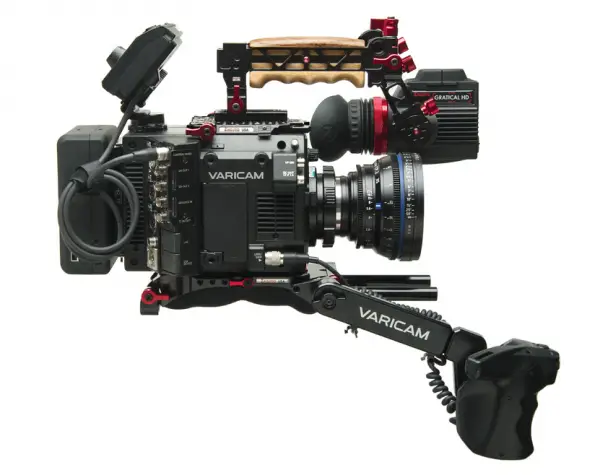 The Zacuto VCT Pro has a comfortable built-in, curved shoulder pad and an ARRI M6 rosette on the side for accessories and mounting hand grips. The VCT Pro baseplate includes a couple of extendable 6.5" rods at the front, and also features lightweight spaced quick-release rod ports at the back. The v-wedge tripod connector is compatible with VCT14 tripod adapter plates or use the 1/4 20 and 3/8 16 screw holes for direct connect to your tripod quick release plate.
The red sliding top plate offers easy adjust-ability for lens changes, removing your camera, and balancing your rig correctly on your shoulder. This sliding plate combined with a double screw track offers 10" of camera balance sliding range.
The lightweight, adjustable rod mount is set far back in the plate, offering plenty of accessory-capable area under the camera lens. This allows you to position your camera further back on the plate, keeping the balance point of your rig directly over your shoulder. The sliding track of the rod riser offers 25mm of vertical adjustment. If you are a RED camera owner, no sweat – an alternative Tall Rod Riser offering up to 45mm of vertical adjustment is also available to accommodate the naturally taller design of the RED Raven/Scarlet/Weapons and Dragon cameras.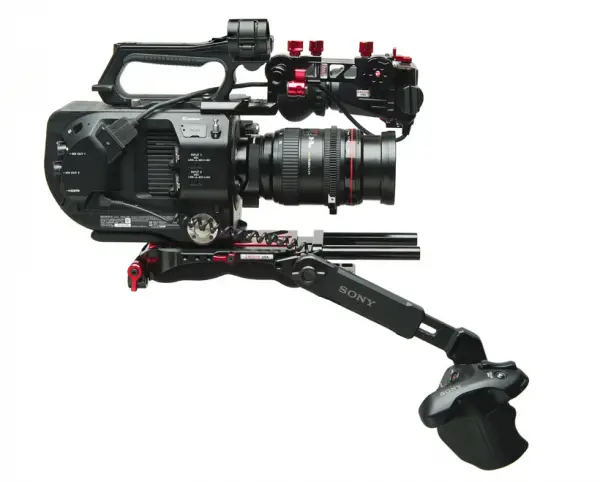 The shoulder pad portion of the VCT Universal is set as far forward on the plate as possible, also to maximize your accessory capable rod area and aid with balance. The VCT Universal Baseplate is also at the heart of the new Zacuto Next Generation Recoil rigs, designed for balance and comfort for every camera.
Keeping the camera low prevents already tall cameras from being too top heavy. With our VCT, the distance from the bottom of your camera to your shoulder is just 3/4 inch.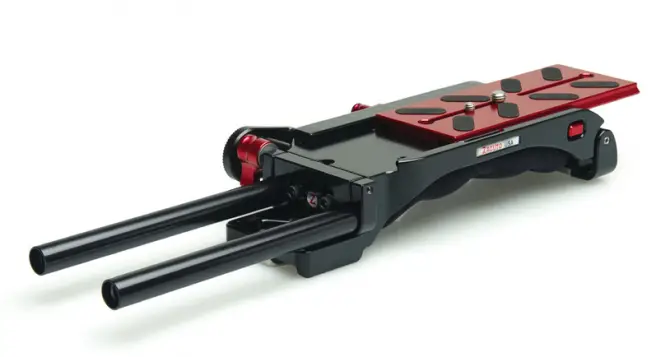 Zacuto VCT Pro Baseplate Specs and Features
14.25" x 4.25" x 2" (LxWxH) with 6.5" rods
Includes 2 x quick releasable 6.5" rods
Weighs 960 grams
1 x Arri M6 rosette on right side of VCT Pro
Two quick-release rod ports in the back
Wide gel-polymer shoulder pad
One ¼ 20 & ⅜ 16 removable screws included
Lightweight adjustable rod mount
Over 10" of camera balance sliding range
Up to 25mm of vertical adjustment
Unique sliding top plate to quickly adjust for lens changes or to release the camera from your rig
Unique design creates more accessory rod capable area
V-wedge style tripod connector or directly mount your tripod plate via ¼ 20 & ⅜ 16 screw holes
¼ 20 screw holes along the side for accessory mounting options
Made in the USA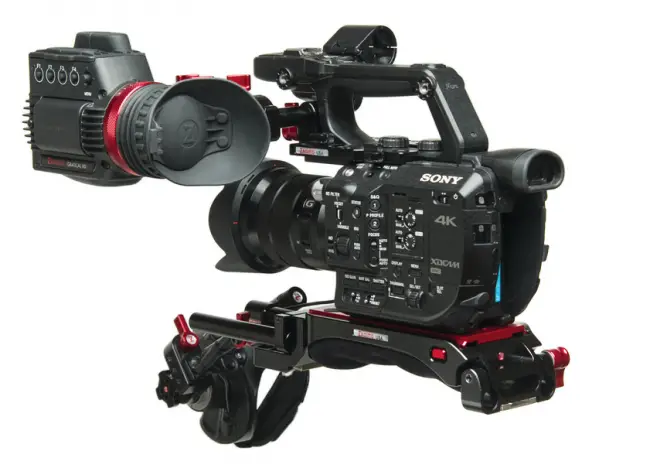 The Zacuto VCT Pro baseplate seems like a really solid piece of kit, that has been carefully engineered and built to last you for a very long time. And you don't have to necessarily go for a Next Gen Recoil rig to take advantage of its versatility – its design naturally lends itself to any DIY rig. As someone who's still rocking a Canon C100 with a Zacuto C100 Z-finder, I'd love to try out the new baseplate someday soon and update my ageing handheld rig.
And from years of "Franken-rigging" I've realised that you have to start with a good, solid base – and built up from it. The new Zacuto VCT Pro seems like the way to go for me if you want a VCT-14 compliant shoulder rig for your cinema style camera.
The Zacuto VCT PRO baseplate is currently available to pre-order directly from Zacuto for $650 and is expected to start shipping October 17th.
Claim your copy of DAVINCI RESOLVE - SIMPLIFIED COURSE with 50% off! Get Instant Access!