Anyone that has ever shot stills or video in a remote location where you don't have easy access to constant power has had to rely on some sort of DIY backup solution, which most of the times entails lugging around a laptop and 2-3 external bus powered drives. But what happens once your laptop battery needs re-charging? Yes, there are some decent power banks out there capable of powering a laptop, but that's yet one more thing to carry and not forget. What if there was once simple device, which can act as both your memory card reader, your backup, and also let you see what you're saving on a small screen? Sure, there are similar devices out there like the Nexto DI NVS2801 Field Backup, but it costs a whopping $855 US for the 1TB HDD version and goes beyond the $1K mark for the SSD versions.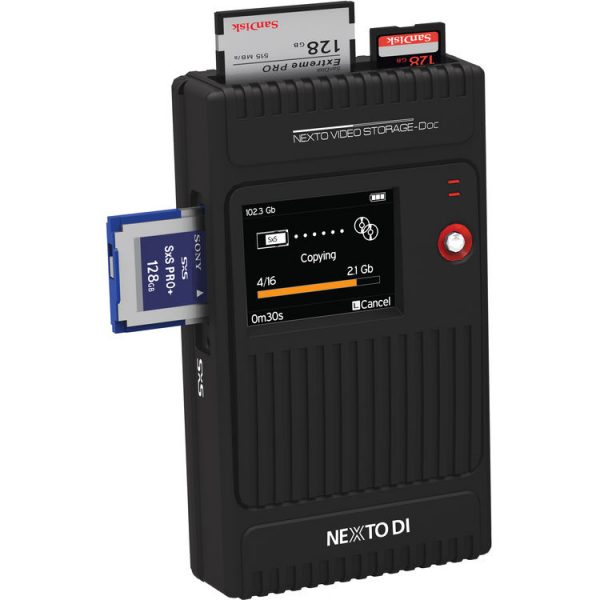 Can't afford it – no stress – the folks at DFI Gear have come up with a more affordable solution called Flash Porter. It's not identical to the NextoDI (which I used just to illustrate the example with a similar product), but the Flash Porter can save you money and from the Kickstarter promo it looks pretty sweet.
What is it? 
The Flash Porter is a compact, portable field backup device, which acts as both a card reader for MicroSD, SD, and Compact Flash cards and also features support for smartphones and tablets (both iOS and Android based), providing instant backup of stills and videos onto its built-in hard drive/SSD.
The built-in screen lets you see what you are copying and organize your backup into folders. According to DFI Gear, the Flash Porter can backup up to 250GB of data on a single battery charge. Sadly, when it comes to backing up video – at this stage 4K video files are not supported, you are limited to Full HD videos.
Flash Porter features a USB 3.0 connection for fast copying, and acts as an external hard drive when connected to a computer. The unit will be available in 500GB, 1TB and 2TB capacities in both HDD and SSD versions. Flash Porter also offers transfer speeds in the range of 35MB/s and various backup options, such as:
Full Backup with defaults – All your files will be backed up to a newly created folder.
Full Backup by selecting target – All your files will be backed up in a specific folder that you choose or create.
Incremental Backup – Backup your files to an existing folder. Duplicate photos will be skipped.
Export – Select one or more files and export to the location you choose.
Copy and Paste – Select one or more files to copy and navigate to the location to paste them.
Each copy is error-checked with confirmation of successful Backup.
Flash Porter Tech Specs
Screen: 3.5″ TFT-LCD
Speaker: 1W mono
Earphone: 3.5″ jack stereo
Battery: 3600mAh Li-Ion rechargeable
Power: 5V/2A DC
Interfaces: SD, microSD, CF, Internal-microSD, USB 3.0 storage device
Computer connection: USB 3.0 Type-C
Drive interface: SATA to HDD/SSD (500GB, 1TB, 2TB)
Image formats: JPG, PNG, TIF, BMP
Video Formats: MOV, MP4 (up to 1920×1080 at 30fps)
Audio formats: MP3, AAC
Copy capacity on full battery: 250GB
Keeping your photos and video organized is imperative, hence why the Flash Porter features Folder View, which allows users to navigate and browse the folder directly structure on the Flash Porter drive or connected memory cards or Smartphones. Users will be able to look through the different folders and see photos and play videos. Basic file management functions are available including: Create Folder, Copy and Paste, Delete, Rename, and Export.
For professional photographers there is even a 1:1 pixel zoom to ensure your shots are in focus. In addition, Flash Porter is able to display the image of the RAW files directly on its screen. All major Raw stills formats are supported including Canon's .CR2, Sony's .ARW, Fujifilm's .RAF, Leica's .DNG and many more big brands including, Olympus, Panasonic and Nikon.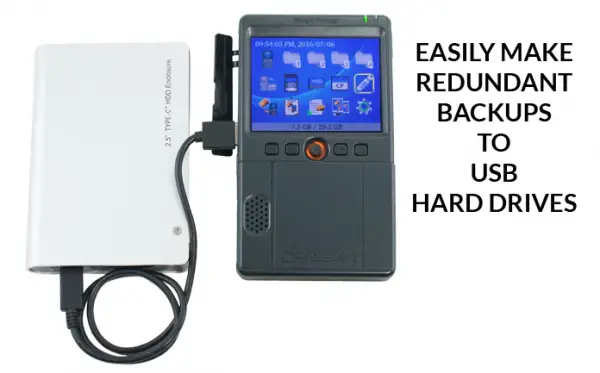 Another really useful feature for video professionals especially is the ability to connect external bus-powered SSDs or hard drives via the USB 3.0 port and backup your backup to an external drive right there in the field without the need for a laptop. This is huge for timelapse shooters and action camera users, who love to abuse their GoPro's while doing crazy stunts and not bothering with carrying around laptops for backup.
The Flash Porter Kickstarter campaign has 9 days left as of the writing of this article, so best to head over to Kickstarter and grab yours at a discounted/early bird price while you can. The super-early bird specials are sold out, but there are's more options to get a good deal (such as save $110 and get a 500GB HDD Flash Porter for $189) and support the product if you think it can benefit your workflow in the field.
[via The Phoblographer]
Claim your copy of DAVINCI RESOLVE - SIMPLIFIED COURSE with 50% off! Get Instant Access!