Genus has got a new aluminium cage for the latest GoPro Hero5 Black that effectively turns it into a production-ready camera. Or at least, it gives you a solid base to start from. Sure, the new GoPro Hero5 Black is even tougher than the predecessor models; it's even waterproof up to 10 meters without an external housing, however when you take a GoPro to a professional multi-cam shoot as a crash-cam or use it to get additional coverage – chances are you'd want to "dress it up" a bit. A "cage" or some sort of metal enclosure gives you more flexibility to add bits and pieces that are necessary to control  your image or easily affix the camera onto other things. Of course, not every GoPro Hero5 user will need one, but for those that do, Genus has you covered. Their new cage for the GoPro Hero5 is the first (to my knowledge) cage designed specifically for the latest GoPro flagship action camera.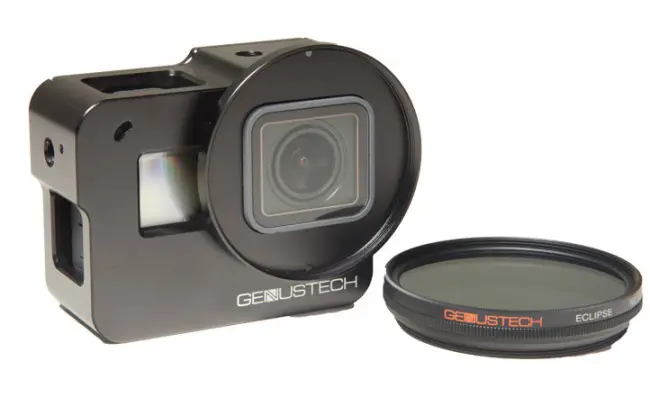 Genustech GoPro Hero5 Black Cage Features & Specs
Lightweight design (99g / 3.5oz without camera) (215g / 7.5oz with camera)
1/4-20: 9 threaded holes
52mm Filter Thread built into the cage, allowing for protective and effects filters, and lens adaptors
Screw-free design on back plate
Precision CNC Aluminium housing for 360 degree protection, featuring back plate with rear mounting option
Accessibility Window to allow for HDMI output and USB external Power
Mounting position for the cage allows the camera lens to be centered optically with a tripod or other camera mount
Size: L 80mm x W 60mm x H 38mm
Made of High Quality Aluminium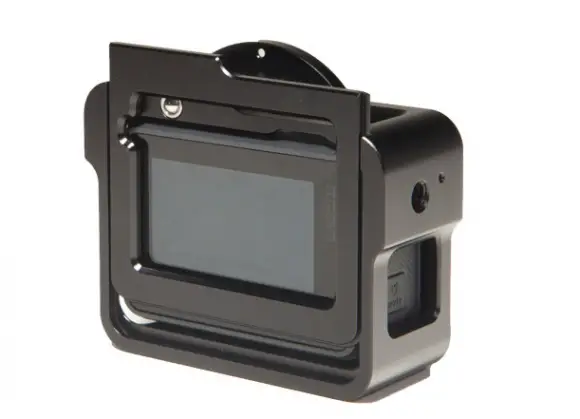 The Genus cage for the GoPro Hero5 gives you access to the back touchscreen on the camera and the HDMI/USB ports. The cage gives you 9 x 1/4 20″ threaded holes for mounting accessories or magic/Noga arms for easier mounting onto rigs or surfaces. The cage also gives you a 52mm filter thread for mounting various filters from ND, polarizers and/or diffusion for example.
Genus also makes a terrific variable ND filter called the Eclipse Fader ND ($64.50 for a 52mm size) which can be used with this cage.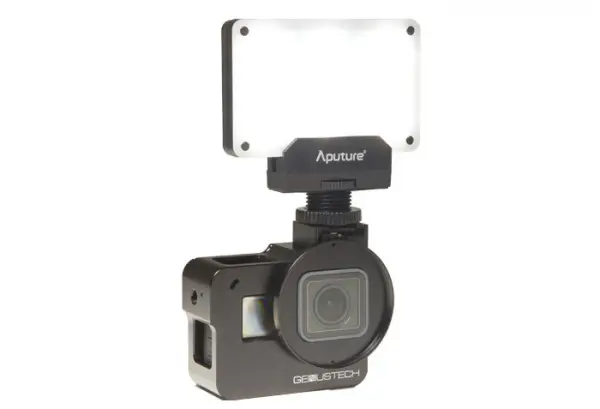 The Genus cage gives you also a hot-shoe mount making it easier to add top lights like the super-affordable Aputure M9 LED (link to Amazon), which is super tiny and almost looks like it was made for the GoPro, or use the hot-shoe as an attachment point for various magic arms and other rigging devices.
Here's what you get when you buy the Genus cage for GoPro Hero5:
GoPro Hero 5 Black Cage Body
Back Plate
GoPro Mount Adaptor
Hot Shoe Mount
52mm Lens Cap
Spare 1/4" Screw
Small Carry Pouch
The Genus cage will also help Vloggers who are using the new GoPro Hero5 Black as their vlogging camera, as now they can use the hot-shoe on the cage to mount a Rode VideoMic Pro and get even better sound. The Genus Cage for GoPro Hero5 Black is very well priced at just $49 and is available to buy directly from Genus.
Claim your copy of DAVINCI RESOLVE - SIMPLIFIED COURSE with 50% off! Get Instant Access!