Blackmagic Camera 4.0 Update is now officially out of beta and released to the masses for download. The latest firmware update is a major revamp of the URSA Mini OS, giving a totally new interface with a ton of new features and functionality. The team at Blackmagic Design have been working hard to get the slick new interface (more like an operating system) finalised after taking user feedback from the beta release of Camera Update 4.0 (and the 2nd beta release), and now URSA Mini owners can enjoy the latest revamped user interface experience.
Blackmagic Camera 4.0 Update is a major overhaul of the URSA Mini 4.6K and 4K models; the firmware adds a new OS, which includes a new user interface with simple tap and swipe gestures for faster access to camera controls and settings, new exposure and focus assist tools, and much more. In addition, this update also provides enhancements to the Blackmagic URSA Viewfinder such as improved colorimetry, sensitivity of the proximity sensor and adds support for the new URSA Mini camera OS metadata settings, new frame guides, safe areas, grids and menu items for configuring overlay settings.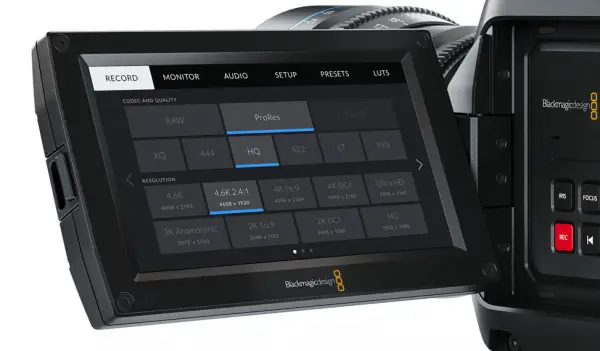 New in Blackmagic Camera 4.0 Update
New Heads-up Display – contains critical information such as the frame rate, iris, timecode, shutter angle, white balance, ISO, audio levels and more. Users can opt to show or hide the heads up display by simply swiping up or down. For example, you can adjust settings such as white balance simply touching the WB indicator, or change the audio levels by touching the audio meters.
Fast Adjustments with a Single Tap – turn different monitoring tools on and off with a few simple taps. Tapping the monitor icon brings up an overlay for toggling between and adjusting settings. You can adjust zebra settings for checking exposure, focus assist tools, frame guides, grids and more.

Advanced Digital Slate – access it via swipe to the left or right and you get intelligent predictive entry suggestions that can be added as metadata tags with a simple tap! Plus, if you start and stop recording, URSA Mini automatically increments take number so you don't have to enter them manually for each shot. It will also increment your reel numbers each time you format a card. In addition, lens metadata is automatically detected from electronic lenses or it can be entered manually, along with production specific information, technical information and much more! All of this metadata is saved with the files and available in post production when editing and colour correcting with software such as DaVinci Resolve!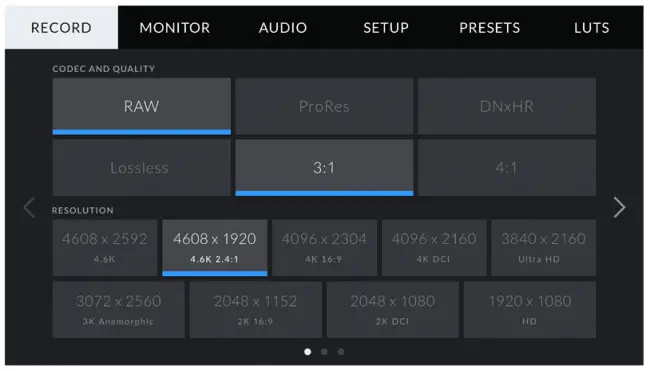 New Dashboard – this makes it quick and convenient access to all the camera's major parameters; the new Dashboard is comprised of six tabs with elegant, simple to understand interfaces that give you quick access and complete control over every setting and feature on the camera! Simply tap on the record, monitor, audio, setup, presets, or LUTs tab to access everything with just a few taps. The unique design of the interface offers visual consistency that puts items in the same logical order every time so you can quickly learn where settings are and remember how to change them!
Built-in 3D LUT support – URSA Mini can apply 3D LUTs independently to the LCD touchscreen, the front SDI (viewfinder) and main SDI in a deep 33 point precision allowing them to be used for high end feature film work.
To download Camera 4.0 Update and read more about all new additions in the latest firmware update head over to Blackmagic Design.
Also check out this video sent to us by our friend and reader Deyan Parouchev, who shot this awesome B&W piece on the URSA Mini 4.6K in ProRes 422 in UHD as part of the artistic project called "Out of Stage".
Directed by Deyan Parouchev – http://deyan-parouchev.com/
Choreography and dance by Fanny Gorse & Allister Madin
Original music by Kultur – Éphémère (Ft. Bamiyah)
https://soundcloud.com/kultursound
"Out of stage" is an artistic project directed by Deyan Parouchev with professional dancers in original locations accross Europe.
To see the entire project, please visit : http://deyan-parouchev.com/gallery/ou…
Follow us : http://deyan-parouchev.com/gallery/ou…
https://twitter.com/DeyanParouchev
Claim your copy of DAVINCI RESOLVE - SIMPLIFIED COURSE with 50% off! Get Instant Access!