That's one of those tricks that you wish you knew long before you had to spend a fair amount of your hard-earned cash on fancy sliders or other professional dolly systems costing an arm and a leg. Don't get me wrong, though. All these gadgets are fantastic filmmaking tools but unfortunately they don't come even close to the cost efficiency the following DIY Dolly Tripod setup provides. For less than $30, you can put together a fully-functional tripod dolly that you can use almost instantaneously on set or wherever you want as long as there is an even surface under your feet. Sure, it's not the perfect solution, but it's certainly a feasible option, especially when you are in a pinch. This video produced by PhotoApps.Expert shows all the components that you'll need to build this DIY tool, and more importantly, it reveals where to find them.
DIY Tripod Dolly — PhotoJoseph's Photo Moment 2016-10-25 from PhotoApps.Expert on Vimeo.
The only thing that you'll ever need to turn your tripod into a fully-fledged sliding device is a three-wheeled furniture moving mini dolly. Apparently, you have to get at least three of those to be able to do the job. The nice thing about this mini roller is that it has 360-degree spinning wheels which make it even more flexible and efficient tool. You can get a bunch of these for only a few bucks, or purchase them online by using the link below.
Generally, these 4-inch tri-dolly units are designed to add mobility to heavy, bulky furniture items at home. They feature tough 1-1/4-inch polyolefin wheels with steel bearings to add support to the frame. And, the best part is that each unit has a whopping 150-lb load rating and can be found in most hardware stores around. That particular model also has a 1/2-inch hole at the bottom that's the perfect fit for the spikes of your tripod legs.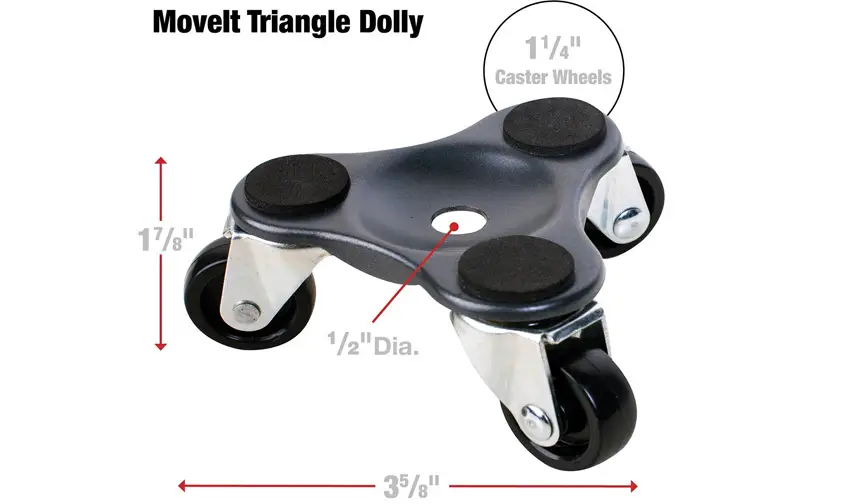 If four of those can handle the weight of your sofa or wardrobe, I certainly don't see a reason why these can't hold a tripod with a camera on top. Plus, the smooth footage you can capture with this combo along with the production value it can add to your projects would cost way more than just a few bucks. If you're interested, give this DIY combo a try and share your insight with the community in the comments below.
[via: ISO1200, source: PhotoApps.Expert]
Amazon Order Link:
Move-It 9283 4-Inch Steel Tri-Dolly 200-Lb Load Capacity 
Claim your copy of DAVINCI RESOLVE - SIMPLIFIED COURSE with 50% off! Get Instant Access!