At IBC 2018, Teradek introduces a brand new line of modules for the RED DSMC2 ecosystem. The all-new products showcased at the trade show that currently takes place in Amsterdam are the Teradek Bolt DSMC2, Teradek RT Wireless Lens Control, and Teradek RT ACI.
Teradek Bolt DSMC2
Closely developed in partnership with RED Digital Cinema, the all-in-one module with a built-in Bolt transmitter is designed to secure seamlessly to the back of RED DSMC2 cameras. Featuring the same zero-delay wireless video of the renowned Bolt line, Bolt DSMC2 aims to keep camera setups clean and free of cable clutter.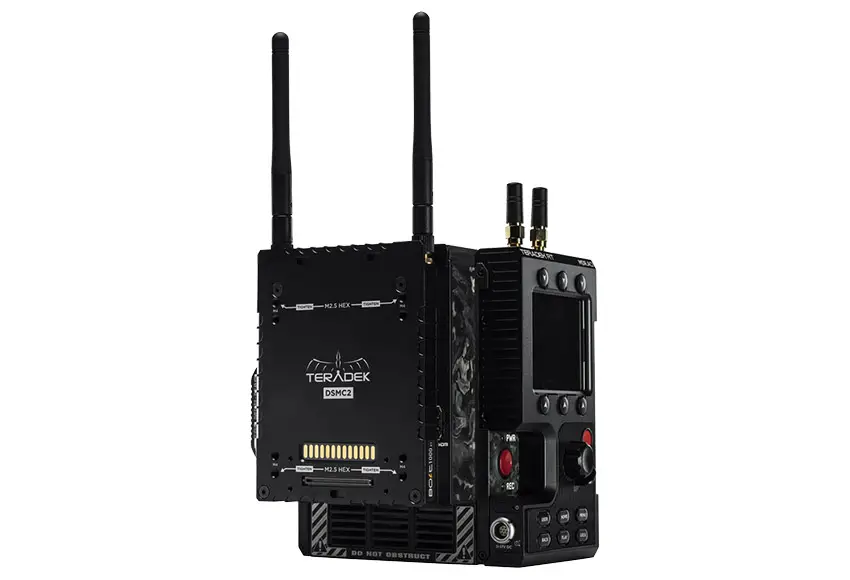 All in all, Bolt DSMC2 removes the need for an additional video cable, power cable, and accessories like camera arms while providing pristine, real-time wireless monitoring. The Bolt DSMC2 will be available in three different ranges, 500, 1000 and 3000 ft. It's also worth noting that Bolt DSMC2 integrates perfectly with the existing Bolt ecosystem.
The modules are compatible with Bolt 500/1000/3000, XT and LT systems, along with a wide variety of unique receiver solutions like SmallHD's 703 Bolt, ultra-long range Bolt 10K, and the universal Bolt Sidekick series. The Bolt 500 DSMC2, Bolt 1000 DSMC2, and Bolt 3000 DSMC2 will be available later this Fall selling for $1,690, $2,890, $5,690 respectively.
Teradek RT ACI
The Teradek Assistant Camera Interface makes configuring camera settings on RED cameras an absolute breeze with a familiar, easy-to-use interface that is navigated by tactile push-button and jog wheel controls. The module attaches seamlessly to the side of DSMC2 cameras so that ACs and operators can make quick adjustments to camera parameters without disrupting the flow on set.
ACI will be available as a standalone module, a remote control unit (RF.ACI), and an integrated system with a 3-channel Teradek RT wireless lens control receiver (MDR.ACI). The price of the Teradek Assistant Camera Interface starts at $899.95.
Teradek RT Wireless Lens Control
At IBC 2018, Teradek is also showcasing the MOTR.X and CTRL.1, the newest additions to the Teradek RT line of advanced lens control. The company's new RT tools are bringing major advancements to the world of cinematic lens control. Teradek RT's new CTRL.1 single-axis hand unit introduces built-in lens mapping into the controller.
Additionally, the CTRL.1 provides seamless integration with SmallHD monitors. By connecting a Teradek RT CTRL.1 controller into a SmallHD monitor, focus pullers will be able to view a variety of lens data overlays, which mirror the actual position of the lens focus, iris or zoom. The CTRL.1 will be available later this fall selling for $1499.95.
The MOTR.X, on the other hand, has 6x the service life of brushed motors and includes a quick-release rod-mount and a rapid tool-less gear swap mechanism.
Additionally, new in/out motor ports pass data and power, allowing MOTR.X units to be daisy-chained from one motor to the next to reduce cable clutter on your rig. The module operates with lightning-fast speed and incredible torque while remaining totally silent.
Best of all, controllers are compatible with all previous lines of Teradek RT products. CTRL.1 will be selling for $1499.95 and can be purchased without the lens/iris mapping addon, whereas the MOTR.X will hit the market with a retail price of $2499.95. To check out the all-new Teradek products at IBC 2018 in Amsterdam, make sure to stop by at booth #12.E65.
[source: Teradek]
Claim your copy of DAVINCI RESOLVE - SIMPLIFIED COURSE with 50% off! Get Instant Access!