Adobe just introduced the Creative Cloud 2017 release including the brand new versions of Premiere Pro CC and Adobe Media Encoder CC along with new iterations of After Effects, Character Animator, Audition, and other Adobe Creative Cloud applications. The premium Adobe NLE now provides all of the features revealed earlier this year at IBC 2016, including powerful new hosted collaboration technology with Team Projects, enhanced color workflows with improved color pickers in the Lumetri Color Panel and support for HDR10, improved support for the creation and editing of open and closed captions, significant improvements to VR workflows including auto-detection, Destination Publishing to Behance, refined Live Text Templates, new visual keyboard shortcut mapping, clip stitching in Adobe Media Encoder, and more.
Beyond that, there are a few additional improvements recently included in Premiere Pro CC such as support for RED Helium cameras, ability to create sequence presets from an already created sequence, new Title Styles presets, GPU accelerated Offset and Lens Distortion effect, option to export MXF file with 12 audio channels, alongside some significant multi-cam editing enhancements.
Windows users who predominantly work with the Avid's proprietary DNxHD code now will be able to export DNxHD into a QuickTime .mov wrapper without Apple QuickTime being installed. The latest Premiere Pro CC version also contains a bunch of new audio effects regarding better noise reduction, dynamic processing along with parametric equalizer, automatic click remover, and studio reverb effect.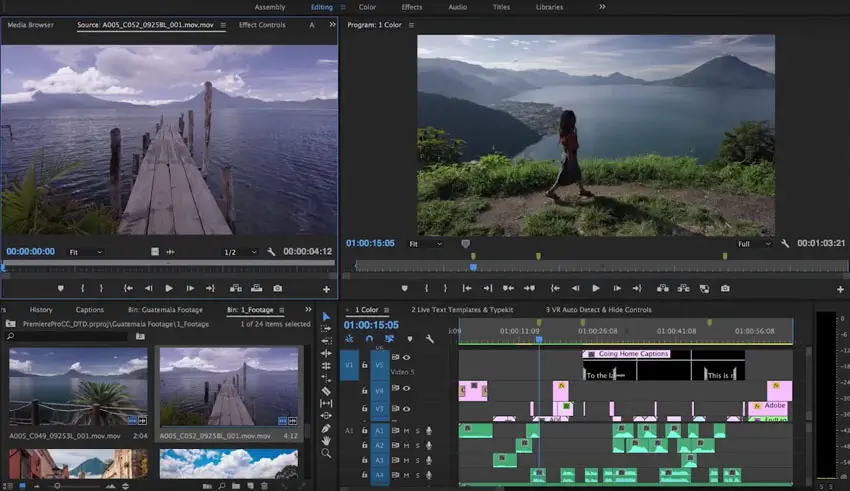 Here's is the full list of the newly added features you can get with the latest version of Premiere Pro CC:
A new Global FX Mute button in the Program Monitor to temporarily disable all non-intrinsic effects in a sequence
DNxHD export into a QuickTime .mov wrapper on Windows without Apple QuickTime being installed
Several new audio effects:  Adaptive Noise Reduction, Dynamics Processing, Parametric Equalizer, Automatic Click Remover, and Studio Reverb
Multiple user interface enhancements
Improvements to XAVC 60p playback performance
Support for RED Helium
Improvements to Apple Metal, including support for Lumetri
Ability to create sequence presets from an already created sequence
A new Save button in the Keyboard Shortcuts window
New Title Styles presets
GPU accelerated Offset and Lens Distortion effects
Option to export MXF file with 12 audio channels
New Project Locking preference to allow the displaying in the Media Browser of the username of the user who has the project open (locked), and preventing a project from being opened by more than one user at a time
Multi-cam settings are respected in FCP XML import
Alpha-only export from an After Effects composition in Adobe Media Encoder
New 'Multi-Camera Selection Top Down' item in Timeline wing menu to enable top-most targeted track's multi-cam to show when in multi-cam mode (default behavior is lowest)
Composite showed when in multi-cam mode when a clip is not multi-cam
Furthermore, After Effects CC 2017 gets a new 3D Cinema 4D Render Engine, which is designed to improve rendering performance allowing real-time raw footage playback, thus eliminating the necessity for a preloaded cache. Interactive performance optimizations and new GPU-accelerated effects, such as Hue/Saturation and Brightness/Contrast make working within the compositing application even easier and faster. Live Text Templates have a new workflow, enabling smoother sharing between After Effects CC and Premiere Pro CC.
Adobe also added lots of new features like draggable marker duration and a freeze on last frame command to automatically extend footage. With the installation of the Adobe After Effects CC, you will also get access to the latest Character Animator. The latter includes substantial performance improvements, shareable puppet files, refined behaviors and a great new interactive tutorial to help you get started.
Last but not least, there are several hundred important bug fixes and improvements over the previous versions of all Creative Cloud applications. All current CC members and trial users will be able to download and install the latest Adobe CC software immediately using the Creative Cloud desktop application, or online by visiting directly the Creative Cloud site.
[Adobe]
Claim your copy of DAVINCI RESOLVE - SIMPLIFIED COURSE with 50% off! Get Instant Access!