At NAB New York earlier today, Canon announced details of the next firmware update for their EOS C300 Mark II and C300 original cameras, which will be released on December 13th. It is particularly nice to see Canon updating their "OG" EOS C300 EF, as after all this was the camera that solidified the EOS range of cinematic cameras and proved to many that Canon can make pretty good camcorders. Sure, we can argue until we're blue in the face about how much more the C300 II could have been better compared to other cameras on the market, but it's one thing to look at specs on a sheet of paper or a computer screen, and a totally different experience to actually use the damn thing in the field. The autofocus features are the industry benchmark and with the wide range of Canon lenses that most shooters have access to, it's no wonder a lot of DPs are warming up to using AF in video more and more for run-n-gun and docu work. Oh, and of course, that sweet Canon colour science makes it easy to get very beautiful images out of the box without too much fiddling in post.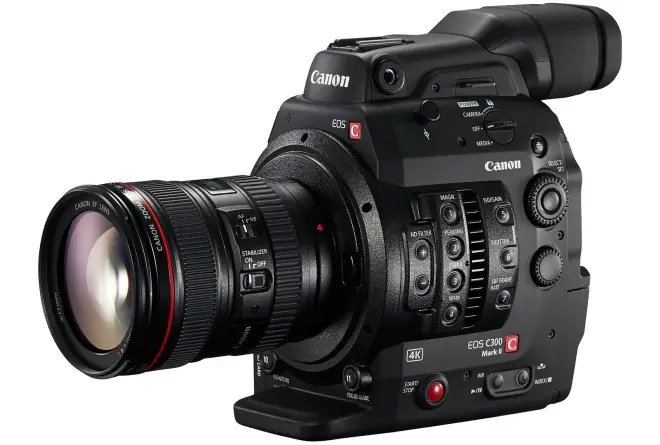 The C300 with EF mount is no different, just a bit limited to 1080p and no proper slow-mo, but it is still used widely in corporate, documentaries and broadcast worldwide. So to those Canon-ites who stuck to their guns and kept it "EOS Cinema' Canon has your back with their upcoming firmware for both the C300 original and C300 Mark II.
In a nutshell, this is what you can expect from the Canon EOS C300/C300 II December firmware update:
Canon EVF-V70 OLED Viewfinder (from Canon EOS C700) – C300 II only
WFT-E8 Wireless File Transmitter support for all C300/C300 II cameras
Shutter Angle Priority – lets you keep shutter angle at 180 degrees for proper filmic cadence, when  you change frame rates or parameters
Zebra range at 65 percent or below (C300 II only) – Zebra 1 from 5% to 95%/ Zebra 2 – 5-100% in 5% increments
2K Crop Audio Recording (C300 II only)
Built-In Mic Audio can be turned Off (C300 II only)
Peripheral Illumination Correction when using the new EF 24-105mm f/4L IS II USM lens (C300 II EF and C300 EF)
Grip Zoom Function when using Cine Servo 17-120mm EF-mount, Cine-Servo 50-1000mm EF-Mount and Compact Servo 18-80mm lenses – C300 DAF EF
Auto Iris and Push Iris when using CINE-SERVO 17-120mm EF-mount, Cine-Servo 50-1000mm EF-Mount and Compact Servo 18-80mm lenses – C300 DAF EF
Dual Pixel CMOS AF (DAF) with CINE-SERVO 17-120mm EF-mount/Compact Servo 18-80mm lenses – C300 DAF EF
Here's a handy chart that Canon has prepared that lists which new feature applies to which camera (click image for full size):
The addition of audio recording in 2K crop mode is a big deal for those who want to use B4 or Super 16mm lenses or simply want to get a longer range out of their lenses for example in wildlife situations, where you can't really get that close to the action most of the times. The Dual-Pixel AF support for the new Compact Servo 18-80mm T4.4 EF zoom and the super popular but hugely expensive Cine Servo 17-120mm T2.95 EF zoom when used with the original C300 with the DAF upgrade is also an important addition for documentary productions.
Not to mention the Shutter Angle priority which lets you keep a 180 degree shutter (or other shutter angle you set) no matter the frame rate – this is also a very nice addition to the C300/C300 II feature set that I am sure plenty of shooters will appreciate. Canon will release the new firmware on December 13th.
Disclaimer: As an Amazon Associate partner and participant in B&H and Adorama Affiliate programmes, we earn a small comission from each purchase made through the affiliate links listed above at no additional cost to you.
Claim your copy of DAVINCI RESOLVE - SIMPLIFIED COURSE with 50% off! Get Instant Access!