ACR Systems release EPIC Open Beta 3.0 firmware for their premium 3-axis gimbal stabilizer THE BEAST. The latest firmware includes better power management, improved and simplified Follow Mode settings, better stabilization accuracy among many other new features and improvements. The latest firmware enhances the user experience and provides gimbal operators with even more flexibility and peace of mind that they are getting super smooth shots.
The Beast from ACR Systems is an active 3-axis stabiliser capable of stabilising cameras of up to 8 kilograms (17,6 lbs) of weight. This means that popular cameras such as RED DSMC1 or DSCM2 bodies such as the RED Scarlet-W/Raven, Canon C300, URSA Mini 4.6K and even DSLR form factor cameras like the mirrorless GH4 and Sony A7sII shouldn't be a problem for The Beast.
The BEAST EPIC Open Beta 3.0 Details
New SIMPLE Mode With Animations and UI Changes
New Voice banks
New Wizard screens
New Status screen
Better Power Management
Stabilization accuracy
Improved Autotune Algorithm
Simplified FOLLOW MODE
Improved FOLLOW MODE
Roll +90/-90 Degrees Rotation
Intuitive Remote Control Channels Mapping
EPIC Open Beta 3.0 Firmware is available for download from the official ACR Systems page here: http://acr-sys.com/support/
The Beast holds some advanced features like high precision encoders and built-in On-Board Manager with keyboard and OLED screen allowing the user to fully configure The Beast without the need to use any external devices.
Add to that some very rigid, lightweight construction, tool-less balancing, smooth, comfortable and intuitive operating modes, hard case with a set of high quality accessories and you got yourself a truly modern approach to active stabilisation.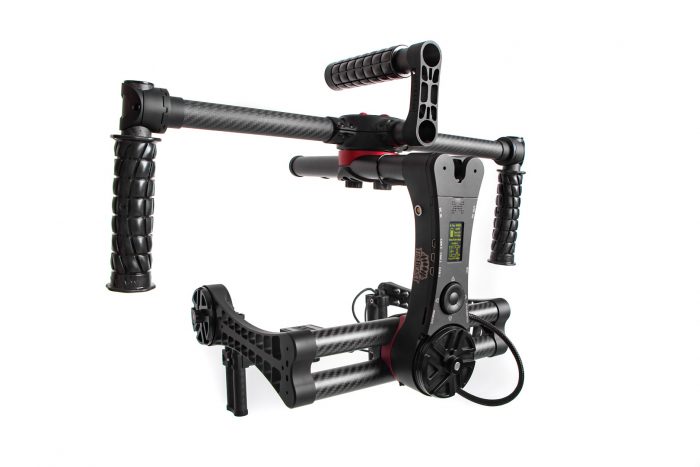 ACR Systems THE BEAST Features
The most advanced digital stabiliser on the market
High-resolution, built-on encoders
Embedded speaker and OLED screen
Built-in keyboard control panel for quick and easy configuration via OnBoard Manager
The ability to provide up to 5A/12V of auxillary power from the vertical arm and camera tray outputs to power up external accessories
Incredible precision of stabilisation
Exceptionally lightweight construction – weighs only 2,95 kg (6.5 lb)
Made of aircraft grade duraluminum alloy and carbon
Advanced, hybrid electronics (gyroscopic sensors, accelerometers and encoders)
Intuitive and powerful ACR Manager software
Versatility of the working modes: Xtended Stabilisation, Follow Mode, Inverted Mode
Thumbstick and Remote Control Units available
Completely toolless camera balancing system
Maximum payload of 6 kg (13.23 lb)
Highly comfortable triple grip handlebar – the Handheld Module
Rotatable, 8-position side handles
Ability to quickly detach the Handheld Module and use The Beast on other platforms
Original, in-house project concept
2-year limited warranty
Proudly made in Europe
Price: €5,190 + VAT
The following cameras have been tested to work with THE BEAST from ACR Systems:
ARRI ALEXA Mini
RED Weapon/Epic/Scarlet
Sony FS700/FS7/FS5/PMW-F5/F55
Blackmagic URSA Mini 4.6K/BMPC
Canon C100/ Canon C300/Canon 5D
Check out the selected footage below and see what others have created with the help of The Beast:
THE BEAST Tech Specs
Size
Handheld width: 19.84 inches / 540 mm
Camera shelf size
Width: 8 inches / 204 mm
Height (from tilt axis): 3.93 inches /100 mm
Fork depth (from tilt axis): 7.48 inches / 190 mm
Weight
Complete unit: 6.5 lb / 2,95 kg
Without Handheld Module: 5.29 / lb 2,4 kg
Battery runtime
Twin small batteries: up to 13 hours, depending on payload
Single large battery: up to 16 hours, depending on payload
Maximum payload: 13.23 lb / 6 kg
For more information head over to ACR Systems.
Claim your copy of DAVINCI RESOLVE - SIMPLIFIED COURSE with 50% off! Get Instant Access!