California-based budget-oriented field monitor maker Lilliput has recently released a product that might seem an appealing option for those pixel peepers out there looking for a field monitor with native UHD support. And what is more, the Lilliput A10 is advertised as the world's first 10.1″ 4K resolution monitor providing HDMI, Displayport, and SDI connectivity. Interestingly enough, there is also a DVI-I port for connection to a computer. The unit also boasts an 8-bit IPS display that has a native resolution of 3840 x 2160 with 437 PPI, an impressive 1500:1 contrast ratio, but far modest 400 cd/m2 brightness rating. It can also accept up to 4K 60Hz video feed via it's HDMI 2.0 and Display 1.2 port.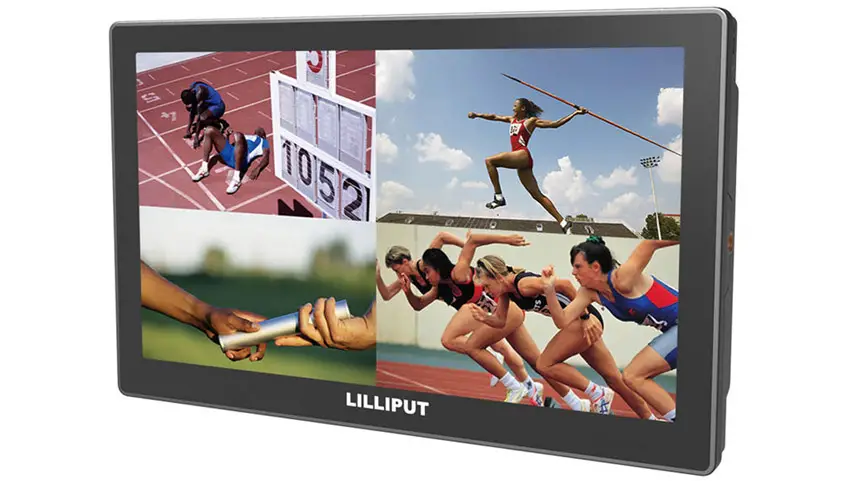 Furthermore, the Lilliput offers other neat features such as quad screen view, false color filters, peaking, image flip, overscan, underscan, screen markers and more. Regarding build quality, it could hardly be considered as a sturdy build, but honestly, you can't expect more from an inexpensive field monitor in that price range.
Speaking of price, this is probably the most exciting aspect of the device as it sells for just $599, which is extremely competitive price tag especially when you compare it with other 10-inch (or slightly bigger) counterparts in this market segment that are limited to 1080p resolutions at the most.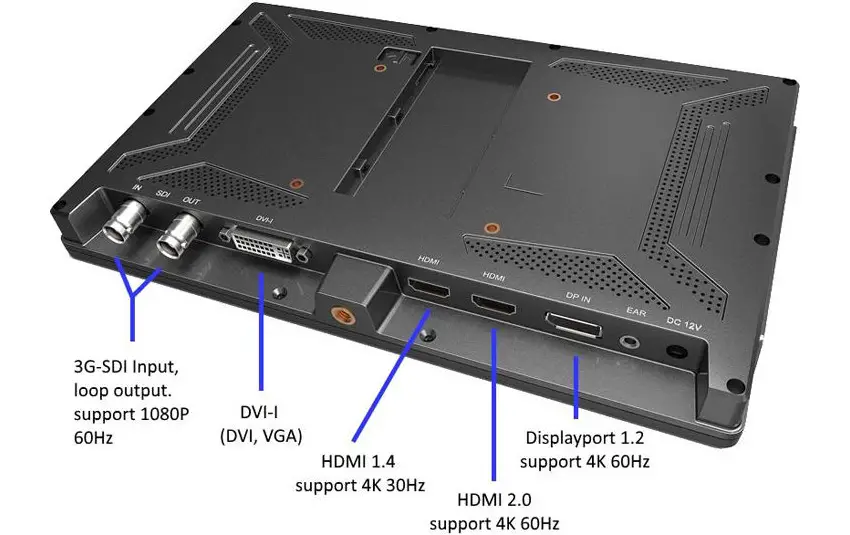 Keep in mind, that the Lilliput A10 doesn't provide LUT support and most likely won't be bright enough under harsh sunlight conditions, but it certainly offers decent viewing angles and enough resolution for precise focus pulling and proper framing. Alternatively, you can use it as a second reference monitor for your editing or color grading setup on the go by utilizing any of the available connection ports. The field monitor can be powered directly via its DC port that supports 7V-24V DC voltage, or you can use a variety of optional battery plates such as V-mount, Anton Bauer, F970, LP-E6 and more.
All in all, with its native resolution of 3840 x 2160, 1500:1 contrast ratio, multiple connectivity options, industry-standard features and affordable price, the Lilliput A10 is mostly suitable for use by those video professionals and camera operators who predominantly use 4K capable equipment and want to take full advantage of the supported features without compromising on image quality and resolution. The Lilliput A10 is backed by a 1-year limited warranty and can be ordered from authorized resellers around the globe.
[source: Lilliput]
B&H Link:
Lilliput A10 10.1″ 4K Field Monitor
Amazon Link:
Lilliput A10 10.1″ 4K Field Monitor
Claim your copy of DAVINCI RESOLVE - SIMPLIFIED COURSE with 50% off! Get Instant Access!