You may recall that back in January, Zeiss announced a new line-up of lenses designed for smartphones under the ExoLens brand name by Fellowes Brands. Up until now the Zeiss ExoLens systems was available only for the iPhone 6S, 6S+ and the previous generation iPhone 6 and 6+, however that is all changing.  The three ExoLens family lenses (wide angle, macro-zoom and telephoto) have a new family name called ExoLens PRO with Optics by ZEISS and are now also compatible with the latest iPhone 7 and 7 Plus models. The new dual-camera design on the bigger iPhone 7 Plus has been particularly tricky to work around, how it was only a matter of time before someone figured out how to do it.
Zeiss are now adding a new Edge bracket, which features specific inlays for all the six iPhones in the compatibility list including the dual-camera wielding iPhone 7 Plus. The Edge Bracket is expected to land in camera specialty stores end of January 2017 and priced at $49.95 USD or €59.95. The bracket for the iPhone 7 as well as the wide-angle accessory lens are now also available at camera specialty stores.
Edge Bracket features:
Small and compact, machined aluminium mount
Weight: only 15 grams
Integrated cold shoe accessory mount compatible with accessories
Key ring loop for on-the-go convenience
Soft gel liners to prevent scratches and ensure a snug device fit
"We can now confirm the compatibility of the existing accessory lenses for the entire iPhone 7 family in addition to the iPhone 6 family," says Michael Schiehlen, Senior Director of Sales, Marketing and Service in the Camera Lenses division at ZEISS.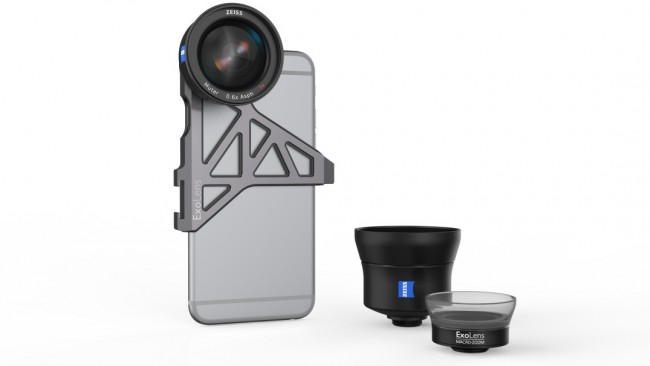 "The ExoLens PRO with Optics by ZEISS accessory lenses work exclusively with the wide-angle camera on the iPhone 7 Plus. All existing lenses are generally compatible with the iPhone® 7 Plus, but due to the built-in 2X telephoto camera on the device, we recommend using the ExoLens PRO Wide-Angle and Macro-Zoom with the iPhone®7 Plus primarily," explains Oliver Schindelbeck, Product Manager at ZEISS.
According to Zeiss the technology for these accessory lenses has not changed and the addition of the "PRO" moniker to 'Optics by ZEISS' is just an enhanced product name to better distinguish it from ExoLens' own prime lineup.
Here's a handy chart of compatibility, which will hopefully resolve any confusion arising from which lens and braket is compatible with which iPhone model.
If you are planning on using any of the ExoLens Pro lenses on your iPhone 7 Plus, Zeiss recommend you stick the Macro-zoom and the Wide-angle only due to the dual lens design, one of which is a telephoto.
However, if you use either the Macro-zoom or the Wide-angle on the standard 28mm lens on the iPhone 7 Plus you should be fine.
[via Phoblographer; source Zeiss]
Claim your copy of DAVINCI RESOLVE - SIMPLIFIED COURSE with 50% off! Get Instant Access!