Well, I should admit that calling this setup the ultimate solution might be a bit exaggerated. Nevertheless, it certainly can be extremely helpful for multitasking when traveling mainly due to the fact that it almost triples the screen real estate of your Macbook Pro. In a nutshell, these Mountie Side-Mount Clips allow you to attach an iPad (or even two) to either side of your laptop's screen whereas the strong, rubberized grip ensures your device is held securely and always stays in place. Meanwhile, the innovative design and swappable inserts offer near-universal compatibility as you can use these clamps to attach a wide variety of gadgets including iPad, iPhone and other devices with 3mm to 9mm thickness. Let's find out how you can put together this arrangement in the next hilarious video produced by Lewis Hilsenteger of Unbox Therapy.
To make this setup work, you will also need the Duet Display app that allows you to tether your iDevice through a Lightning or 30-pin cable, thereby turning it into an extra display for your MacBook Pro. Once installed, the application delivers a retina display resolution at 60 frames per second with zero lag. So, let's say you can have all your scopes on the left, the Program Monitor on the right along with the NLE interface on the primary display in-between.
There are literally countless combinations, but the best part is that you can use this screen setup wherever you go, eliminating the necessity to carry an external monitor with you or look for an additional power source. Currently, the Mountie Side-Mount Clip will set you back $34.95, whereas the Duet Display app will cost you another $19. All in all, you can build this Triple Screen MacBook Pro setup for roughly $100 in case you already have a Macbook Pro and two iPads at your disposal.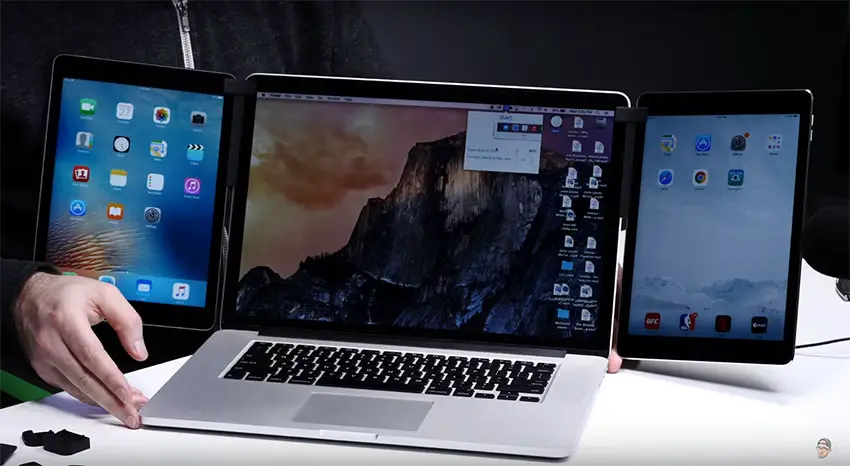 Alternatively, you can choose other compatible devices as the Duet Display app is available for Windows as well. Those of you who already own an iPad Pro will be able to enjoy this setup at the most. With its 12.9-inch display, the iPad Pro turns into a legitimate second display once tethered to your MacBook Pro.
Regardless of the device combination you opt for this multiscreen setup can not only boost your productivity by leaps and bounds but it can also turn into an extremely useful asset and integrated part of your creative workflow wherever you go.
[source: Unbox Therapy]
Amazon Link:
Ten One Design Mountie Side-Mount Clip for Mobile Devices 
Claim your copy of DAVINCI RESOLVE - SIMPLIFIED COURSE with 50% off! Get Instant Access!