So, I was digging around earlier today (for some strange reason) for super-wide angle zoom lenses and I came across the AT-X 14-20mm f2.0 DX in Canon EF mount from Tokina. I am sort of familiar with Tokina's (continuously expanding) range of super-wide angle zooms, especially their venerable 11-16mm f/2.8 PRO DX, which I owned up until recently and the only reason I sold it, was because I wasn't not using it that much. Come to think of it, I probably should have kept it, but that's another story. Apparently, this new 14-20mm f2.0 must have slipped through cracks, as I did not know about it. I was apparently announced back in late Summer 2016, and is the fastest lens they do.
The Tokina AT-X 14-20mm f/2.0 PRO DX lens is designed to be used with APS-C cropped sensors (or Super 35 camcorders) and it is available in either Canon EF-S or Nikon mount. For those of you crop-factor/FF junkies out there – the FOV is equivalent to 21-30mm in 35mm full-frame, which is wide enough for 95% of applications for most people.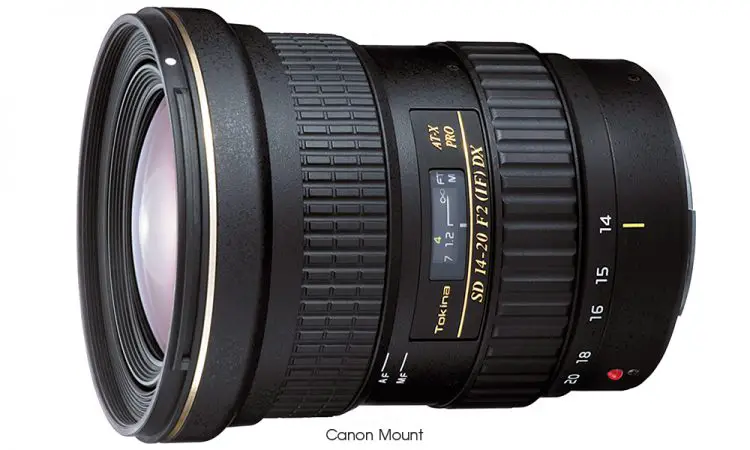 The super-fast, constant f/2.0 will help those using this lens on cameras that aren't that great in low light like the (don't hate me, just speaking from experience) the Panasonic GH4, when used with a non-Speed booster adapter. If you are frequently flying mirrorless cameras or DSLR's on a 3-axis gimbal like the DJI Ronin M shooting architecture and real estate, this lens looks like a decent option.
The 14-20mm f2.0 features an all-new proprietary optical design that uses 3 x aspherical elements for some excellent contrast and sharpness, while at the same time correcting for spherical aberrations. In addition, there are 4x Super-low Dispersion elements to control chromatic aberrations, distortion and astigmatism.
Tokina's exclusive One-Touch Focus Clutch Mechanism allows the photographer to switch between AF and MF simply by snapping the focus ring forward for AF and back toward the lens mount for manual focusing. The lens is also designed to stand up to the rigours of daily use by photographers in a wide variety of shooting conditions and environments.
Tokina AT-X 14-20mm f/2.0 PRO Specifications
Focal Length
14-20mm
Maximum Aperture
F2
Minimum Aperture
22
Construction E/G
13/11
Coatings
Multi-layer
Angle of View
91.68 – 71.78°
Minimum Focus Distance
0.9 ft (0.28 m)
Macro Ratio
1:8.36
Focusing Mode
Auto Focus
Zooming System
rotary
Aperture Blades
9
SD Glass
4
Filter Size
82mm
Filter Thread
0.5
Maximum Outer Diameter
3.5 in (89mm)
Lens Length
4.2 in (106mm)
Sensor Size
APS-C/DX
Weight
1.6 lbs (725g)
Accessories
Dedicated Lens Case (Sold Separately) – For Nikon:LC1420NAF / For Canon:LC1420CEF
Lens Hood
BH-823
Mounts
Canon, Nikon
Warranty
2 Year Limited Warranty
At the moment, B&H are selling the Tokina AT-X 14-20mm f/2.0 PRO in Canon mount for $599 USD, which is $200 Off of the regular price of $799. The Nikon version gets the discounted same price as well.
To read more about this lens and to check out sample images, head over to Tokina.
Claim your copy of DAVINCI RESOLVE - SIMPLIFIED COURSE with 50% off! Get Instant Access!