OK, so you got the latest MacBook Pro with Touch Bar and you need some fast external drives for your creative workflow on the go. Not only that, but you want to take full advantage of the USB 3.1 Gen.2 capabilities and have enough storage space for your media at the same time. Well, this is where the Atom RAID 2TB USB 3.1 Type-C External SSD from Glyph Technologies may come in handy. In a nutshell, the unit features two 1TB SSDs with a slim M.2 form factor that are configured in a RAID 0 array. To support the increased performance, Glyph has outfitted the Atom RAID with a USB 3.1 Type-C port Gen.2 that transfers data at speeds up to 850 MB/s.
With its lightweight and rugged design, the Atom RAID External SSD is an extremely convenient option, especially for those of you who travel day in and day out and demand high storage capacity along with blazing fast transfer speeds. Moreover, the Atom RAID is preformatted for HFS+ with Journaling and compatible with Time Machine, which means it's ready to work with your Mac right out of the box. Here's an example of the transfer speeds this external drive provides.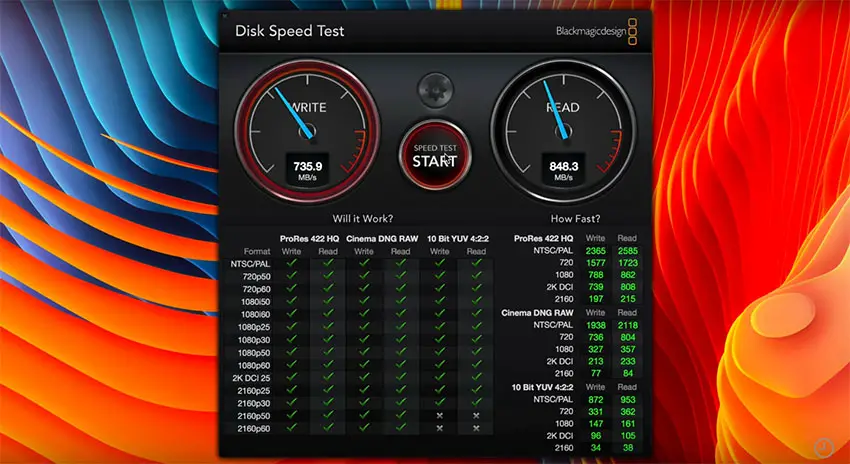 Bare in mind, though, that you'll be able to get those rates only when you connect the Atom RAID External SSD directly to any of the latest 2016 MacBook Pros. Otherwise, if you tether the unit to the previous USB 3.1 Gen.1 interface, the write and read speeds basically will be cut in half and you will lose the biggest advantage of the Raid 0 configuration the Atom RAID External SSD offers. That being said, you can also connect the unit to computers with a standard USB Type-A port with the included USB-C to USB-A cable.
The Atom RAID External SSD is also available in a 1TB version providing the same transfer speeds backed by 3-year warranty. The price of $819.95 for the 2TB version might be a deal breaker for some users, but considering the fact that you can get the Samsung 2TB T3 Portable SSD for $100 less while getting only the half throughput, the Atom RAID External SSD certainly makes more sense even with the slightly higher price tag, but as usual, the final decision is always yours.
[source: 9to5Mac]
B&H Order Links:
Atom RAID 1TB USB 3.1 Type-C External SSD (2 x 500GB, Gray)
Atom RAID 2TB USB 3.1 Type-C External SSD (2 x 1TB, Grey)
Amazon Order Links:
Atom RAID 1TB USB 3.1 Type-C External SSD (2 x 500GB, Gray)
Atom RAID 2TB USB 3.1 Type-C External SSD (2 x 1TB, Gray)
GET the ULTIMATE DAVINCI RESOLVE 16 COURSE BUNDLE for just $97! Sale Ends July 9th, 11:59pm PT