Moving a camera from side to side on a conventional slider while following an object precisely shouldn't be a serious challenge even for a newbie filmmaker, but what if you want to get a similar movement when filming with a high-speed camera shooting at 1,500fps? Well, this is where things start getting a lot more interesting and a bit complicated, especially for a non-technical guy like me. Typically, you'll need a high-speed camera such as the Chronos 1.4, a custom made slider that should be able to move your camera at 40-inches per second at the least and some unconventional ideas how to use this setup eventually. If you have a ton of spare time and building sophisticated rigs is your true passion, then the next video produced by Applied Science might be the perfect guide for you as it will walk you through the building process along the way. As a bonus, you also get a bunch of super slow motion shots captured at different frame rates and resolutions.
Obviously, pulling off a tracking shot with this camera and the custom made rig showcased in the video above can produce some stunning results. The extra camera movement, on the other hand, adds more kinetic energy to the shots thus making the already awesome high-speed video even more appealing to watch. Needless to say, scientific experiments like these are certainly worth the time and effort as they unveil the real potential this affordable high-speed camera provides.
Just as a quick recall, the Chronos 1.4 is capable of shooting up to 21,650fps at its lowest resolution of 640×96 as well as capturing 1,057fps at 1280×1024. On top, the unit comes equipped with a plethora of other neat features such as touchscreen display, HDMI connection, SD card slot, USB and SATA ports alongside the ability to save RAW video files all packed into a standard DSLR body.
Chronos 1.4C Ultra High-Speed Camera Highlights
21,650fps at 640×96
1050fps at 1280×1024
C Mount
Touchscreen display
1.4 Gigapixel per second throughput
Multiple RAM versions
Internal Recording on an SD card, External  Storage Option via USB and SATA interface
MP4 recording format
RAW video saving
No PC needed for operation
AC Adapter or battery (1.75 hours per charge)
Weight: 3.3lbs
Price – $2,499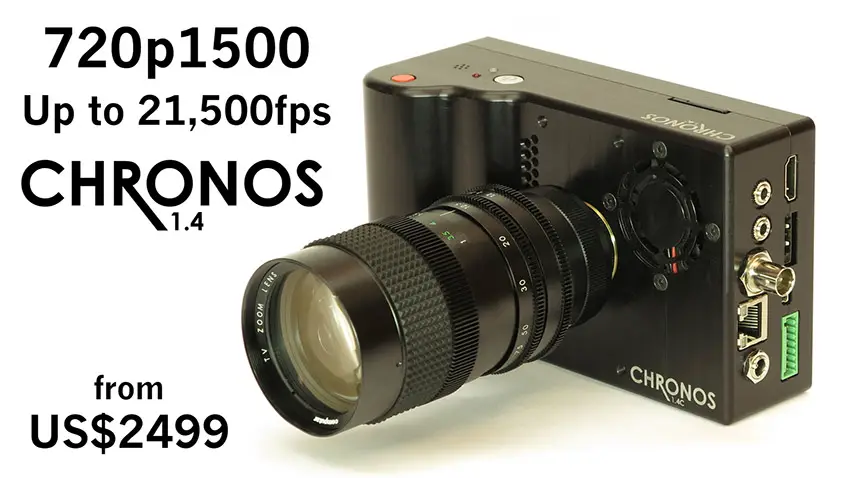 Meanwhile, if you place your pre-order of the Chronos 1.4 camera before March 1st, 2017, you will be able to get your hands on the unit in May after all Kickstarter rewards have shipped. According to the latest update published on the project's official Kickstarter page, most of the parts required for the full production batch have been ordered by the manufacturer as the production of the early bird units is going in accordance with the schedule thus far.
[source: Applied Science]
Claim your copy of DAVINCI RESOLVE - SIMPLIFIED COURSE with 50% off! Get Instant Access!