Panasonic released some brand spanking new Raw footage from their VariCam PURE camera and also details of the upcoming firmware 5.0 for the Varicam LT.
You may recall that at IBC 2016 last September, Panasonic teamed up with renowned high-end Raw recorder manufacturer CODEX to announce their latest addition to the growing Varicam family – the VariCam PURE. Codex were also involved in making the original V-Raw recorder for the Varicam 35. They are also responsible for the new dedicated 4.5K Raw recorder for the Canon C700.
For those unfamiliar yet with the camera, the Panasonic VariCam Pure is a "RAW-only" camera that takes the VariCam 35 4K recording module/head and a newly developed dedicated Codex 2.0 V-Raw 4K recorder for some sweet 4K uncompressed Raw up to 120fps (10-bit) or 4K/23.98 12-bit) directly onto Codex Capture Drives.
The new 2.0 V-Raw recorder features a slightly altered design from the original V-Raw recorder used in the other Varicam 35 configuration, which includes the Varicam Recording module (with ExpressP2 cards).
Check out this recently release 2K footage from the VariCam PURE below:
Despite the web compression that is associated with any video uploaded not just to Vimeo, but any online video platform, the camera test above IMHO just looks absolute smashing.
Sure, this is a pretty high-end camera that will most probably find a home on high-end commercials and narrative projects, but it just goes to show that when it comes to their high-sensitivity Super35 sensor and post pipeline, Panasonic are not messing around.
VariCam PURE Specs
Recording Resolution
4096 x 2160 (4K), 3840 x 2160 (UHD)
Recording Frame Rate
Maximum
120 fps or 100 fps
System Frequency
59.94p, 50p, 29.97p, 25p, 24p, 23.98p
Recording Format
VRAW   4K 12 bit / 4K 10 bit / UHD 12 bit / UHD 10 bit
Recording Video Signal
4096×2160/59.94p, 50p, 29.97p, 25p, 24p, 23.98p
3840×2160/59.94p, 50p, 29.97p, 25p, 23.98p
Recording Time  with
2TB Capture Drive
4K 12 bit / 23.98 fps: 100 min.
4K 10 bit / 23.98 fps: 112 min.
4K 10 bit / 120 fps: 22 min.
UHD 12 bit / 23.98 fps: 106 min.
UHD 10 bit / 23.98 fps: 119 min.
UHD 10 bit / 120 fps: 23 min.
A year after its announcement, the Varicam LT is also getting a new firmware update tomorrow. Firmware version 5.0 adds 2K ProRes 4444 XQ format, as well as Variable Frame Rate (slow-motion) in ProRes 4444/4444 XQ. In addition you can now also shoot in-camera in the legendary Vittorio Storaro preferred "Univisium" 2.00:1 aspect ratio.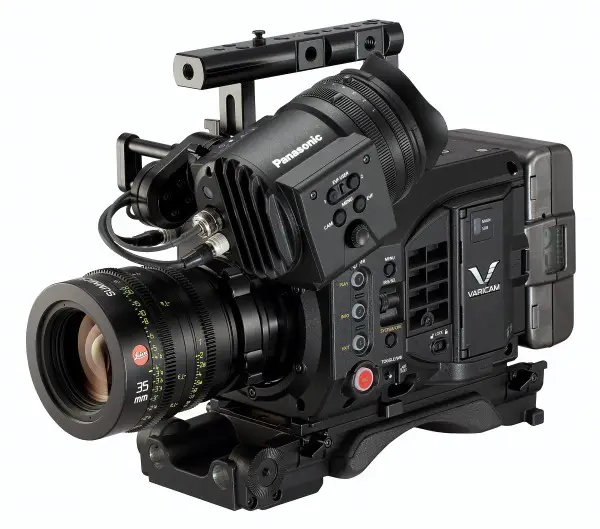 Varicam LT Firmware 5.0 Details (to be released Feb 6th, 2017)
Expand ProRes recording

Newly support 2K recording
Newly added "ProRes 4444 XQ", "ProRes 422 and "ProRes 422 LT"
Newly support VFR in ProRes 4444/4444 XQ recording

AVC-LongG G50/G25 recording support (HD only) & microP2 Adapter support
"2.00:1" aspect can be selected for Frame Signal
Enable to assign "VFR (ON/OFF)" to USER SW
"Image Invert" & "Surround View" can be selected independently
"Audio Level Meter" can be selected to display on SDI OUT
[via Panasonic]
Claim your copy of DAVINCI RESOLVE - SIMPLIFIED COURSE with 50% off! Get Instant Access!