Operating a DJI Ronin M or a Freefly Movi or any other handheld gimbal as a single operator is no joke. As any advanced piece of equipment, gimbal operating does take time to master and it does get easier and more intuitive over time, however there are a few accessories that can make the life of any gimbal operator a lot easier on set.
Apart from of course getting the basic right, such as proper camera balance and gimbal calibration, getting the right accessory for assisting with focus can be rather tricky. Most single channel motor-based remote focus systems are way out the budget of most people, and most people do rent them on project by project basis.
However, if you are operating a gimbal on a daily basis it makes sense to get some sort of an affordable follow focus system that allows you – the operator to change focus without letting go of one of the gimbal handles. This is where a clever focus accessory called the PDMovie PDL-F Remote Live II Thumb Wheel Controller Follow Focus Kit (blah, that's a mouthful!) comes in pretty handy.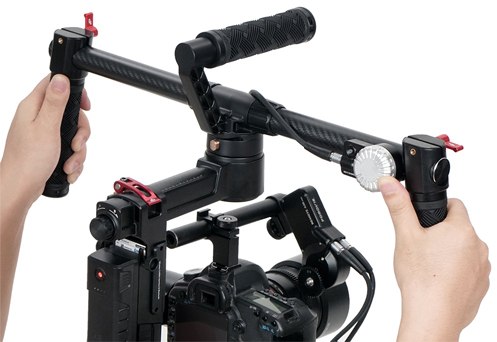 PDMovie Remote Live II Quick Features
Focus right to your fingertips via a Thumb Wheel
Automatically calibrates to the mapping of your lens
Simple, single button system settings control
Single focus unit can control multiple motors simultaneously
Compact & powerful motor
Subtle or Rapid focus pulls
Precision motor attaches to both 15 and 19mm rods
Attaches to most square / round handles less than 1″ in diameter
0.8 pitch gearing is compatible with most cinema lenses
Price: $899.99 at B&H / £599 + VAT for UK via CineGearPro
The PDMovie is a single channel (wired) focus unit that uses the latest brushless motor technology and is yet quite simple to use. It can be operated with just one hand, and of course not only limited to gimbal stabilisers; it can also be ideal for when working on a tripod. 

The new motor system on this version 2 uses brushless motors which increases the torque and precision. The motor can drive regular stills lenses and much tougher cine lenses – so whether you are using Canon CN-E primes, or the Rokinon XEENs, or even more affordable Samyang/Rokinon DS Cine lenses you are good.
The PDMovie PDL-F (sold in the North America via the good folks at iKan) attaches easily to most rigs – all you really have to do is install the precision motor (which only weights around 220 grams) onto either a 15 or 19mm rod and firmly lock its drive gear into the gearing of your lens – thanks to the 0.8 pitch gear, the PDMovie is therefore compatible with most common cinema lenses.
The PDmovie includes a simple single push button for calibration. With full tactile operation, the PDL-F reacts according to how you maneuver the control and not to a preset speed or programmed reaction. Its compact size is a welcome inclusion to your camera rig even those requiring lighter payloads.
Both the Focus and Zoom controls can be set to operate numerous motors, perfect for setting up elaborate 3D and special effects rigs. The PDMovie is priced at $900 USD and is available from B&H. In the UK, you get one for about £600 + VAT from here.
Ikan also offer the PDMovie Remote Air Pro Wireless follow focus for those with a bit more money to spend and/or who prefer to lose the cables. Check out our post on it here.
London-based camera and gimbal operator Stephan Knight shared with us his setup video of the PDMovie PDL-F Remote Live II, which he's been using on his Ronin + Sony FS5 gimbal setup for the past few months.
For more of Stephan's awesome work check out his Instagram here and website.
The PDMovie seems well built, easy to use and priced affordably for the indie market. Any of you guys use this remote focus before for your gimbal? Let us know what you think of it or if you have other favourite gimbal accessories that you been using recently.
Claim your copy of DAVINCI RESOLVE 16 - SIMPLIFIED COURSE with 50% off! Get Instant Access!