The inability to fly your drone in bad weather conditions is probably one of the most annoying limitations you may face as an aerial videographer. Fortunately, UK-based drone company QuadH2O has finally come up with a viable solution in that regard. Its latest HexH2O Pro V2 drone is not only the company's most powerful waterproof drone to date but it also can land on water and even film below the waterline.
What's more, the model accommodates the DJI's 4K X3 camera and gimbal system on board providing full DJI Go App integration and boasts other neat features such as high definition video downlink supplied by the DJI Lightbridge 2 giving a range of up to 3.1 miles alongside an impressive 30 minute flight time.
Unlike its predecessor, the latest HexH2O Pro V2 drone is powered by 2 x 6S 8000mAh 6S Lithium polymer batteries and features the latest DJI Naza N3 flight controller that provides some extra stability, better flight performance and reliability on the fly.
Billed as the most advanced waterproof drone on the market, the HexH2O Pro V2 can be further configured with a wide range of high-end optional components including the free DJI Ground Station PRO and the DJI channel expansion kit. Users can also add up to eight additional devices and control them from the ground, including the QuadH2O's proprietary 2kg payload release system.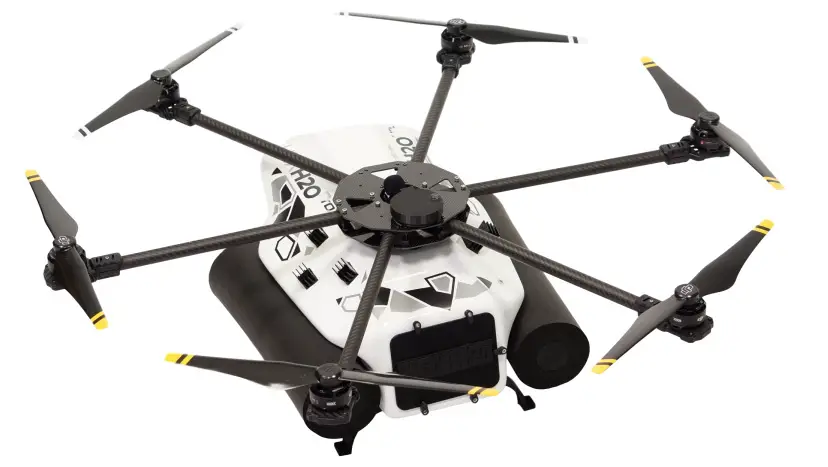 HexH2O Pro V2 Drone Key Features:
Up to 30 min flight time
Fly in the rain, snow, and land on water
Film above and below the waterline 4K camera with High Definition video downlink
3.5km flight and HD video range
DJI N3 flight controller
Stabilized gimbal Advanced flight controls including mission planning/waypoints
Auto take off, auto landing, failsafe/return to home-point
Controlled via the DJI Go App
Release Date: 31st March 2017
Price: $6,449

All in all, The HexH2O Pro v2 is not only professionally built, configured and thoroughly bench tested in-house drone but it's also one of the few waterproof UAVs you can currently get. The ability to fly the high-end QuadH2O UAV in extreme terrain and adverse weather conditions along with all the impressive features packed onboard come at a price, though. The unit is scheduled to hit the market on 31st of March 2017 with a retail price of whopping $6,449.
It's still unclear how much the latest DJI's Matrice 200 Series drone would cost but it's expected that both of these UAVs will be presumably in the same ballpark considering the similar functionality, payload, and identical features they have to offer. For more information and full specs of the HexH2O Pro v2, head over to the QuadH2O official website here.
[source: QuadH2O]
Claim your copy of DAVINCI RESOLVE - SIMPLIFIED COURSE with 50% off! Get Instant Access!