One year ago, Artlist.io launched in a beta version and set to revolutionise the way we license professional music for our videos, and now the full version brings more than 650 new songs and 120+ new albums to choose from. Last month, they opened the beta version to everyone, and from March 27th the full version of the site is now live.
Art-list are positioning themselves as  ..the filmmaking industry's new go-to library for high-quality licensed music. Art-list.io is available for a flat, yearly subscription fee of $199, which gives filmmakers and visual media creators of all types can get unlimited access to Art‐list's ever‐expanding library of high‐quality music.
The music is sourced from a worldwide network of independent musicians, and rivals the quality of today's most prominent music licensing. Speaking from personal experience, that I am sure many of you out there will echo, finding the right piece of music for the job can be extremely frustrating and often time consuming task, which more often than not can end with sub-par results due to approaching deadlines and lack of choice of proper music.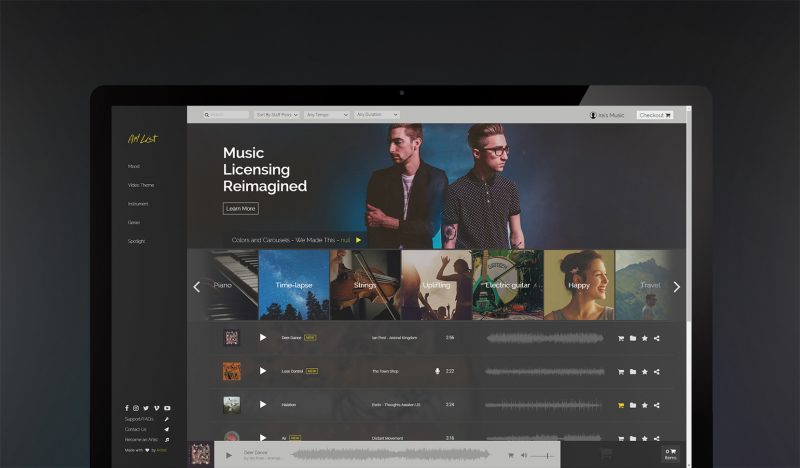 Artlist has integrated all the familiar tools that filmmakers use to find music including powerful new filtering and search options, project organization and much more. Here are just a few:
650+ new songs

120+ new albums

Multi-tag selections

New curated categories

Duration filter

Search by genre

Create and share collections

Completely re-designed platform

Up to 10x faster functionality

Enhanced user experience

Enhanced mobile experience

Free preview downloads

Overall bug fixes
That means thousands of great songs at your fingertips with no price tag after you subscribe – effectively solving the music budget issue. Subscribers to Artlist only have to add music to their cart, hit the checkout button and immediately receive the songs in their email inbox or access them directly in their Download History page on the site.
The release of the full version has come with a load of new music from some of Artlist's most popular artists and new musicians on the site. The catalog is compiled from a worldwide network of indie artists and rivals the quality of today's most prominent music licensing platforms.
The new collection feature allows you to share a curated selection of your own to share with colleagues and clients for better collaboration on your projects.
Also, you may have noticed that the dash in the name Artlist has been dropped. The simplified version makes it easier to write and share. Artlist will continue to grow its catalog and always bring their subscribers the newest and most relevant music for their projects.
If you haven't seen what Artlist has to offer yet, you can browse the entire catalog of over 2800 songs, download preview tracks and share what you find with others. We believe you will find that Artlist has made music licensing easy, fast, creative and affordable without any compromise on quality.
Head on over to Artlist to explore their awesome music library and pick the right piece of music for your next project.
Claim your copy of DAVINCI RESOLVE 16 - SIMPLIFIED COURSE with 50% off! Get Instant Access!