Not that long ago received my Panasonic GH5, and like most of you I was very excited to go out and shoot with it. When I received it around 10 days ago, I didn't have the V-Log L license, which like most of you outside the US, I had to order separately and pay around £81 to Panasonic UK for the pleasure. After a few days, I got a medium sized parcel (OK, I ordered two, but the box was still too damn big for basically a couple of piece of paper with a License number glued to it) and was ready to install V-Log on my camera.
Some of you who are in North America, I understand that some resellers were including V-Log L as a free bundle item for pre-orders before 3/30, but not us in the UK or EU (at least that I am aware of).
Hey, at least we have a 5 year free warranty in the UK – which I just claimed here, and you can do so as well – as long as you pre-ordered your GH5 from an authorised dealer before the end of March.
In any case, let's get back on topic here. A lot of you may know this already, but I've been getting a few questions about whether the V-Log license for the GH5 is the same as for the GH4?
Yes, the V-Log L license for the GH5 is the exact same license as the one for the GH4 – it is officially called DMW-SFU1 and you can buy one for $98 from B&H or Panasonic US directly. It will be SHIPPED to you, NOT emailed. I don't know why, but this is how it works.
In the UK, you can buy V-Log from some resellers or Panasonic UK's online store here. 
How to Install V-Log L on your Panasonic GH5 (once you receive the package)
STEP 1: EXPORT GH5 SERIAL NUMBER to SD Card
Go to: https://eww.pavc.panasonic.co.jp/enhance/  – This is the V-Log Activation page.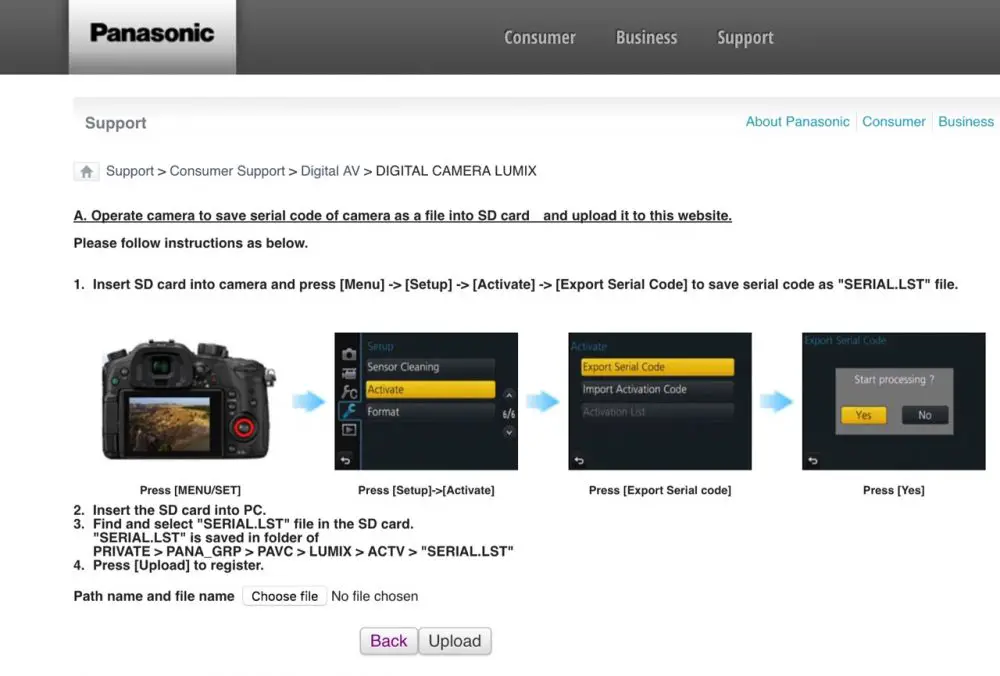 Take an SD card and insert into Slot 1 of your GH5. In the MENU go to the WRENCH and then go to the ACTIVATE -> EXPORT Serial Code – it takes a few seconds. This basically copies the serial of your camera to the SD card.
Then insert your SD card into your laptop/PC/Mac – your Serial Code will be saved in the PRIVATE->PANA_GRP->PAVC->ACTV-> your serial will be saved in a SERIAL.LST file.
As per the screenshot above – UPLOAD this file to the Panasonic website.
STEP 2: ENTER THE V-LOG L KEY 
The next page on the Activation website takes you to the most important bit – this is where you input that 25 DIGIT code you received in the mail – it is inside the black sealed envelope – this is basically your V-Log L code.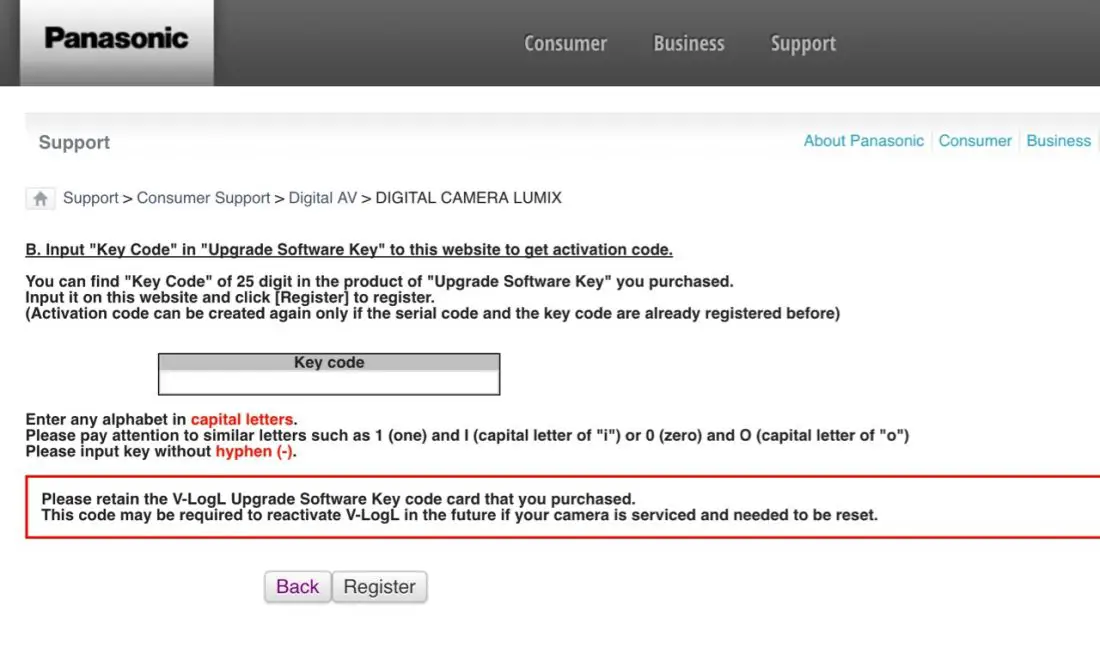 IMPORTANT: Make sure you DO NOT include any hyphens as the V-Log L code HAS them on the little sticker you get in the mail, but on the website above, enter the 25 digits in capital letters without spaces or hyphens.
STEP 3: Save ACTIVATION V-Log Code to SD Card
All you have to do here is click the SAVE TO SD CARD button, this way the V-Log L code is copied in the same folder as your SERIAL CODE for your camera.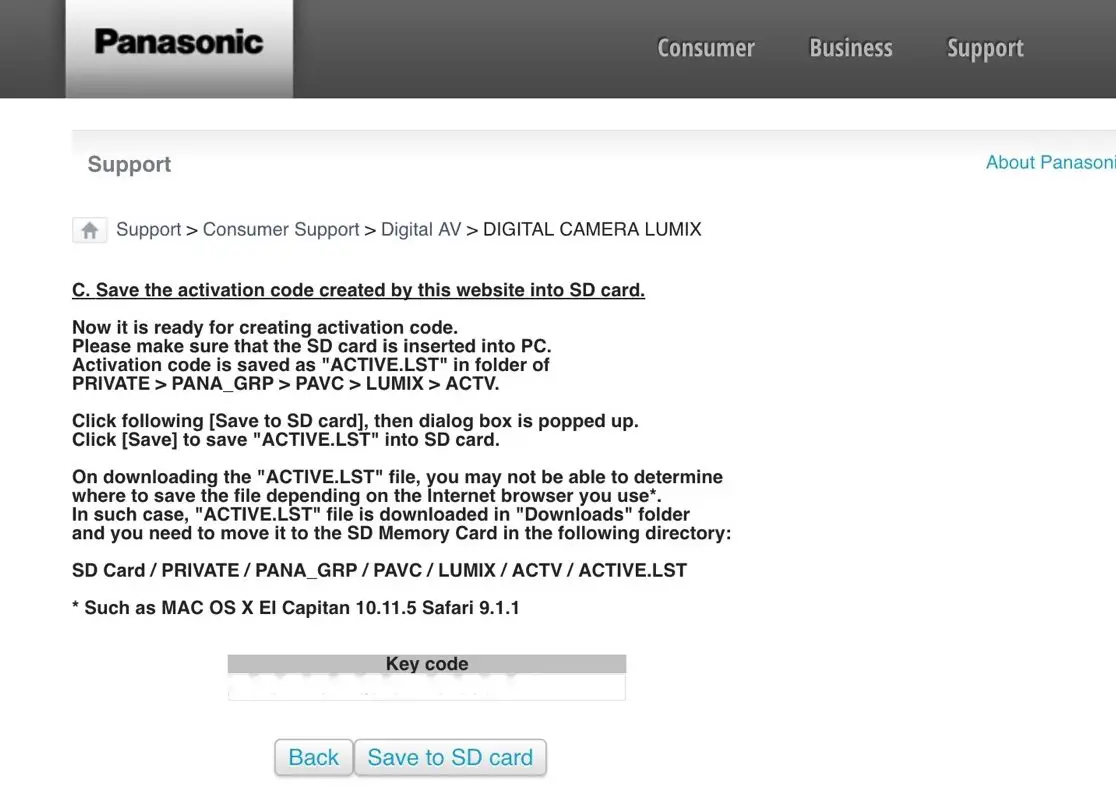 STEP 4: Import V-Log L Code into GH5
This is basically the same step as STEP 1, but this time, once you have inserted the SD card back into the camera, go again to the ACTIVATE sub-menu (located in the WRENCH Menu), but instead of using the Export Serial Code, chose the next option – IMPORT ACTIVATION CODE.
This will take a few seconds after, which you will be asked to turn the camera OFF and then back ON.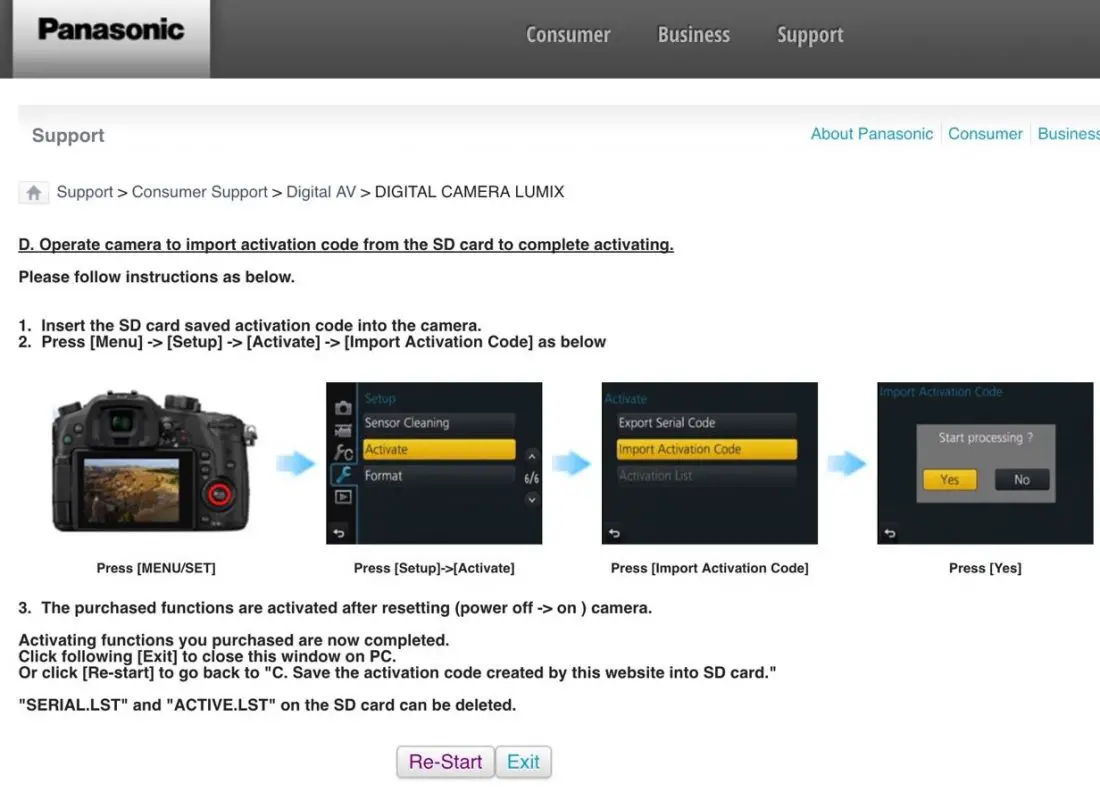 And that's pretty much it. After you turn back your GH5 on, go to the Picture Profile menu and you will see V-Log L listed as an option next to Like.709. See screen shot below.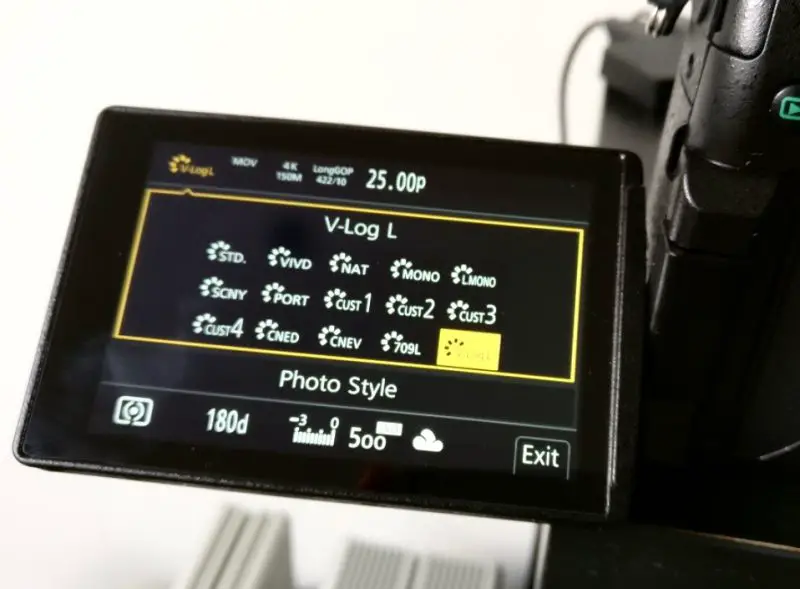 In any case, here is the V-Log L footage my buddy Rumen Vasilev shot on Saturday. Oh, we kind of forgot to turn on, or turned off IBIS by mistake on a few shots (most of them actually, I can't remember exactly what happened), then realised it too late. Still, not too bad I think, anyway – you be the judge.
Panasonic GH5 V-Log L 4K to 1080p (DELUTS) from 4K Shooters on Vimeo.
The sun was brutal, it felt like it was Summer, so since we don't really this kind of weather often in Britain we felt it was a good opportunity to stress the GH5 a bit in harsh, high contrast situations under the blazing sun and see how it will hold up. So far, I am impressed.
I'll post Part 2 in the upcoming days. Let me know in the comments what you think and share your experience if you have shot some V-Log with your GH5.
Claim your copy of DAVINCI RESOLVE - SIMPLIFIED COURSE with 50% off! Get Instant Access!