Another day, another pre-NAB announcement. This time it comes from DJI. The leading Chinese aerial imaging technology maker just announced the latest addition to its ubiquitous Phantom UAV's lineup – the Phantom 4 Advanced. The model boasts the same one inch, 20-megapixel sensor with mechanical shutter and a 24mm f/2.8 lens as the Phantom 4 Pro, but unlike its predecessor is now capable of delivering H.264 4K video at 60fps or H.265 4K at 30fps capture, both with a 100Mbps bitrate.
The titanium and magnesium alloy construction of the quadcopter not only increases the rigidity of the airframe but also reduces the overall weight making the Phantom 4 Advanced even lighter than the Phantom 4 sibling. On top, DJI also releases an Advanced+ version that comes with an all-new 5.5-inch 1080p screen integrated into the controller itself alongside a 128GB microSD card capacity and 30 minutes flight time.
According to DJI, the Phantom 4 Advanced offers improved optical performance, better dynamic range, and more image detail that its predecessor. Phantom 4 Advanced users will also be able to find many of the existing key intelligent features that allow smooth automatic flight modes, including Draw, ActiveTrack, TapFly, Gesture and Tripod.
The built-in FlightAutonomy system made up of 5 vision sensors, forward-facing obstacle avoidance system, dual-band satellite positioning (GPS and GLONASS), and ultrasonic rangefinders allow the Phantom 4 Advanced to hover precisely in places without GPS and also fly in complex environments that many other rivals would struggle.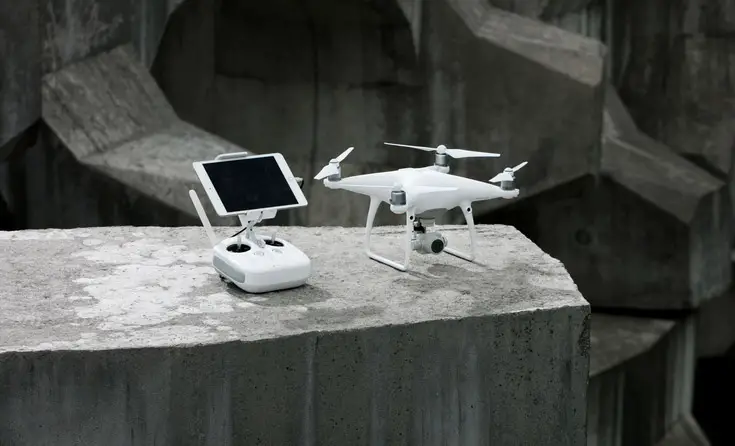 Furthermore, the 5.5-inch 1080p screen of the Phantom 4 Advanced+ version is more than twice as bright as conventional smart devices offering 1000 nits of brightness. The integrated Lightbridge HD video transmission system, on the other hand, provides a maximum range of 4.3 miles. In addition, content creators can now store more footage on the Phantom 4 Advanced+ increased storage capacity using a 128GB microSD card and a flight time extended up to 30 minutes.
Billed as the most affordable, intelligent and powerful flying camera drone you can currently get, the DJI Phantom 4 Advanced and Advanced+ will run for $1,349 and $1,649 respectively. Both units are already available on the DJI Store and will start shipping on April 30, 2017. DJI also announces that the company will discontinue the original Phantom 4 model on the same date. The company will continue to provide after-sales support to Phantom 4 customers, though.
[source: DJI]
Disclaimer: As an Amazon Associate partner and participant in B&H and Adorama Affiliate programmes, we earn a small comission from each purchase made through the affiliate links listed above at no additional cost to you.
Claim your copy of DAVINCI RESOLVE - SIMPLIFIED COURSE with 50% off! Get Instant Access!