Right on time for NAB 2017, Adobe releases another significant update to its Creative Cloud suite that includes new features for graphics and titling, animation, polishing audio and sharing assets along with support for the latest video formats, such as HDR, VR, and 4K.
Premiere Pro CC 2017.1 gets a few new essential panels along with a bunch of  incredibly exciting new features including a modern, intuitive way to create titles and motion graphics with Motion Graphics Templates, the new Type Tool and the Essential Graphics panel, the Essential Sound panel, Destination Publishing to Adobe Stock, Ambisonics audio for VR, HLG support for High Dynamic Range workflows, and a number of small but super useful improvements.
The Essential Graphics panel in Premiere Pro CC 2017.1, for instance, allows users to create titles and motion graphics using familiar controls and behaviors from Photoshop and Illustrator. The new Type tool lets you place titles and graphics directly on the Program monitor with controls to change the font, size, and color of the text.
Motion Graphics templates, on the other hand, bring the power of After Effects to Premiere Pro through easy-to-use and edit templates, allowing editors to add beautiful motion titles, animations and lower thirds to their videos which can be shared via Creative Cloud Libraries.
What's more, creative professionals can now create compositions in After Effects that can be saved as Motion Graphics templates, and then imported in Premiere Pro CC. You can then tweak further variables such as text, color, size, layout or mood of the motion graphics and more.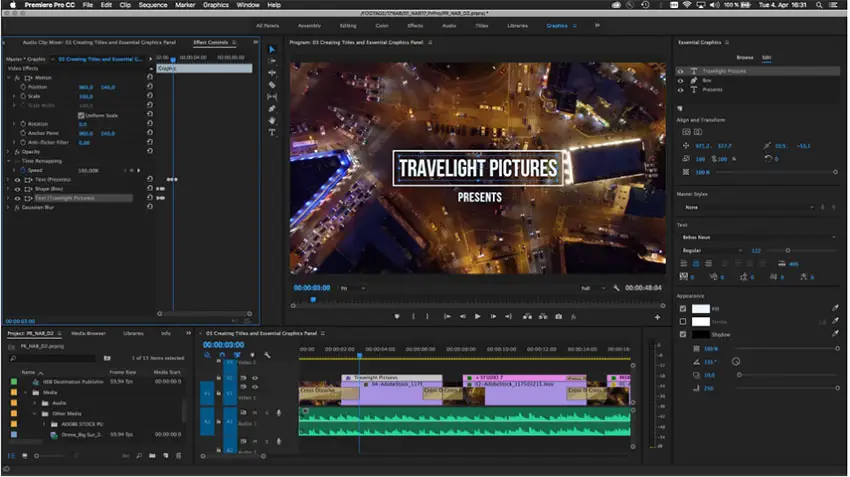 In addition to new powerful interchange capabilities between Premiere Pro CC and After Effects, you can interact with the Adobe Audition as well, through the Essential Sound panel that is now available for both products. This panel provides an intuitive, powerful audio editing experience focused on improving and refining your audio mix across the board.
Once you have the sound you want, you can save it with your project, or send to Adobe Audition for additional finessing. Any adjustments applied in the Essential Sound panel in Premiere Pro transfer to Audition without any loss as soft effects so you can continue to make changes and retain the highest audio fidelity. Beyond that, Premiere Pro CC 2017.1 now supports ambisonic audio export, enriching the VR experience with positionally-aware audio for VR enabled platforms like YouTube and Facebook.
Other new Premiere Pro CC 2017.1 features include:
Improved Playback Performance for XAVC 4K 60p
In and Out Points can be used for partial ingest
Three Axis rotation for VR Workflows
Batch edit function for captions
MacBook TouchBar support – with great options to customize
Microsoft Dial support
AME as a Windows Service
AME auto relink of assets
AME support for Team Projects
Support for Dynamic Link with Team Projects
Media cache expiration policies
New audio effects & improved integration with Audition
Match frame from sub clip
Hybrid Log Gamma (HLG) for HDR workflows with output to XAV
New formats (including Avid XDCAM OP-Atom, ProRes MXF, Panasonic LT, AVC-Ultra LongG export)
All current CC members and trial users can now download and install the latest Adobe CC software using the Creative Cloud desktop application, or online by visiting the Creative Cloud site directly.
[source: Adobe]
Claim your copy of DAVINCI RESOLVE - SIMPLIFIED COURSE with 50% off! Get Instant Access!