Besides its 360-degree Live Camera System, Panasonic just unveiled a few other enticing products including the AG-UMR20 Recorder/AG-UCK20 4K Compact Camera alongside the AU-XPD3 expressP2 Drive with Thunderbolt 3 capabilities. In essence, the AG-UMR20/combo is a small and compact camera package providing ultra-flexible, high-quality 4K image capture and advanced IP control and IP streaming.
Along with the 3G-SDI input and output on board, the UMR20 AVCCAM recorder features a lightweight, ergonomic design suited for handheld use. The UMR20 is capable of recording Full HD video at 50fps/59.94fps as well as high-resolution 4K (3840 x 2160) at 25fps/29.97fps when used in conjunction with the AG-UCK20. In addition, the recorder is equipped with Double SD memory card slots, enabling Relay Recording with two memory cards (SDXC memory card supported).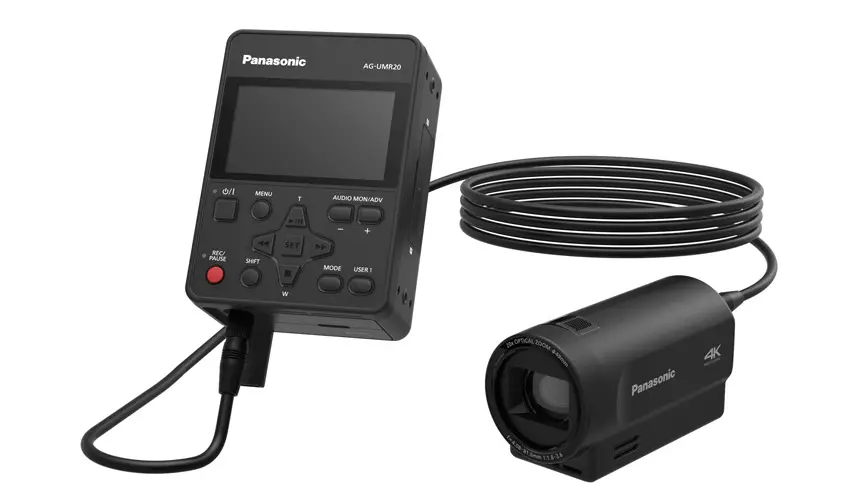 The UMR20 boasts improved recorder operation with a touch-panel monitor and large buttons. A 3.5-inch color LCD monitor displays content in thumbnail images for quick viewing that can be reversely displayed. Additional features include waveform monitor and vectorscope display (LCD only), photo file conversion (capable of 4K resolution photo extraction), time stamp, and continuous repeat playback of one or multiple clips (suitable for use in presentations). It operates on battery or DC12V power (AC power supply included).
The ultra-compact UCK20 camera head, on the other hand, sports a wide-angle 20x zoom lens that covers a range from 29.5 mm wide-angle to 612 mm close-ups (35mm equivalent). A 16-axis independent color correction function allows fine color adjustment, and an optical ND filter can be manually switched (OFF, 1/4, 1/16, 1/64). The UCK20 features an Infrared (IR) Shooting mode, and a 5-axis hybrid image stabilizer that makes the camera highly effective for shooting action scenes.
Users can control (Zoom, Focus, Iris) the camera through the LAN terminal on the UMR20, with various camera adjustments also possible from a PC or tablet. In addition, there is a fingertip operation available that that can be accessed through the remote terminal on the recorder as well. The UCK20 also includes a built-in microphone (ON/OFF switchable), and a Scan Reverse mode (horizontal/vertical inversion) for shooting with a ceiling-mounted camera head.
The UMR20/UCK20 combo will be available in May at suggested list prices of $2395.00 and $1995.00, respectively.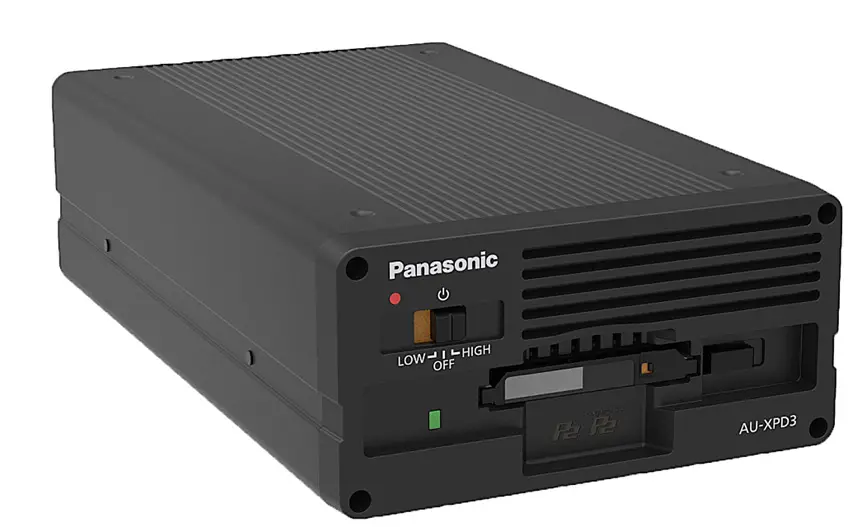 Billed as the industry's fastest offload device, the AU-XPD3 expressP2 Memory Card Drive boasts a Thunderbolt3 interface and provides the ability to daisy chain up to six XPD3 units to allow simultaneous multiple offloads. The device delivers single-drive performance of 10Gpbs and daisy-chain performance of 17.6Gbps, which translates to offload speeds of 512GB (AVC-Intra 4K 4:2:2 24p) in seven minutes and 1TB (daisy-chained, AVC-Intra 4K 4:2:2 24p) in eight minutes.
Furthermore, the unit is compatible with expressP2 A series and legacy P2 memory cards, as well as microP2 cards when using the optional AJ-P2AD1G adapter. The AU-XPD3 is expected to hit the market in June 2017 at a suggested list price of $1850.00.
[source: Panasonic]
Disclaimer: As an Amazon Associate partner and participant in B&H and Adorama Affiliate programmes, we earn a small comission from each purchase made through the affiliate links listed above at no additional cost to you.
Claim your copy of DAVINCI RESOLVE - SIMPLIFIED COURSE with 50% off! Get Instant Access!