If you are predominantly using Premiere Pro CC as your main video editor and you still haven't found an effective solution to transcode the tedious GH5 10-bit files to be able to edit them natively in your favorite Adobe NLE, seasoned professional Erik Naso has a simple and effective workaround in mind.
Until Adobe releases the imminent update of Premiere Pro CC that should permanently fix this incompatibility issue, you can use the latest version of EditReady app as an alternative solution. The transcoding/rewrapping software is a fantastic tool that can not only handle GH5's 10-bit files with ease but also can speed up transcoding of your media immensely over time.
In addition, EditReady 2 allows users to re-size, rotate, re-time, and apply LUTs to their media as well as burn-in timecode, metadata, custom text and even images. The app also comes with a neat built-in player that can be utilized to preview your camera original media files before you transcode them. You can output QuickTime movies for Adobe Premiere Pro and Apple Final Cut Pro, FCPX or write DNxHD/HR OPAtom or OP1a MXFs for Avid Media Composer.
The software supports a wide variety of formats available on cameras like the Canon C300, Sony F5, FS7 (XAVC), Panasonic HDC-TM900 or Sony NX5U (AVCHD), GoPro HERO5, DJI Phantom 4, Panasonic GH5, or Canon 5d Mark IV (MP4) and more. Plus, you can run multiple batches within the EditReady interface, allowing you to simultaneously generate proxy media and online material, or convert footage from different cameras.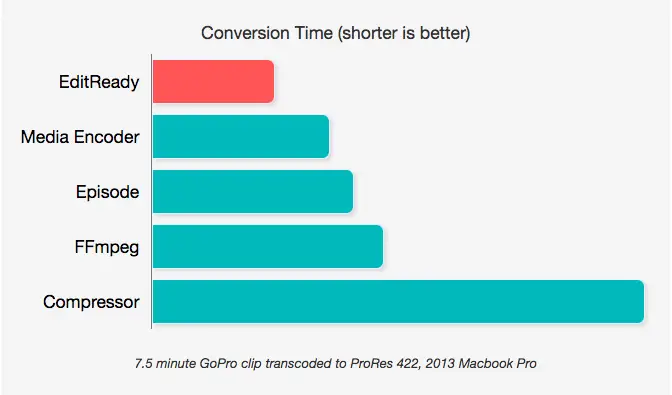 I'm sure that many of you would prefer to work with the 10-bit GH5 natively in Premiere Pro CC as you'd normally do with an 8-bit material, but for now, transcoding seems to be the only viable option. If you already have the previous iteration of the software installed on your Mac, you can upgrade to EditReady 2 for $19.99 or you can get the latest version for $49. Head over to Divergent Media website for more information.
[via: NewsShooter, source: Todd Munro]
Claim your copy of DAVINCI RESOLVE - SIMPLIFIED COURSE with 50% off! Get Instant Access!