Cinevate have a new version of their popular compact slider – the Cinevate Duzi v4 Lite. Now available in a "flywheel-less" version, the Duzi 4 Lite has a load capacity of 100 lbs, increased stability and wheel precision and is compatible with the Cinevate Modo motion control system.
Priced at just $389 US (for the 24 inch version, +$40 for the 32 inch length) the new flywheel-free version of the Cinevate Duzi 4, appears to be a solid, precise, durable and affordable camera slider. for those of you out there sticking to more portable cameras of the DSLR/mirrorless ilk such as the Panasonic GH5 and/or super popular Sony A7sII.
The new Duzi 4 Lite "looses" the flywheel and in a way maybe a bit of the control over the inertia of the slider moves, but for those of you experienced with fully manual and belt-less slider systems, getting smooth slides shouldn't be a problem.
The unit comes in with the standard set of "stubby" legs, but for $125 you can also get the "all terrain" legs, which would make it easier to use on uneven terrain in the field.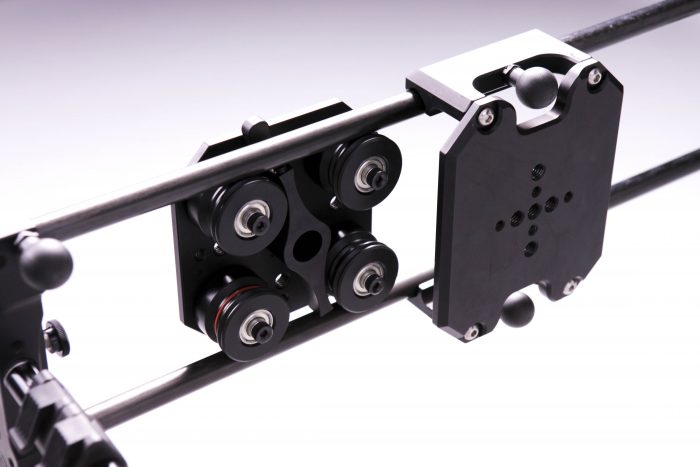 Cinevate Duzi 4 Lite Slider Features
Lightweight & rigid, solid carbon rails
Load capacity – 100 lbs
Micro adjustable rollers increase precision of slides
Centre mounted ball feet to increase strength and stability
Integrated Bumpers on End Blocks
Integrated bubble level
Crafted from CNC machined aluminium and stainless steel
Available in either 24 or 32 inch lengths
8 precision roller bearings
Centre and side mounting tripod options
Micro adjusting urethane ball feet
Brake easily secures camera anywhere on the rails
Cheesed-out top and bottom plate
Compatible with Modo – motion timelapse system
If you are not familiar with the Cinevate Duzi 4, check out the video below and our write up on it from a few months back.
The Duzi 4 Lite kit ships with:
2 x 15mm solid carbon rails
2 x End blocks
3/8″ mounting stud
Brake
6 x Urethane ball feet
Additional accessories include the Modo motion control system for timelapse, which will set you back about $219. The Duzi 4 lite is a rather compact slider, but as with any piece of gear you have to think about how to transport it from location to location.
The Duzi Carrying Strap is a neat idea, and it costs $31.80, while for those looking for a more traditional carry cases – those are available for $159 and $170 depending on whether you get the shorter 24 inch base or the 32 inch Duzi 4 Lite.
The Cinevate Duzi 4 Lite is available direct from Cinevate's online store at the moment and soon through authorized dealers.
I've been following the development of the Cinevate Duzi series of sliders for some time and now with the fifth iteration they seem like a very appealing option. I am currently in the market for a new compact slider, and the fact that the Duzi 4 Lite can take up to 100 lbs (not that I'll ever need to put that much weight on it) is impressive as my GH5 rig is getting bigger with a cage, Atomos Ninja Inferno and by the time I get a new slider, I would've added at least two more bits to it… it never ends….
Claim your copy of DAVINCI RESOLVE - SIMPLIFIED COURSE with 50% off! Get Instant Access!