I'm sure many of you remember last year's Complete Video Creators Bundle by 5DayDeal that took the world of aspiring filmmakers and video creators by storm. And this year, we're super excited to announce that the biggest and most exciting education event is back again and it's now better than ever with tons of new goodies and a brand new giveaway!
For those of you who might not be aware or have missed the previous event for some reason, the Complete Video Creators Bundle 2017 features a totally new selection of remarkable, once-in-a-lifetime collection of seriously discounted tutorials and digital tools.
This year's exclusive bundle includes professional training and resources related to Final Cut Pro X and Adobe Premiere Pro editing, camera techniques and visual storytelling, lighting and sound production, color grading and after-effects, aerials and drones, and business and marketing and much more.
The sale goes live on Thursday, June 1st, 2017.
The resources in this bundle come from award winning cinematographers and industry experts whose work and leadership are known around the world. So, whether you're a seasoned professional or an enthusiast that is just starting out and looking to learn the craft of creating cinematic and engaging videos, you're bound to find the right course/tool for you in the 2017 bundle. There's literally something for everyone in this bundle — and the savings are ridiculous!
Now you have a chance to spread the word about this amazing video creators event and win some fantastic prizes like professional gear, a bunch of free courses, camera bags, and other goodies from event's sponsors by taking part in the crazy good $10,000+ 5DayDeal Giveaway that's already up and running. (just click on the link here to get in)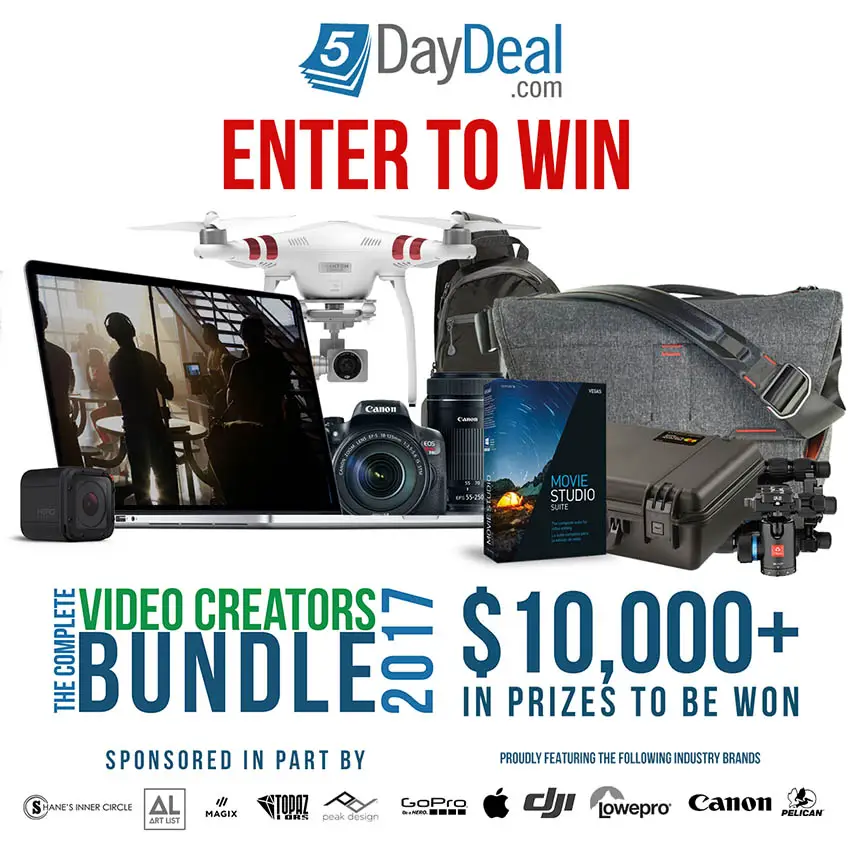 And, the best part of this whole event is that 10% of the bundle revenue goes directly to carefully selected charities: The BOMA Project, Tough As Her, The Exodus Road, Mercy Ships and Smile-a-mile.
In the past few years, the 5DayDeal initiative alongside the supportive community of creative professionals managed to raise over $1 million!
The entire filmmaker's community is rallying together to raise $60,000 in the upcoming days between June 1st, 2017 and June 6th, 2017 when the Complete Video Creators Bundle 2017 will be available.
As usual, these products have never been offered through 5DayDeal, and they will never be offered again. So, if you're serious about gaining new skills, working with industry leading tools, and saving money, you simply can't afford to pass this up.
The biggest and most exciting education event starts next Thursday, June 1st, at 12.00am Pacific Time so stay tuned! In the meantime, you can enter the $10,000 5DayDeal Giveaway by using the following link.
Claim your copy of DAVINCI RESOLVE - SIMPLIFIED COURSE with 50% off! Get Instant Access!