Canon's 18-80mm T4.4L compact servo zoom is touted by its makers as capable of impressive 4K imagery in a lightweight, yet rugged body. And I am sure that it does, I had a chance to see the lens at a few trade shows in the UK and also at some dealer hands-on events and the lens definitely feels nice to use. Sure, it may not be a f2.8 and the the zoom range may be viewed by some as limited, but if you are a Canon C100 II/C300 II run n' gun shooters, this is a lens worth considering. At NAB 2017, Canon also added a second lightweight compact zoom in the same range – the 70-200mm T4.4, which you can read more about in our post here.
Matthew Heineman is a director and cinematographer of award-winning documentaries such as the Oscar nominated and Emmy award-winning "Cartel Land" (2015), which he shot using a variety of Canon gear namely the C300 as his main camera, and the Canon 1DC and 7D for some drone and b-roll shots. His latest film, City of Ghosts, debuted at the 2017 Sundance Film Festival to widespread critical acclaim.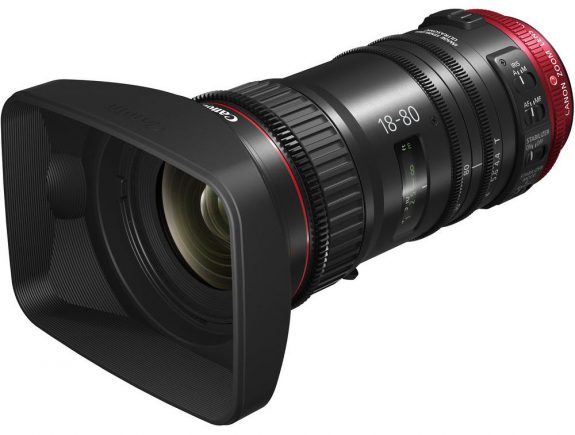 According to Canon, "when Matthew had the opportunity to test the Canon 18-80mm compact servo lens, he was thrilled with its parfocal performance, and how its small size allowed him to be a part of the action without being too conspicuous."
See how Matthew felt after his first shoot with the lens in the video below.
Canon CN-E 18-80mm T4.4L EF Features
Covers Super 35 & APS-C Sensors
Native EF Mount
T4.4 Constant Maximum Aperture
9-Blade Iris for pleasing bokeh
Parfocal with Minimized Focus Breathing
Compatible with Servo Lens Controllers
Optional Control Grip
77mm filter thread
Image Stabilization & Auto Focus Support
180° Rotation for Focus
Lightweight at only 2.65 lb
The 18-80mm compact servo combines Canon's EF, Cinema, and Broadcast lens lines' technologies such as the more than impressive Dual Pixel AF, built-in image stabilization, autofocus, and auto iris, making it quite versatile for a variety of shooting scenarios ranging from documentary, event and corporate work. A servo drive unit comes standard with these lenses, allowing for intuitive and smooth control of the zoom via either the buttons on the lens or the optional ZSG-C10 handheld grip (around $475 at B&H).
Nathan Golon from GoodFight Media also took the 18-80mm for a spin and shared his thoughts.
Nathan has worked as a cinematographer for documentaries that have premiered at major film festivals and has filmed in nearly 40 countries. Needless to say, when traveling all over the world to film in remote places, he needs his equipment to have a small footprint, be lightweight, and be able to withstand the rigours of run-and-gun shooting, while also performing to his exacting standards.
Have any of you guys taken the 18-80mm for a spin yet? Thoughts, comments? Share in the comments below.
Claim your copy of DAVINCI RESOLVE - SIMPLIFIED COURSE with 50% off! Get Instant Access!