Undoubtedly, the two major announcements for our intents and purposes here at CineGear were the new Panasonic EVA 1 4K Super35 camcorder, and the latest addition to the Canon Cinema EOS lineup – the Canon C200. And although we haven't yet seen footage from the former as the camera is not done yet, Canon on the other hand have released some promo footage from a few pre-production models of the C200.
As a reminder for those of you not caught up with the latest 4K camera announcements – the Canon C200 is scheduled to start shipping towards the end of July, while the Panasonic EVA 1 more likely to follow at some point in the Fall, more likely and realistically towards October.
This shipping dates for both cameras have nothing to do with their respective capabilities of course, but it is worth to know when equipment is due to ship as you can plan your shoots/purchases accordingly.
Denmark-based DP, Nicolai Brix of B-Visuals.dk recenty shot a cool promo with the new Canon C200 and had a few words to say about it.
The film is about the Kata SKIF World and European champion Lars Henriksen. The video was shot with the Canon Cinema Eos C200; 80% was shot in RawLight and rest in 1080p/100fps in the MP4 format.
Canon C200 Features & Highlights
4K DCI Cinema RAW Light to CFast 2.0

4K/60p – 10 bit
4K/30p – 12 bit 

Internal Compressed Codec options:

4K/60p Long GOP 8bit 4:2:0 at 150 Mbps in MP4
4K/24/25/30p Long GOP 8bit 4:2:0 at 100 Mbps
2K/HD at 35 Mbps 8bit 4:2:0 in MP4
Full HD 120fps Continuous with no sensor crop
Records onto SD cards
Can do 2K/Full HD Proxies on SD card and Raw on Cfast 2.0

Up to 15-stops dynamic range (Cinema RAW Light)
Wide DR, Canon LOG & Canon LOG 3
Dual Pixel CMOS AF with touch control and extensive shooting functions
Built-in NDs – 2/4/6/8/10 stops (like on the C300 MK II)
ACES 1.0 Support
BT.2100 (PQ) HDR support
HDR ST-2084 LUT (in EVF)
Uses BP-A30 and BP-A60 batteries (same as C300 MK II)
8bit 4:2:2 XF-AVC 4K internal codec coming Q1 2018 as free firmware
NO Way to Output 4K Raw (has to be recorded internally)
HDMI Output:

1920 x 1080p – 10bit 4:2:2
3840 x 2160 – 8bit 4:2:2

SDI Output:

2048 x 1080 / 1920 x 1080 – 10bit 4:2:2 – Raw Light
1920 x 1080 – 10bit 4:2:2 

Price: $7,499 (B&H, Adorama)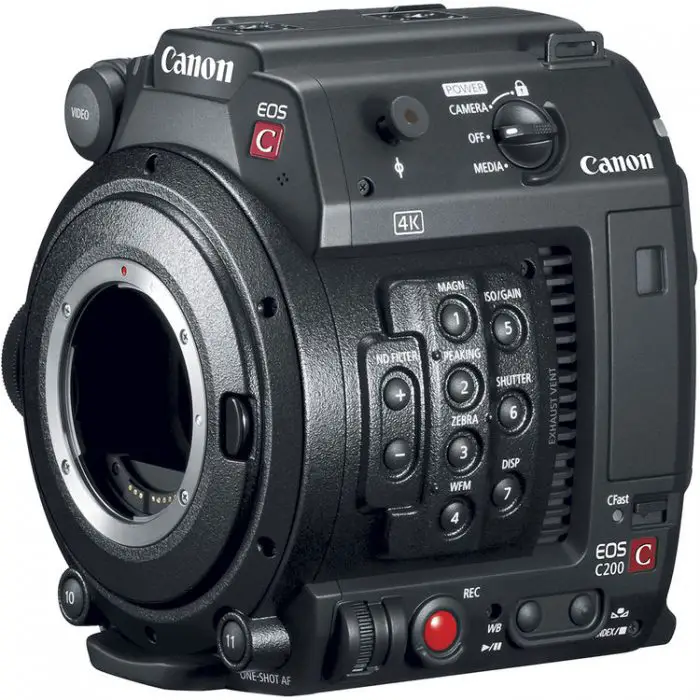 I've already expressed my opinion on whether the C200 is the right camera for you (see the post here), but the more footage I see shot on it, the more it is starting to grow on me. I saw the C200 at the Media Production Show 2017 in Kensington Olympia in London just a few days ago and the one model they at the Canon stand, they had it paired with the Canon 18-80mm compact servo, which is a cracking good lens for run-n-gun type of work.
The DPAF with the 18-80 on the C200 worked like a charm, and overall the C200 didn't feel any bigger than than the C100 Mark II. I found the mounting bracket of the new touchscreen to be a bit wobbly, but maybe this was because hundreds of hands have touched it over the course of a full exhibition day.
All in all, I think the Panasonic EVA 1 will have her hands full upon release, as I see the C200 as a very close competitor camera; but I have hight hopes and I am rooting for the new Panasonic to deliver a stellar image and some sort of decent AF.
Have any of you seen the C200 yet either at CineGear or elsewhere? What do you guys think of it?
Claim your copy of DAVINCI RESOLVE - SIMPLIFIED COURSE with 50% off! Get Instant Access!