Sound Devices announced recently that its Wingman remote control application is now available for Android users. The Wingman app, which originally launched for iOS devices, works with both the Sound Devices 6-Series line of professional field mixer/recorders (633/664/688) and the all-new MixPre Series of audio recorders including the MixPre-3 and MixPre-6. With Wingman, users can start and stop audio recordings, monitor meter levels, enter and edit metadata, as well as arm, disarm, and rename tracks.
For the 6-Series, it also gives users touch-screen access to manage sound report information and the ability to email those sound reports (.csv files) directly from an Android or iOS mobile device.
The new Wingman Version 3.00 release is available as a free download via the Google Play store for Android devices running version 5.0 or later.
" Listening to our users and meeting their needs is important to us, which is why our users play a central role in feature decisions regarding all of our Sound Devices products. We've received many requests to offer Wingman via Android devices, so we're making a lot of our loyal customer-base very happy today," says Matt Anderson, President, Sound Devices, LLC.

"For workflows with desired remote-control access, Wingman offers seamless, affordable convenience."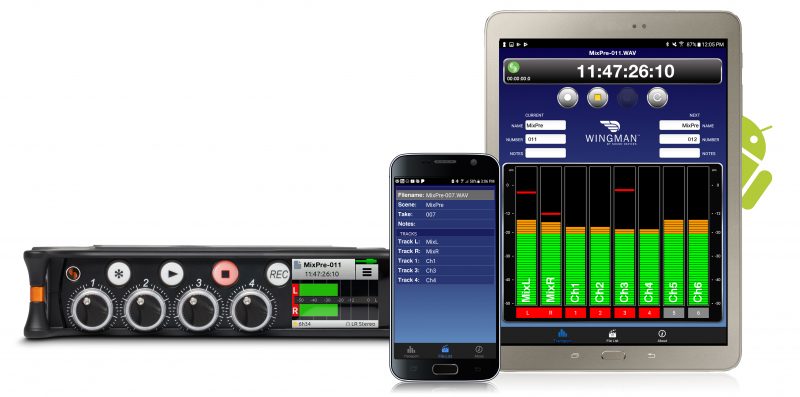 While Wingman is available free from both the Google Play and Apple App stores, wireless remote control integration with the 633, 664 and 688 mixer/recorders does require the WM-Connect Bluetooth Smart USB accessory, which may be purchased from any authorized SoundDevices audio reseller. It also requires a 6-Series firmware update to version 4.00 or later.
All firmware may be downloaded at no additional cost from the Sound Devices website.
With their integrated Bluetooth Smart technology, the new MixPre-3 and MixPre-6 recorders do not require the WM-Connect. WM-Connect is a Bluetooth Smart USB dongle that may be inserted directly into any 6-Series mixer, using one of two included USB A-to-B adapters.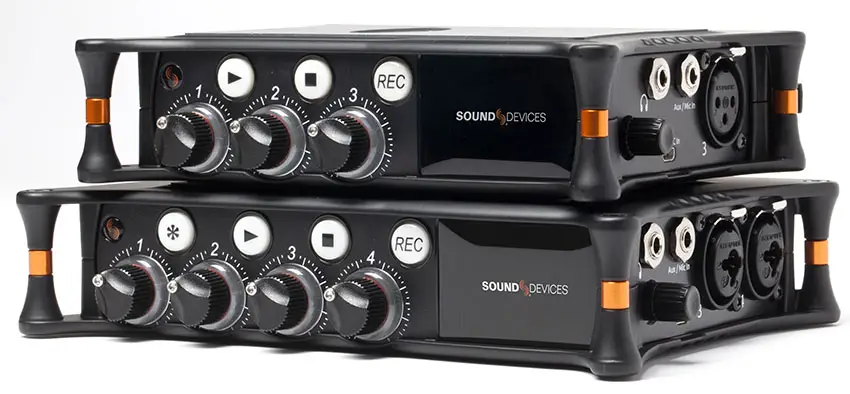 For those unfamiliar with the MixPre-3 and MixPre-6 recorders check out our initial post here, and these tutorials here.
Sound Devices MixPre Series Features
Kashmir Microphone Preamps
3 x XLR inputs / 4 x on MixPre-6
USB Audio-Recording Interface
Small Stature Fits Most Environments
Navigation with Basic and Advanced Modes
Ring LED Metering per Channel
Built-In 1/4″-20 Mount for Videographers
Feed Timecode via HDMI & 1/8″ Inputs
Uses AA or Sony L-Mount Li-Ion Batteries
MX-4AA Battery Sled (No Batteries)
2 x USB Type-A to 1 x USB Type-C Y-Cable
Sound Devices MixPre-3: $649 at B&H
Sound Devices MixPre-6: $899 at B&H
For cart-based workflows, the accessory may be inserted into the keyboard port of the Sound Devices CL-12 linear fader controller. The Android release of Wingman v.3.00 is backward compatible with previously purchased WM-Connect dongles, so no hardware upgrade is required.
For instances where multiple 6-Series or MixPre Series units are on set, Wingman will display all available devices at startup, and the user may switch connection from one mixer/recorder to another from within the app. As an additional security measure, users have the ability to set up a remote password for Wingman connectivity on the mixer/recorder itself.
Wingman v3.00 also includes feature enhancements for iOS users. The update is available as a free download from the Apple App store.
Claim your copy of DAVINCI RESOLVE - SIMPLIFIED COURSE with 50% off! Get Instant Access!