Having a 720p preview window while editing along with other essential panels of your favorite NLE all displayed on a single screen could be a huge benefit indeed, but what are the other advantages when you compare a 21:9 monitor with let's say а dual monitor setup?
Well, the unique aspect ratio alongside the extra on-screen real estate means that you'll be able to keep all your tools and assets in sight all the time. Rather than that, the 34UC88-B 34″ 21:9 UltraWide Curved FreeSync IPS Monitor from LG brings many other neat features to the table, so if you want to take a closer look a the monitor itself and decided whether it fits your personal workflow, the next video by Kraig Adams should put things into perspective and give you some clues on the topic.
Due to the fact that video editing is typically a timeline-based workflow, having the ability to see your entire timeline at a glimpse could be a serious advantage while editing as it can not only save you a lot of time by providing uncompromising visibility to all bits and pieces of your edit but also can help you tremendously with keeping things neat and well organised all the time.
Productivity is also greatly increased with the additional space provided with the display. As a video editor or any other content creator, it's nice to be able to have multiple items on the screen at once for faster and better control over the creative process while still keeping everything in sight.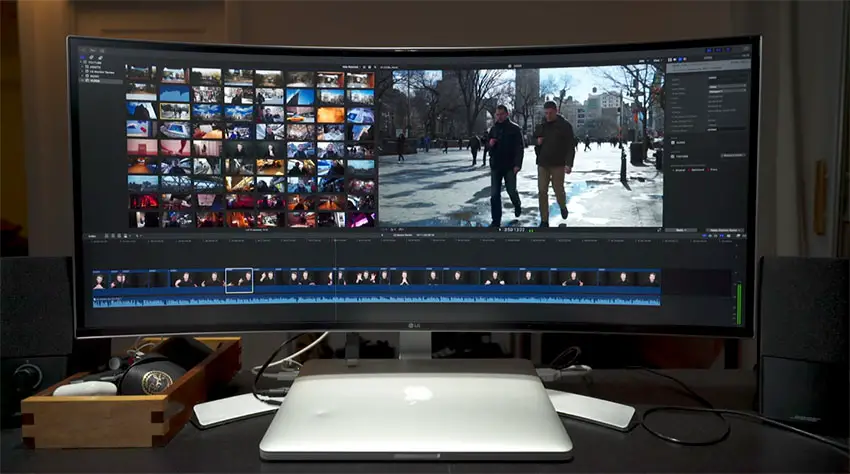 Besides that, the LG 34UC88-B monitor features an impressive 10-bit IPS display boasting 3440 x 1440 QHD resolution and the ability to reproduce 1.07 billion colors. It also provides over 99% of sRGB coverage as well as it combines a 5,000,000:1 dynamic contrast ratio, 300 cd/m² brightness rating, 10-bit color support, and a 5 ms response time for a seamless viewing experience.
Furthermore, the monitor supports FreeSync (Adaptive Sync) technology through DisplayPort, which synchronizes your graphics card with the display to output content at variable refresh rates, thus eliminating screen stuttering and tearing. Regarding connectivity, the LG 34UC88-B packs two USB 3.0 Type-A ports on board, one of which is quick-charge compatible for your mobile devices.
LG 34UC88-B Highlights 
In-Plane Switching (IPS) Technology
HDMI + DisplayPort Inputs
3440 x 1440 QHD Resolution
5,000,000:1 Dynamic Contrast Ratio
300 cd/m² Brightness
178°/178° Viewing Angles
5 ms Response Time
1.07 Billion Colors
Built-In USB 3.0 Type-A Hub
Overall, the LG 34UC88-B monitor is perfect for a wide variety of professional applications and multitasking purposes, especially if having some extra screen real estate is an essential consideration for your workflow. For instance, you can have multiple windows side by side or one large window where you can see all the details. You can even open two creative apps and run them simultaneously side by side.
So, if you want to optimize your desk setup and replace your dual screen monitor with a single display, without sacrificing on screen real estate and functionality at the same time, then the LG 34UC88-B could be a viable option for your workflow as it's one of the best consumer monitors geared toward the professional needs of those content creators predominantly working with timeline-based audio and video editing applications on a daily basis.
[source: Kraig Adams]
B&H Order Link:
LG 34UC88-B 34″ 21:9 UltraWide Curved FreeSync IPS Monitor
Claim your copy of DAVINCI RESOLVE - SIMPLIFIED COURSE with 50% off! Get Instant Access!