RED just announced MONSTRO 8K VV – the replacement 8K Full-Frame sensor for their top of the range Dragon 8K VV sensor. The new MONSTRO 8K VV sensor is designed for their WEAPON CF and StormTrooper camera bodies and has slightly more dynamic range (17+ stops, or 2/3rds stop more than Dragon 8K VV, according to RED), supports in -camera IPP2, and shows a drastic reduction in noise.
The new 8K sensor is capable of shooting motion and stills in 8K 2.4:1 at up to 75 frames per second (fps), or 8K Full Format at 60 fps delivering exceptional cinematic image quality with a sensor size of 40.96 mm x 21.60 mm. At full 8K resolution, the MONSTRO sensor captures 35.4 Megapixel motion and stills with low noise and now ships with IPP2, RED's improved image processing pipeline.
Prepare for data rates of 300 MB/s, which allow users to record REDCODE RAW alongside proxy 4K Apple ProRes or 4K Avid DNxHR formats, simultaneously. MONSTRO 8K VV has been designed to live inside the Carbon Weapon DSMC 2 camera body (StromTroopers limited editions too), giving it all the perks of the most advanced RED camera bodies such as cable-free peripherals, an integrated mounting plate, wireless control, and compatibility with a growing number of DSMC2 modules and accessories.
The new camera designation for those that want to buy the brain outright is the formidable RED Weapon MONSTRO 8K VV, and also supports interchangeable OLPFs and lens mounts, empowering cinematographers to make the most of all of your VV compatible PL and Canon lenses.
This from Jarred:
All new Pixel Design.
2/3rds of a stop greater dynamic range than Dragon VV.
In Camera IPP2.
Increased color accuracy.

Pricing:

$29,500 as a sensor upgrade to existing CF DSMC2 Weapon camera owners
$14,500 as a sensor upgrade to existing DSMC2 Weapon Stormtrooper owners
$79,500 as a new Monstro VV Weapon camera.

If you have an existing VV Dragon paid pre-order in, your order will be changed to a VV Monstro Automatically, and we will pay the difference of the upgrade cost. Thanks for waiting.. and sorry again that it took so long to tame the VV process.

Starts shipping to existing VV reservation holders today.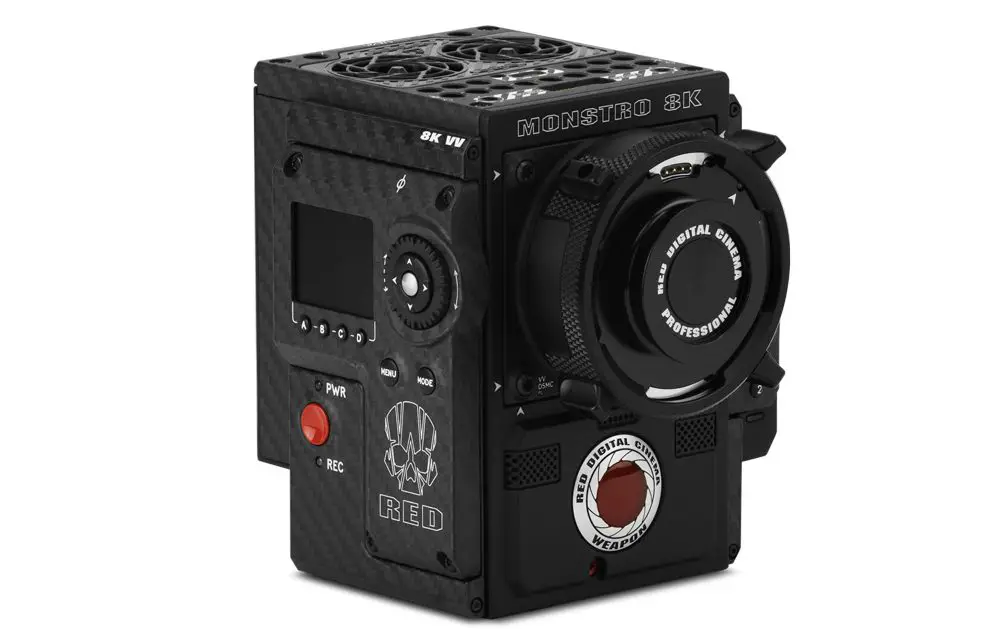 IRON HORSE is shot on WEAPON with the new MONSTRO 8K VV sensor, a cinematic Full Frame sensor for WEAPON cameras. MONSTRO is an evolutionary step in sensor technology, capturing 8K full format motion at up to 60 fps, producing ultra-detailed 35.4 Megapixel stills, and incredibly fast data speeds up to 300 MB/s.
RED MONSTRO 8K VV Sensor Features
MONSTRO 35.4 Megapixel CMOS
8K (8192 x 4320) resolution
Incredible dynamic range up to 17+ stops
8K up to 60 fps full-format
4K up to 30 fps
2K up to 120 fps using ProRes or Avid
Up to 300 MB/s write speeds
Interchangeable lens mount
Full modularity and a small, lightweight design
Ships with RED's new image processing pipeline (IPP2)

Available as paid upgrade to RED Weapon CF and Weapon StormTrooper owners
$79,500 to buy as camera brain – RED Weapon 8K VV MONSTRO

Ships Early 2018
As of the last year or so, the high-end camera war seems to be fought over not just high resolution – 6K and 8K, but also sensor size, which naturally is getting bigger. ARRI have had the Alexa 65 for some time now (and RED has a few Weapon 8K Dragon VV's out there), and just a month ago we saw Sony enter the fray with their VENICE 6K FF.
The new RED MONSTRO 8K VV seems to be taking the game to a whole new level as it shows significant reduction in shadow noise in the direct comparison between the Dragon 8K VV sensor it replaces (Reduser link below). However, don't be fooled, at $80K for the brain alone, those of us in the trenches of low and mid-level work won't be getting anywhere near that sort of performance anytime soon.
And while I fully understand there are those, who demand to stay on the bleeding edge of capture technology with the most resolution, biggest sensor size and huge dynamic range, there's still plenty of good work to be done in the 4K S35 realm, which I am not looking to leave anytime soon. I personally don't care too much for sensor sizes bigger than Super 35 or resolutions higher than 4K, but I know why companies like RED have to push the boundaries… and I admire them for that reason.
Fore more info follow the discussion over at Reduser.net here and check out RED.com.
Claim your copy of DAVINCI RESOLVE - SIMPLIFIED COURSE with 50% off! Get Instant Access!