Beyond any doubt, computing power is an essential consideration for all creative professionals when it comes to heavy post-processing and tackling multiple resource-intensive tasks. With the variety of computer systems available to content creators ranging in price and performance, it can be tough to choose the right workstation for your specific needs. To ease things out, widely recognized by the filmmaking industry computer manufacturer Hewlett-Packard (HP) has recently introduced their new hybrid laptop, the ZBook x2, promising to deliver workstation-grade performance in a convenient yet uncompromising form factor.
Showcased at this year's Adobe MAX Conference in Las Vegas, the ZBook x2 is a beast of a mobile workstation that was conceived to help creators in need of a system that strikes the balance between efficiency and elegance, performance and portability. The construction and design of the computer are aided by film-giant Adobe who have publicly expressed their enthusiasm for HP's latest endeavor into the professional creative systems market.
Touted as the world's first detachable PC workstation, the brand new ZBook x2 is constructed of high-quality aluminum and die-cast magnesium materials, built in a way that is highly reminiscent of the Wacom MobileStudio Pro tablet workstation. In fact, the laptop inherits some design elements from the MobileStudio Pro with the inclusion of programmable buttons on the sides of the display.
Speaking of the display, artists can indulge in the included 14-inch 4K IPS panel with a stellar anti-glare coat that allows users to see their work in the best light possible. What's more, it's a multi-touch display, meant for use primarily with the included battery-less pen that is based on Wacom's EMR technology offering up to 4,096 levels of pressure and tilt sensitivity.
For those who are looking for increased color accuracy, you may opt to upgrade the display to an HP DreamColor monitor, which is calibrated to show 100% of the AdobeRGB spectrum. Additionally, the 2-in-1 portable computer can power five displays, or two additional 4K monitors, using an optional Thunderbolt 3 dock.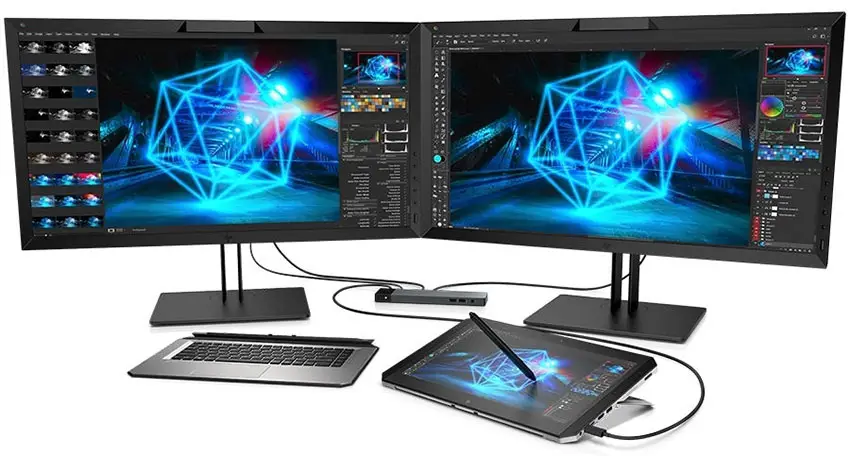 While HP has definitely designed the ZBook to look great on the outside, where the laptop truly shines is under the hood. The machine is equipped with quad-core processors powered by Intel, NVIDIA Quadro mobile workstation graphics, and boasts up to 512GB of internal NVMe Flash Storage alongside up to 32GB of DDR4 2133 RAM.
In terms of I/O, the latest ZBook includes a USB 3.0 Type A port, 2 Thunderbolt 3/USB 3.1 Type C ports, HDMI out, headphone jack, and an SD card reader. To add to the list, the computer also features dual 720p cameras (front and back) and several security features such as smart card support, fingerprint recognition, and facial recognition.
HP Zbook x2 Specifications
4K DreamColor 14″ 10-bit display with anti-glare & touch
NVIDIA Quadro GPU
Quad Core i7
Up to 32GB of DDR4 2133 RAM
Up to 512GB of internal NVMe Flash Storage
USB 3.0 Type A port, 2 Thunderbolt 3/USB 3.1 Type C ports, HDMI out, headphone jack, and an SD card reader
Facial recognition and fingerprint security.
Front and back dual 720p cameras
Price – starting at $1,749
Bluetooth enabled keyboard
Up to 10 hrs battery life
Availability: December 2017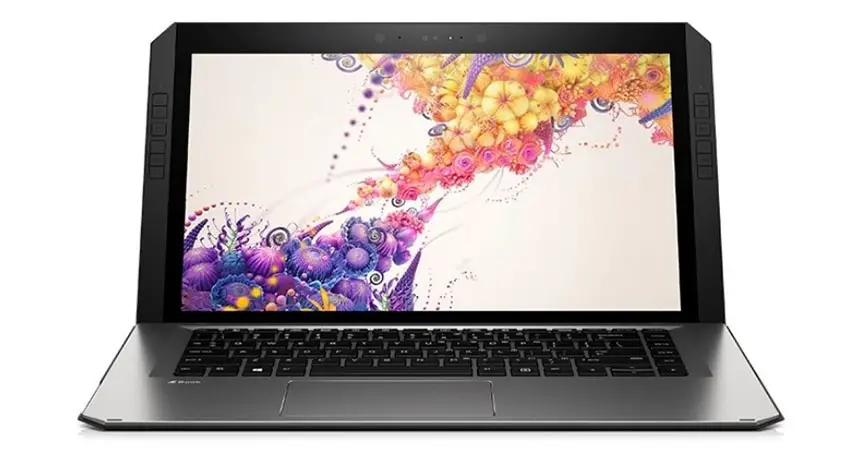 The detachable mobile workstation is slated for release this December starting at $1,749, varying in price depending on your configuration. If you're in the market for a new laptop hybrid for your demanding creative needs, make sure to add the HP ZBook x2 to your checklist.
[source: HP]
Claim your copy of DAVINCI RESOLVE - SIMPLIFIED COURSE with 50% off! Get Instant Access!