Blind Spot Gear are back on Kickstarter with their 7th campaign and this time around it's not an LED light – it's a Power Cage and Bracket dedicated for filmmakers.
You may know them from successful prior campaigns for their innovative and highly versatile Scorpion Light, followed by the Tile Light, and more recently the credit-card sized Crack Light. This time around, Blind Spot Gear have turned their attention to one of the most common problems we all face – powering our cameras and accessories with external batteries.
The new Power Cage and Bracket from Blind Spot Gear aims to forever solve the dreaded issue of mounting USB power banks to your mirrorless or DSLR rig, which often results in an unsightly and unergonomic contraption with wires and magic arms sticking out.
Some of you may also recall the Power Junkie, another versatile and super-compact power solution from Blind Spot Gear for compact cameras, action cameras and wireless solutions.
Traditional USB powered battery banks are not designed for use on cameras, filmmakers or photographers, hence why Blind Spot Gear have redesigned this concept and given us the Power Cage & Bracket.
By getting a 2 in 1 solution, you get a dedicated palm sized 10,000mAh (37Wh) battery that doubles as a handle, and an Arca-Swiss compatible aluminium mounting bracket that wraps underneath the camera, giving you a compact power solution with plenty of juice for an external audio recorder, a compact LED light and more. All you need is an USB-C compatible dummy battery for your camera (Canon LP-E6, Sony, Panasonic, Fujifilm etc.) and you can power your whole rig.
The Power Cage supports PD charging (USB Power Delivery), which means it can be charged in record time. You can get up to to 80% capacity in just 60 minutes, or about 40 minutes of filming (with a Fujifilm XT3 that was tested) in just 10 minutes. The Power Cage also comes with LED status indicators for 100%, 75%, 50%, and 25% capacity as well as Overload, and PD power delivery, giving you clear and easy to read status of the battery.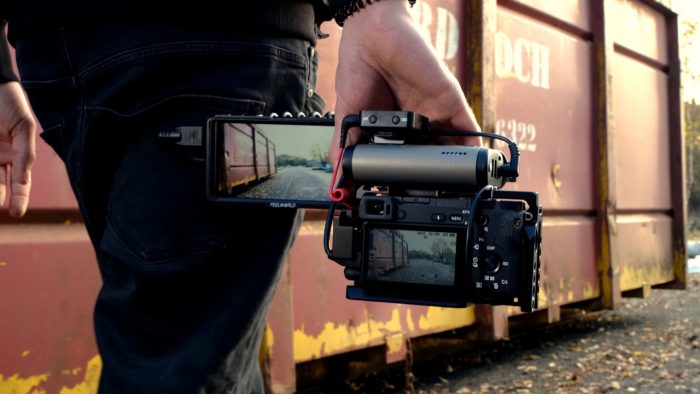 Thanks to its intuitive design, the Power Bracket allows you to mount your camera on any tripod using an Arca-Swiss mount, and the three lanyard points give you more stability when shooting handheld.
The numerous standard 1/4-inch mounting points on the Power Cage and the Bracket allow for different mounting configurations be it with an action camera like a GoPro, a mirrorless camera, a DSLR, or a smartphone.
Gear Power Cage & Bracket Tech Specifications:
Gear Power Cage:
Battery Cells: LG brand 21700 Lithium Ion
Capacity: 10,000mAh (37 Wh)
Weight: 320g
Dimensions: 12 x 7 x 3cm
Material: Aluminium Shell *CNC Machined
CHARGING:

Charging Type: USB-C
Charging time: 80% – 1 hour
Watts: 30w
Voltage:

5v at 3A/9V at 3A
12V at 2.5A/15V at 2A
20V at 1.5A

OUTPUT:

Max Output: 45W shared across all outputs
1 x USB-C: 30W total
DC Barrel: 6.0V-8.4V at 3.5A
Barrel Size: 5.5mm x 2.1mm
2 X USB-A: 3.1A (shared)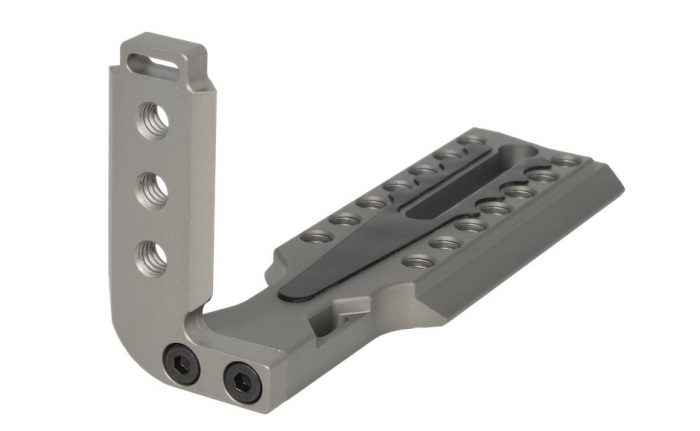 Power Bracket:
Weight: 70g/2.4oz.
Dimensions: 6 x 12 x 4cm
Materials: CNC Machined Aluminium
Nato Rail with 3 x 1/4 20-inch holes
Arca-Swiss Mount
3 x strap mounts
Early bird perks include 40% to 45% discounted pricing. The Early Bird price for the Power Cage is £89 (expected retail £120), and £99 for the Power Cage & Bracket Early Bird Bundle (expected to retail for £180).
First deliveries are estimated to start in June 2020. To pledge your support and get the early bird pricing head over to the Blind Spot Gear Power Cage & Bracket Kickstarter campaign.
Disclaimer: As an Amazon Associate partner and participant in B&H and Adorama Affiliate programmes, we earn a small comission from each purchase made through the affiliate links listed above at no additional cost to you.
Claim your copy of DAVINCI RESOLVE - SIMPLIFIED COURSE with 50% off! Get Instant Access!