In a somewhat unexpected and downright shocking announcement earlier in the week, electronics giant Sharp announced the release of the 8C-B60A 8K/60p professional camcorder boasting a world's first, integrating capabilities for video shooting and recording, playback, and line output of 8K/60p. Sharp have been showing off 8K TVs since NAB 2014, and are mainly known for making TVs and computer monitors, however they are surely jumping on the 8K acquisition bandwagon as early as possible. For their new 8K camcorder teamed up with Tokyo-based Astrodesign, Inc., a company specializing in possessing 8K image technologies.
The Sharp 8C-B60A features a Super 35 CMOS sensor with 33 million pixels and utilizes a Grass Valley codec that uses a coding method exerting minimal burden on the CPU, thus enabling efficient 8K editing. Users can expect around 40 minutes of continuous recording when using the bundled 2-TB SSD pack.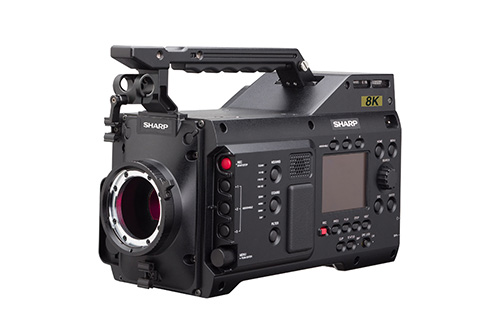 Because of its ability to output 8K uncompressed images at the same time that recording is taking place, the 8C-B60A can be used for live transmissions as well, and with the looming Tokyo 2020 Summer Olympics approaching, Sharp are clearly positioning this new camera as a potential acquisition device for broadcasters.
With this professional-use camcorder as the entry point to the creation of 8K images, Sharp is striving to disseminate 8K image content in its aim of establishing an 8K ecosystem at the earliest possible date.
Sharp 8K Super 35 Camcorder Features
World's 1st camcorder to record, playback, and output 8K/60p
Super 35 CMOS sensor with 33 million pixels.
10bit 4:2:2 and 10-bit recording of 8K/60p
PL lens mount
Supports HLG (Hybrid Log Gamma)
Built-in ND filters
Grass Valley codec with low burden on the CPU makes editing more efficient
Approximately 40 minutes of continuous recording with 2TB SSD pack
Real-time output of uncompressed 8K/60p images
Can transmit 8K/60p, while recording
Built-in SSD back slot for recording media
Price: approx $77,000 USD
Available: December 2017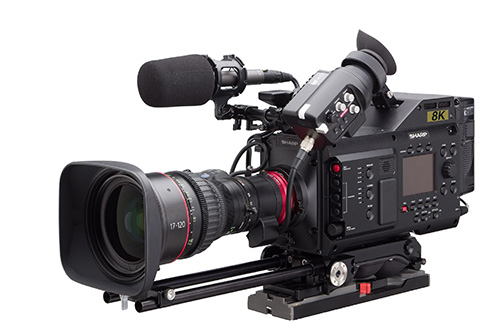 Sharp 8C-B60A 8K Camcorder Specifications
Super 35 mm CMOS sensor (approx. 33 million pixels)
Built-in neutral density filter: Clear, 1/4ND, 1/16ND, 1/64ND
Lens mount: PL mount
Electronic shutter:

1/24, 1/48, 1/50, 1/60, 1/100, 1/120, 1/240, 1/480, 1/960, 1/1920

Variable shutter: (1/24 sec. to 1/10000 sec.)
Frame frequency 23.98, 24, 25, 29.97, 30, 50, 59.94, 60 Hz
Gamma curve HLG

(dynamic range 400, 600, 800, 1000, 1200, 2000%)

Log gamma
Color gamut:
SDI output:
4K output and 8K output switchable

At the 4K output:quad-link 3G-SDI, 4:2:2
At the 8K output: quad-link 12G-SDI, 4:2:2

BNC×1

For HD WFM (with focus assist function)

1.5G-SDI 4:2:2 (Gamma HLG/Log Gamma compatible)
Analog audio input

AUDIO IN XLR type 3 pin (concave) × 2 (compatible with phantom power supply)

Mic input

MIC IN XLR type 5-pin (stereo) (concave) × 1 (compatible with phantom power supply)

Others I/O:
MADI audio input
TC IN / OUT
Genlock
lens remote/headphone output/speaker output/10 GbE (for file transfer)
Recording Section
SD card

SDHC × 1 (for proxy recording and firmware update)

Storage SSD pack (MM-210)
Duration Approx. 40 min. (when 2TB SSD pack used)
Video Codec
Grass Valley HQX Codec
Video compression rate 6 Gbps

(8K 60p: approx. 1/7 compression)

Audio format

Linear PCM 24-bit 48kHz 32 ch
General
Power supply:
Weight Approx.
External dimensions
W155 × H188 × D312 mm (not including protrusions)
Power consumption
Approx. 80W (non-recording)
Accessories
AC/DC adapter 130W 13V DC output AC/DC adapter XLR 4-pin (concave)
MM-210 SSD pack 2 TB x 1
User manual CD-ROM x 1
File transfer software CD-ROM: 10GbE (during Pear to pear network)
Data transfer software via transfer BOX
Compatible both Win and Mac
The 8C-B60A 8K professional camcorder will be on display at the Sharp booth at Inter BEE 2017 at the Makuhari Messe in Mihama, Chiba, Japan from November 15 to 17, 2017.
Besides highlighting an 8K professional camcorder developed with the technical cooperation of Astrodesign, the joint booth will have an AQUOS 8K 70V-inch 8K-compatible LCD TV for end consumers, medium- to large-sized 8K

professional monitors (in 27V-, 70V-, and 85V-inch sizes), as well as Astrodesign products for the creation of 8K content. With the booth showcasing all the products for taking, recording, editing, and displaying 8K content, as well as examples of the many uses of 8K in our lives, visitors will experience firsthand the 8K ecosystem that Sharp is aiming to establish.
With a price tag of over $77,000 USD (8.8M yen), the new 8K camcorder from Sharp looks to be more of an engineering exercise and a very niche broadcast product to compliment their new 8K AQUOS TV, than a long term plan for more cameras.
The competition in the 8K realm is getting traction spearheaded by more established players such as RED Digital Cinema, who have been pushing their 8K Weapon cameras (both in the VV Dragon versions and with the new 8K MONSTRO sensors) to high-end productions, and also Sony with their UHC-8300, which uses a more traditional 3-chip design that is more suited to broadcast compared to a single S35 imager.
Claim your copy of DAVINCI RESOLVE 16 - SIMPLIFIED COURSE with 50% off! Get Instant Access!