Canon have been making broadcast lenses for decades. As one of the big names in the broadcast lens manufacturing game, it makes sense for them to future-proof their lineup for the inevitable (gradual, but incoming) switch to UHD broadcast in the upcoming months/years. UHD broadcast adoption may be moving at a glacial pace for various reasons, most of all sitting with the inherent resistance of broadcasters, most of whom will need to upgrade their ageing (and very expensive) infrastructure, however, at least more and more market leading manufacturers are getting on board with the program.
Canon recently announced two new additions to the 4K/UHD broadcast lens lineup – the CJ45ex9.7B and CJ45ex13.6B – two new portable 4K 2/3" broadcast lenses with superior optical quality and lens build, fast zooming and focus, and improved image stabilization.
Canon is no stranger to compact UHD broadcast lenses, back in 2015 they announced the CJ12ex4.3B – an ultra-wide portable 4K broadcast lens for the 2/3″ market, and their latest two new models achieve the highest zoom ratio in their class, according to Canon. This makes the two new lenses perfect for broadcasting sport and musical events which require telephoto shooting. The CJ45ex13.6B also boasts the longest focal length in its class (13.6 – 612 mm; up to 1224mm with 2.0x extender), ideal for use in mid-size outside broadcast vans and surveillance applications.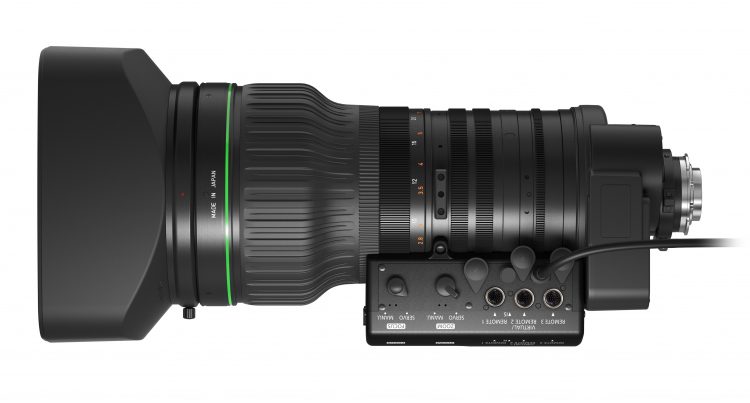 Highlights and Features
4K UHD Optical Performance
45x Zoom Ratio – Highest Zoom Ratio in their Class
Built-in Range Extender
High Dynamic Range (HDR) and Wide Color Gamut (WCG) Optimization
Full-featured Servo Drive Unit
Enhanced Image Stabilization
Fluorite and Ultra-low Dispersion (UD) glass
Compact, Lightweight Design
Outstanding 4K footage
The new CJ45ex9.7B and CJ45ex13.6B comprise the high performance required for use with 4K broadcast cameras, by utilizing Canon's proprietary optical design technology. Fluorite and Ultra-low Dispersion (UD) glass achieve high-quality 4K optics from the centre of the imaging field to the periphery across the entire zoom range, whilst innovations in the lens ensure high sharpness and best in class aberration control.
According to Canon, the new lenses are ideal for 4K HDR image capture in virtually any environment from close-ups to panoramic views of sports stadiums or concert venues. Both lenses are capable of achieving a 45x zoom ratio and focal length ranges of 9.7 mm to 437 mm and 13.6 mm to 612 mm, respectively.
A built-in 2x extender shifts the entire focal length range towards the telephoto end, increasing the maximum focal length at the telephoto end of the CJ45ex9.7B to 873 mm and the CJ45ex13.6B to 1224 mm to allow increased telephoto shooting.

Sophisticated stability
Exceptionally stable shooting is guaranteed, thanks to Canon's IS technology, which is capable of intelligently detecting and correcting camera movement. The refreshed IS control and IS structure excels even at higher frequencies of 10-15 Hz, such as when mounted on a vehicle. The unmatched IS quality optics of the lenses unlock stable telephoto shooting and images, which make them ideal for impressive close-ups in nature documentaries, or the live broadcasting of large-scale events.
Driving precision
The new drive units include a high-performance 16 bit absolute encoder that outputs extremely precise zoom, focus and iris position information. This data can then be outputted to a virtual system¹ enabling users to accurately combine computer-generated imagery with live video. The drive units' display function provides added convenience when performing various functions, such as user mode set up and access locking.
There is no official info on price, yet, but I won't expect them to cost less than 40 grand a piece. You can read more about these lenses on Canon's website here, and here.
Claim your copy of DAVINCI RESOLVE 16 - SIMPLIFIED COURSE with 50% off! Get Instant Access!