So you've bought a new Panasonic EVA1… Great for you and congrats on your purchase. Even though I have yet to shoot with the camera, from friends and good people on the Internet, I have seen and read very positive things about Panasonic's latest S35 4K camcorder. But as good as the camera is in terms of image quality, just like any other camera it requires "rigging" for certain shooting scenarios. Handheld shooting is very often required, jut like with similar style cameras like the Sony FS5 (and even the C300/C300 II), which also have a removable/re-positionable handgrips – users have to resort to third party accessories to get the camera's handgrip repositioned.
In the case of the C300 Mark II, Wooden Camera make one, and now they are releasing a handgrip relocator for the Panasonic AU-EVA1. The Panasonic EVA1 uses a proprietary lock mechanism for its handgrip, which means that the WC Handgrip Relocator allows for the original Panasonic handgrip to be attached to the more standard ARRI Rosette.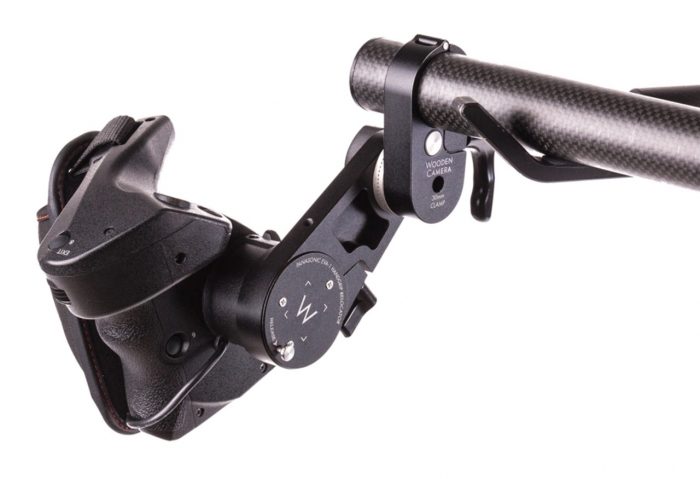 On a separate note, Panasonic are shipping EVA1's with a new re-worked rotation mechanism to prevent slippage, which affected earlier shipments, as reported from various early adopters.
The Wooden Camera Handgrip Relocator kit also includes a LANC extension cable plus cable wrap. This new accessory for the EVA1 works in tandem with the Rosette Bracket, and also other Wooden Camera accessories such as their 15mm Rod Clamp To ARRI Rosette, or 19mm Rod Clamp To ARRI Rosette. both priced at $85 USD and shipping.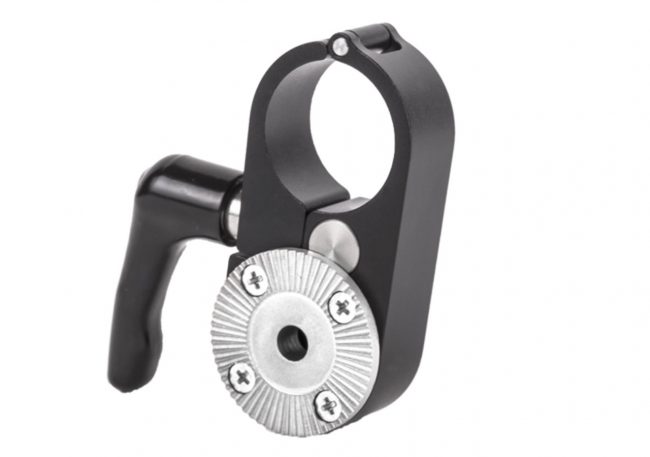 For those of you EVA1 owners planning on flying your camera on gimbals such as the MOVI or DJI Ronin/Ronin MX you can use the Gimbal ARRI Rosette V2(25mm, 1 Inch) for MOVI and Ronin M, and the Gimbal ARRI Rosette V2 (30mm) for the original Ronin and the Movi Pro ring.
See the EVA1 Handgrip Relocator together with the WC Shoulder Rig V2 in the handheld setup below: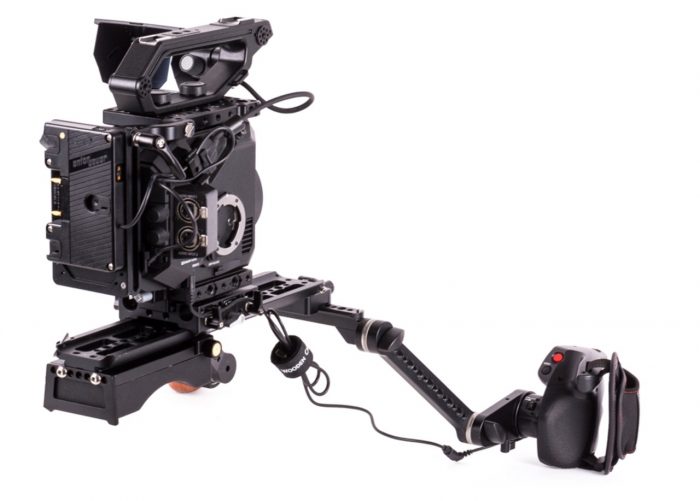 The Wooden Camera EVA1 Handgrip Relocator is now shipping and can be purchased directly from Wooden Camera for $195.
For more EVA1 accessories from Wooden Camera, including their unique PL Modification Kit you can check out my prior post here.
Claim your copy of DAVINCI RESOLVE - SIMPLIFIED COURSE with 50% off! Get Instant Access!