It's been quite a while since Zoom introduced their entry-level audio recorder H1. This week at CES 2018 in Las Vegas, the Japanese audio gear maker has finally unveiled the successor of arguably the most popular handy recorder of the last decade.
The brand new Zoom H1n comes with an improved design, a plethora of one-touch button controls alongside several new features that make its operation even more user-friendly and efficient than ever before. Just like its predecessor, the H1n sports the same small and compact form factor but adds a bunch of new noteworthy refinements that take user experience of capturing sound and sample audio to a whole new level.
Besides the all-new array of one-touch controls added on the front, the Zoom H1n also provides some handy new features such as auto-recording, pre-recording, self-timer, playback speed control, Voice Emphasize filter as well as a tone generator that makes syncing audio to video a breeze.
The advanced onboard limiter, on the other hand, allows you to capture the loudest bands distortion-free up to 120 dB SPL, while the low-cut filter helps improve dialog recordings by reducing pops, wind noise, and unwanted low-frequency rumble.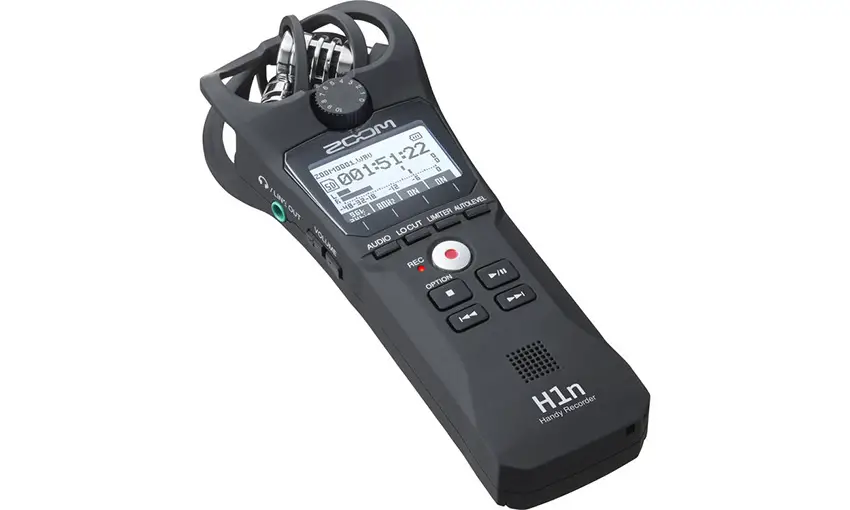 Meanwhile, the recorder supports audio resolutions up to 24-bit/96 kHz, in BWF-compliant WAV or a variety of MP3 formats and records audio to microSD or microSDHC flash memory cards, supporting capacities up to 32GB. It also has a stereo X/Y microphone configuration alongside a convenient 1/8″ mini phone jack mic/line input allowing you to connect lavalier microphones or other compatible audio devices.
There's also a USB 2.0 port on the H1n to easily transfer data to your computer, plus you can always use the handy recorder as a standalone audio interface in case you need to record audio signal directly to your favorite DAW. As opposed to the Zoom H1, the H1n model uses two AAA batteries that could give you up to ten hours of recording time on a single battery charge.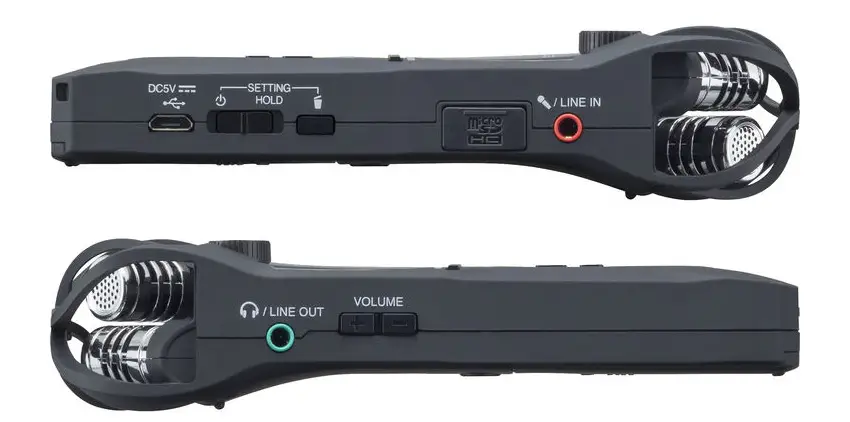 Zoom H1n Handy Audio Recorder Highlights
One-touch button controls
1.25" monochrome LCD display
Intuitive menus for easy operation
Stereo X/Y 90˚microphones handle up to 120 dB SPL
Stereo ⅛" Mic/Line In mini phone jack
Stereo ⅛" Phone/Line Output jack with dedicated
volume control
Limiter button for input signal up to 120 dB SPL
Playback Speed Control, Voice Emphasize Filter,
and Stereo Bounce functions
Auto-Record, Pre-Record, and Self-Timer functions
Supports up to 24-bit/96 kHz audio in BWF-compliant
WAV or a variety of MP3 formats
Tone generator for filmmaking use with DSLR
and video cameras
Records directly to SD and SDHC cards up to 32 GB
Micro USB port for data exchange to and from computer
and use as an audio interface
Runs on only 2 standard AAA alkaline, Lithium, or
NiMH rechargeable batteries, or AC adapter (AD-17)
Up to 10 hours of operation with alkaline batteries
Price: $119.99
Best of all, the Zoom H1n is already available to order retailing for $119.99.
[source: Zoom]
B&H Order Link:
Zoom H1n Digital Handy Recorder
Disclaimer: As an Amazon Associate partner and participant in B&H and Adorama Affiliate programmes, we earn a small comission from each purchase made through the affiliate links listed above at no additional cost to you.
Claim your copy of DAVINCI RESOLVE - SIMPLIFIED COURSE with 50% off! Get Instant Access!