Unless you prefer to shoot exclusively with an EVF, odds are you're going to need a proper field monitor allowing you to preview your images on a much bigger screen than the measly three-inch display placed on the back of your camera. For those who can afford the luxury, a 4K display would almost certainly be your best bet.
Thankfully, the budget-oriented monitor maker Lilliput has recently released an affordable 12.5-inch field monitor that aims to impress with its native UHD display and handy onboard features. Let's take a closer look and see what else the Lilliput A12 model has to offer for the price.
First and foremost, the unit boasts a 12.5″ LED-Backlit IPS display with a native resolution of 3840 x 2160, with 400 nits of brightness and 1500:1 contrast ratio allowing for precise evaluation of your content.
What's more, the A12 can handle up to four inputs via the four HDMI ports or the SDI IN/OUT port, enabling users to view all four streams using the built-in quad-view feature. In addition, there is also a DisplayPort input available as well that can accept 4K signal at up to 60 fps.
Other monitoring tools include focus peaking, false color, center and safe markers, image flip, image freeze, color temperature adjustment, and more. Unfortunately, there is no histogram, nor a waveform available in the A12's menu which could be a deal-breaker for some users, but you can still use these tools directly on your camera.
Lilliput A12 12.5″ 4K Monitor Highlights
12.5″ IPS LCD
3840 x 2160 Resolution
SDI, HDMI, and DisplayPort Inputs
UHD 4K Support via HDMI and DisplayPort
Brightness – 400 cd/m2
Contrast Ratio – 1500:1
178° Viewing Angle
Picture-in-Picture and Multiview
Built-In Focus and Exposure Tools
75mm VESA Mount
V-Mount Battery Plate
Price: $599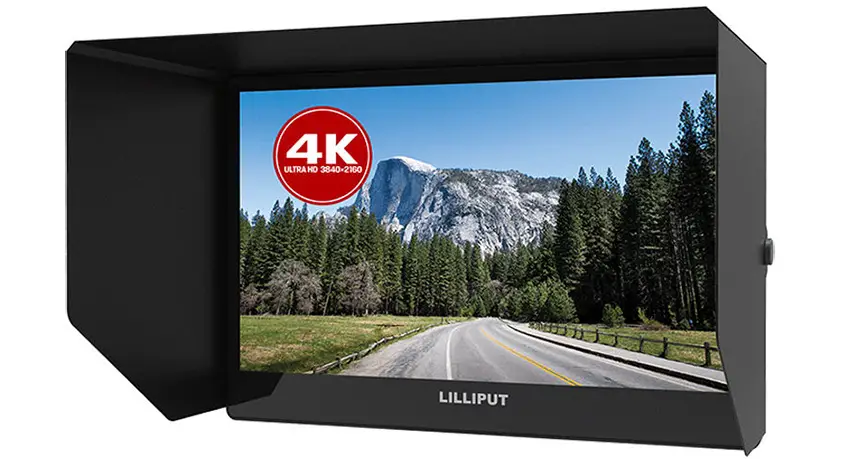 All in all, the newcomer outputs sharp, clean images thanks to its native 4K display resolution. Besides that, using the quad-view feature means that each stream is being outputted at full HD resolution, which makes it the perfect monitor for a wide variety of multi-cam productions.
Even though most opinions towards the Lilliput A12 are generally positive, there are a few downsides that should be considered as well. Firstly, while the display itself is incredibly sharp, it's covered by very glossy glass that is susceptible to reflections. It's also a fingerprint magnet, which makes maintaining the surface clean and fingerprint free a bit of a challenge.
Furthermore, the latency between the monitor and the camera signal is rather noticeable, which could be a serious downside, especially when it comes to applications that require accurate timing. Last but not least, the included 1/4" 20 screw mounts are a bit shallow, which may slightly strain the user's conscience when mounting the device to a camera or stand.
Rather than that, the Lilliput A12 is a fantastic budget oriented production monitor that is thin and lightweight enough to sit on top of your mirrorless camera or DSLR day in and day out. Along with the unit itself, you'll get an AC adapter, Sun Hood, HDMI to Mini-HDMI cable, D-Tap power cable, V-Mount plate as well as a ball mount.
You will need to supply your own Sony NP-F or other V-mount battery to power up the unit, though. A fully charged NP-F970 battery, for instance, should keep the device up and running for more than three and a half hours which is a decent runtime considering that it's a 12.5-inch UHD display.
[source: JRESHOW]
Order Links:
Lilliput A12 12.5″ 4K Production Monitor (B&H, Amazon)
Claim your copy of DAVINCI RESOLVE - SIMPLIFIED COURSE with 50% off! Get Instant Access!