At the ongoing 2018 Mobile World Congress, Sony showcased its latest smartphone dual camera technology that can shoot photos at a whopping ISO 51200 and videos at ISO 12800, a functionality currently only possible with interchangeable lens cameras.
In conjunction with the recently developed Fusion image signal processor, the new Sony's smartphone sensor allows image capture in extremely dark conditions as seen towards the end of the presentation in the video below. According to Sony, this breakthrough advancement will enable users to capture brighter images with less noise and less blur.
Apparently, that's the next evolutional step in Sony's smartphone camera development after the previously announced three-layer stacked CMOS image sensor with DRAM for smartphones.
As you may recall, last year it was touted as the industry's first three-layer stacked CMOS image sensor that's not only capable of shooting super slow motion videos at up to 1,000 frames per second in 1920 x 1080 resolution, but also offers fast data readout speeds, making it possible to capture still images of fast-moving subjects with minimal focal plane distortion.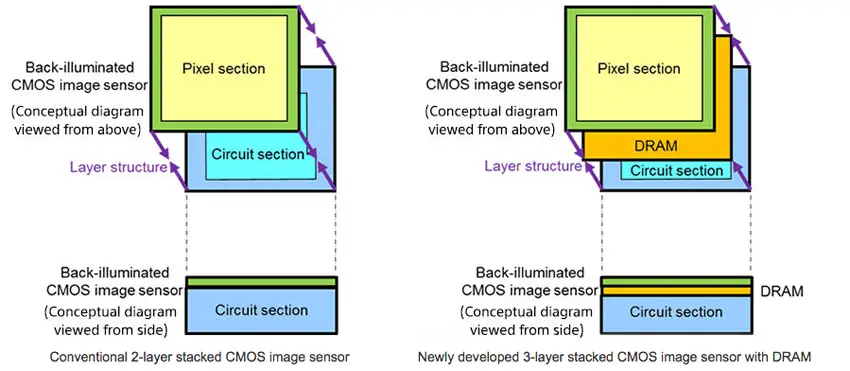 Now we've got another technological breakthrough, this time in terms of ultra-high sensitivity and unprecedented low-light performance, all packed in a smartphone. Instead of using the dual camera system for creating an artificial bokeh effect, the latest Sony Fusion image processor aims to fire both cameras simultaneously, allowing for a greater light intake hitting the sensor.
To put things into perspective, these are the results one may expect when pointing this camera in highly dimmed lighting conditions while shooting video at ISO 12800.
Currently, the system is only in the demonstration stage, and it's still unknown when this dual camera technology will be implemented on a Sony smartphone, but this doesn't make the announcement less exciting for all content creators out there who predominantly use pocket-sized devices to express their creative vision through moving images captured on the go.
[via: PetaPixel, source: Sony]
Disclaimer: As an Amazon Associate partner and participant in B&H and Adorama Affiliate programmes, we earn a small comission from each purchase made through the affiliate links listed above at no additional cost to you.
Claim your copy of DAVINCI RESOLVE - SIMPLIFIED COURSE with 50% off! Get Instant Access!