Among the noise, the big cameras, the fancy lenses, at a major trade show such as BVE 2018 in London, it's easy to miss out on innovative and interesting kit tucked away in some of the smaller stands towards at the show. Such as the case with the Padcaster, which was at the Raiveon stand, and I happened to just come across it by accident.
With smartphones and tablets becoming widely used in web video production for all sorts of purposes from ENG work to educational, companies are coming up with accessories and support systems that make it easier, especially for those who don't shoot video professionally to get professional results out of their tablets or smartphones.
Such is the case with the Padcaster – it is sort of a lightweight "rig", which transforms your iPad (or equivalent Android tablet) into an all-in-one mobile production studio that is rugged, elegant and versatile so you can create professional quality video content that inspires. With the included wide-angle lens, Padcaster shotgun microphone and dual mic/headphone cable, all you need is an iPad and your imagination. Use with your favourite apps to shoot, edit and upload video on the fly – or stream live right from the iPad.
Compatibility basically includes all current iPad models, except the biggest Pro variant. However, to ensure compatibility with your device be sure to read up on the Padcaster and specs via the links to their website below.
In addition, the Padcaster makes it possible to use an iPhone or an Android device and use it as a tele-prompter. Check out my interview with Kevin from Raiveon about the benefits and applications for the Padcaster and their upcoming Padcaster VERSE for iPhone.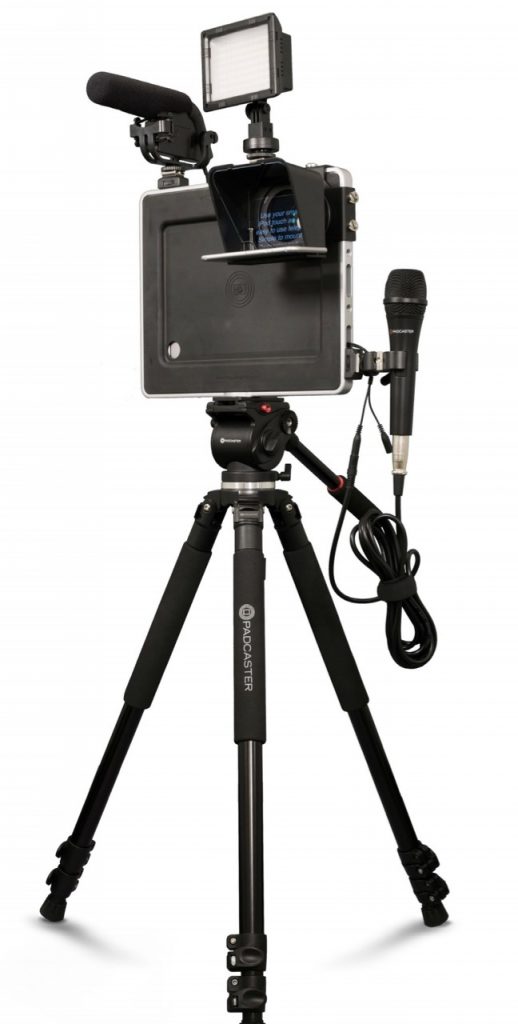 Padcaster Ultimate Studio is an all-in one solution (*minus the iPad/iPhone or Android tablet/phone) and includes a Padcaster with three types of microphones – the YT-1300 Shotgun mic, Padcaster Reporter Mic Kit and Padcaster Lavalier mic. Also included are the dual mic/headphone splitter, .45x wide angle lens, the rugged Padcaster VT-16 Tripod, XP-38 LED Light, a 5'x7' portable Green Screen with carry case, the Padcaster Mini Teleprompter and a padded Camera Backpack to store all of your gear.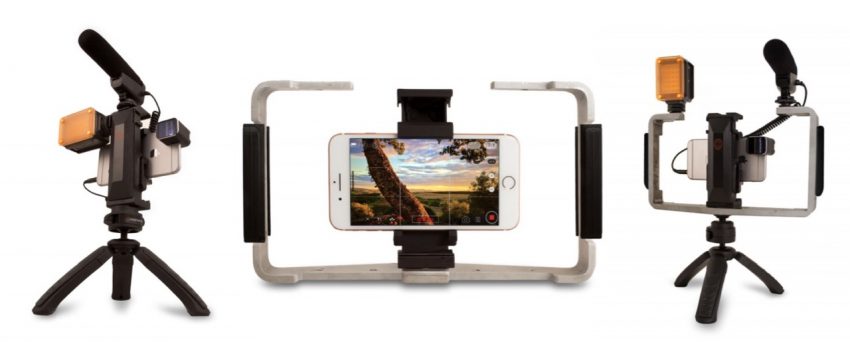 The Padcaster Verse is a similar, but a lot more portable solution, which has been designed to make it easier to film with smart phones. It includes multiple threaded holes for mounting accessories, as well as an innovative tripod stand, with a USB power bank built into one of the legs. Pricing on the Padcaster Verse has not yet been finalized. The Padcaster Studio is priced at around $999 or £999 + VAT in the UK.
To learn more head over to Padcaster.
Claim your copy of DAVINCI RESOLVE - SIMPLIFIED COURSE with 50% off! Get Instant Access!