Now that the Krontech team has successfully shipped the very first batch of their affordable Chronos 1.4 ultra high-speed camera, the company has recently released the initial incarnation of the RAW Camera data to DNG File tool to convert the sensor information files to usable Adobe DNG sequences. There's also a direct DNG saving option in the making that should become available with some of the future firmware updates of the camera.
Apparently, there are some notable improvements regarding resolution, color fidelity, and dynamic range of the Chronos 1.4 with the ability to capture ultra-high speed footage in uncompressed RAW format. This functionality takes the high-speed camera to a whole new level, especially when it comes to color-critical applications where the highest possible image quality is of vital importance.
The size of each RAW DNG frame is 2.5MB at full 1280×1024 resolution which means that a 1-second recording will be about 2.64GB at the full speed of 1057fps. The 12-bit DNG files also allow for better recovery of the available highlight and shadow information captured by the 1.3MP 2/3″CMOS  sensor thus providing ten stops of dynamic range, improved signal de-noising capabilities alongside significant quality retention.
Even though the image quality is decent when properly exposed while shooting in a compressed H.264 format, it does suffer from some aliasing and moire artifacts due to the high compression.
Chronos 1.4 High-Speed Camera Highlights
1280×1024 1057fps CMOS image sensor with 1.4Gpx/s throughput
Global shutter LUX1310 image sensor –  8.45 x 6.76mm, 6.6um pixel pitch
Electronic shutter from 1/fps down to 2us (1/500,000 s)
CS and C mount lens support
Focus peaking (focus assist) and zebra exposure indicator
ISO 320-5120 (Color), 740-11840 (Monochrome)
5″ touchscreen
Machined billet aluminum case
Record time 4s (8GB) or 8s (16GB)
Continuous operation on AC adapter
1.75h runtime on field-swappable EN-EL4a battery
Gigabit Ethernet – remote control and video download
Audio IO and internal microphone
HDMI video output
Two channel 1Msa/s waveform capture
Storage: SD card, two USB host ports (flash drives/hard drives), eSATA 3G
Trigger: TTL, switch closure, image change, sound, accelerometer
Low-noise variable speed fan
Price: $2,999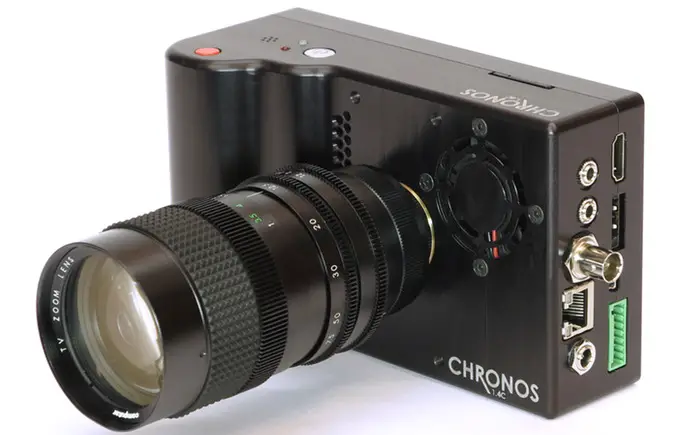 The Chronos 1.4 comes in both color and monochrome versions. The latter has a native monochrome sensor which results in twice the light sensitivity, and higher effective resolution due to the lack of color filters and the subsequent Bayer pattern demosaic algorithm.
Currently, the monochrome model is out of stock due to unexpectedly high demand and should be available by April 5th. Nevertheless, you can still order the color version of the Chronos 1.4 directly from Kron Technologies here. You can also download some DNG RAW samples captured with the camera using this link.
[source: Hi-Speed Cameras]
Claim your copy of DAVINCI RESOLVE - SIMPLIFIED COURSE with 50% off! Get Instant Access!