Blueshape were at BVE 2018 showing off their latest Granite Mini V-mount batteries and a really cool power accessory for compact cameras called the Blueshape Bubblepack. Back at BSC Expo last month we covered another battery maker – Hawkwoods, who have their own Mini V-mount batteries, which we covered in this post here, and it looks like the miniaturisation of serious battery power is kind of the thing to do nowadays. It is not only cameras that are shrinking in size these days, but also batteries, especially V-mount/Anton-Bauer type professional battery solutions, which quite often in the recent past have been predominantly bulky and heavy affairs.
The Granite Mini batteries are available in both V-mount and 3-stud (Anton Bauer style) and are quite compact in size, but pack a punch; they are available in either 95Wh or 140Wh capacities and have 2 x D-tap outputs, both of which can be used for charging. The GRANITE construction is robust, shockproof and also IP54 certified against dust and water. The Granite Mini's also feature enhanced contact protection for safer air transport and a 5-level LED gauge for capacity and status indication.
They are also available in either Granite or White colour and are priced around $425 for the 95Wh capacity, and alternatively $472 at B&H for the 140Wh version. You can find the Gold mount versions listed at B&H here.
While I was at the Blueshape booth I noticed a power-brick type of device called the Bubblepack. Apparently it has been out for a few years, but I wasn't aware of it. It is a universal power pack with a 65Wh capacity and multiple outputs for not only powering your camera, but also accessories such as LED lights, audio recorders etc.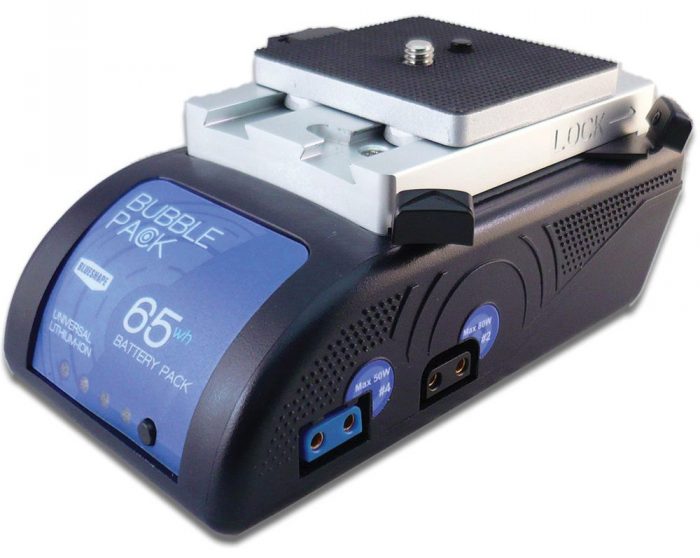 This looks like a neat power solution for those who have compact cameras that do not take V-mount/AB batteries, but need a long battery life for events and such. The power pack is mounted underneath the camera, which for some may not be ideal, but it can power something like a Panasonic GH5 for example for many hours continuously.
Check out my interview with Mario from Blueshape from the BVE 2018 show floor, in which he discusses the Granite Two, Granite Mini, the Granite Link Wi-Fi feature, as well as the Bubblepack universal power system.
Blueshape Bubblepack Specifications:
Nominal Voltage: 14.8V
Nominal Capacity: 4.4Ah, 65Wh
Output #1 & #2: 14.8V nominal (10.8V ~ 16.8V)
Output #3 & #4: regulated 8.4V or 11.1V, user selectable
Max. discharge load output #1, #2: max 80W
Max. discharge load output #3, #4: max 50W
Size: 139 x 76 x 46mm (5.47″ x 2.99″ x 1.81″)
Weight: 0.65Kg (1.43lbs)
Current Price: $367 at B&H
The Granite Two and Granite Mini batteries also offer the unique Granite LINK wi-fi feature, which enables camera assistants, or operators to monitor in real time the status of a battery from either an iOS or Android device remotely, which can be useful in multi-cam shoots for example.
This feature can be particularly useful to rental houses, who can use the app to limit the usage of any Granite Two or Mini battery they rent to just the period rented for, either a number of days or a certain amount of runtime. You can even lock the battery remotely to prevent unauthorised use.
Claim your copy of DAVINCI RESOLVE - SIMPLIFIED COURSE with 50% off! Get Instant Access!