Contemporary SSD technology continues to evolve at an incredibly fast pace as it doesn't seem to be slowing down anytime soon, especially when it comes to storage capacity expansion. Less than a month after Samsung announced their 30TB PM1643 SSD, the advanced flash memory maker Nimbus Data just rolled out its latest ExaDrive DC100, the largest capacity solid state drive ever produced.
The monstrous 100TB SSD not only provides 3x the capacity of the closest competitor but it's also optimized to maximize flash storage and efficiency by drawing 85% less power per terabyte. The world's largest SDD features the same 3.5″ form factor and SATA interface used by standard hard drives alongside convenient plug-and-play compatibility and extremely balanced performance.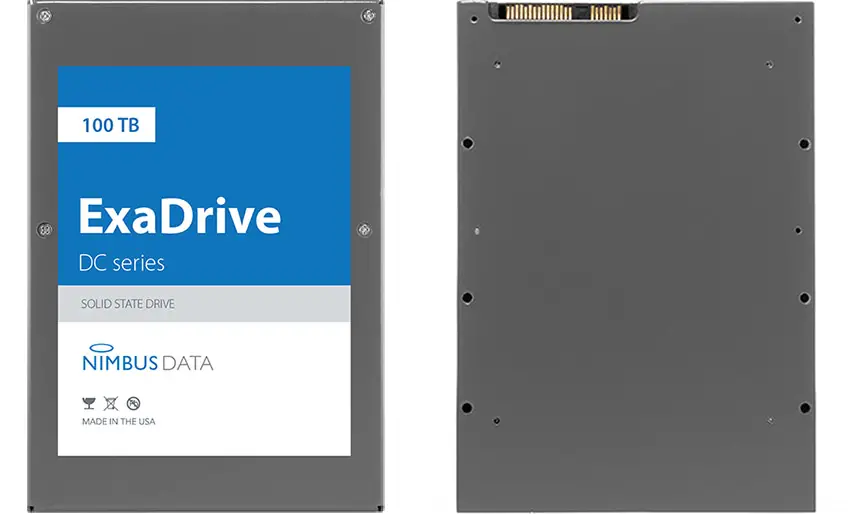 Obviously, 100TB is a massive storage capacity even by the standards of the most demanding creative professionals out there as one can store more than 200 hours of 4K ProRes 4444 footage on a single drive. Just imagine the volume of data you can handle with four or five of these.
Beyond that, the DC100 utilizes the latest 3D NAND technology and comes equipped with patent-pending multiprocessor architecture that allows the drive to achieves up to 100,000 IOps (read or write) and up to 500 MBps throughput. Each DC100 SSD is backed by a 5-year limited warranty whereas the embedded capacitors ensure that buffered data is safely protected if there is a sudden power loss. Additional encryption, multiple ECC processors, and secure-erase features provide extra protection to your data.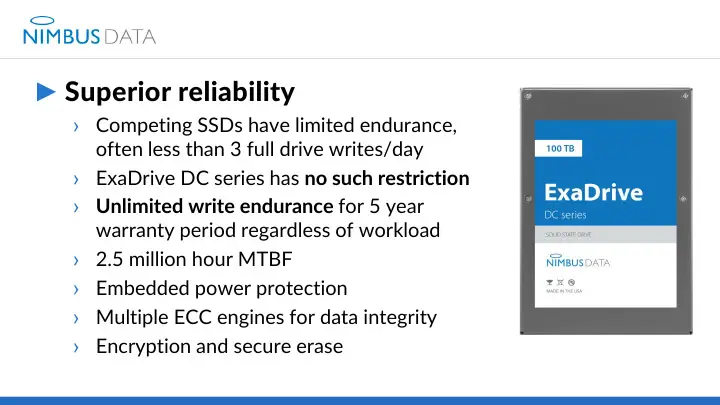 The ExaDrive DC100 should be available in Summer 2018 and will come in 100 TB and 50 TB models. The suggested retail price of the units hasn't been disclosed yet, but considering that it will be similar to existing enterprise SSDs on a per terabyte basis, don't expect to get your hands on one of these for just several thousand dollars.
[source: Nimbus Data]
Claim your copy of DAVINCI RESOLVE 16 - SIMPLIFIED COURSE with 50% off! Get Instant Access!