Convergent Design have been at the forefront of portable on-camera 4K recorders ever since the Odyssey7Q and later the Odyssey7Q+, which has become one of the most popular 4K raw recorders especially for cameras such as the Sony FS5 and FS7. Known for their extensive firmware updates, which constantly add new features and functionality, the latest 2018.03 firmware update is no different. The latest firmware adds support for the popular Samsung 860 Pro and 860 EVO solid state drives to the Apollo and Odysse7Q+/7Q/7 and those with the Apollo option.
Convergent Design's latest Apollo unit is a portable multi-camera recorder/switcher has been awaited by many professionals working in the broadcast world. Some of the main features of the Apollo are that it can simultaneously record up to 4 x Full HD video signals, along with a fifth channel of either a Live-Switch between the four or a Quad-Split reference view.
The Apollo can also function as a four-channel live switcher while simultaneously recording the four isolated HD video signals. Much like the 7Q/7Q+, the Apolpo sports the same beautiful 7.7-inch 1280 x 800 OLED touch screen and body design.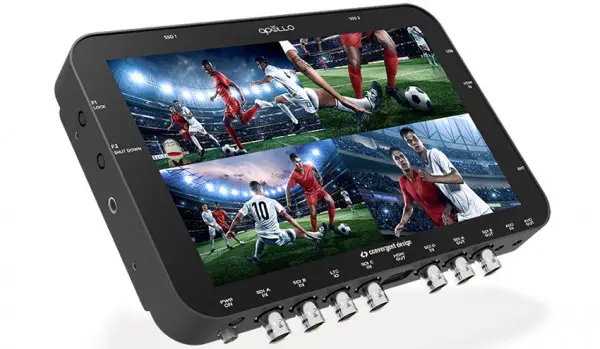 Convergent Design Firmware 2018.03 Details
For Apollo, Odyssey7Q/7Q+/7:
Added support for Samsung 860 PRO (512 GB, 1TB)
Added support for Samsung 860 EVO (1TB only)

Note: Samsung 850 PRO (128 GB, 256, 512, and 1TB) are supported

Samsung 850 EVO 1TB also supported
Fixes & Improvements in Firmware 2018.03
Apollo:
Fixed 2:3 Pulldown support
Fixed audio issue found in QT files and Telestream
Improved Dual 6G-SDI Support
Improved Source naming added to XML file
Odyssey Raw Bundle: 
Fixed rare Canon Raw to ProRes frame issue
Fixed rare Canon Raw to Random touches
Fixed rare ARRIRAW to Random touches
Improved Sony FS 2K Raw – 2K HD/ProRes
Improved Playback scrubbing for Raw
All Other Devices:
Fixed ProRes playback of interlaced recordings
Fixed Playback scrubbing artifacts in lower right corner
Fixed issues with CGI
Improved – Voltage display accuracy
Improved Playback quality with all ProRes files
Improved Detection of 4K 50/60p signals
Restore Defaults:

Is now automatically performed on power-up immediately after a firmware update (dialogue box appears) Please note settings before update and adjust accordingly after.
To get more familiar with the functionality of the Convergent Design Apollo, check out this informative tutorial prepared by the manufacturer:
To download firmware update 2018.03, which is free of charge, head over to Convergent Design's support page here.
Claim your copy of DAVINCI RESOLVE - SIMPLIFIED COURSE with 50% off! Get Instant Access!