Today we're quite spoiled when it comes to choice. Whether it be 4K, 5K, 6K, S35, Full-Frame and even bigger, cameras, codecs and corresponding lens options are more than abundant. Hell, if you want (and more importantly – if you can afford it) you can still shoot film. It kind of makes me wonder how much more innocent in a way the olden days were. Not that long ago you had a choice of – film or… film. Super 16mm if you were poor, and 35mm if you had deep pockets. Only film schools offered access to the required film cameras that were requisites to make a professional looking motion picture, and one had to go through the system – rising through the ranks in the camera department putting in many years of long ours before they even let you touch the camera.
If there is one thing lacking today, me thinks, is discipline. The discipline that gravitates towards sheer magic when I see DPs match shots from setup to setup with the confidence (and a simple and old light meter) that was once earned only after one has shot celluloid and had many sleepless nights before he or she reviews the dailies the next day… There were a few cameras to chose from – and you had to rent them – plus a couple of brands that made film stock, slap on a 45 year old Canon K35 lens, don't forget your light meter and off you go.
Today the world has changed and we have way too many cameras to keep track of. This is why a good man by the name of Zak Ray, a cinematographer and a colourist at Gray Hour Media has prepared a handy filmmaking app that can be used by DITs, ACs, DPs, and just about everyone in between to reference vital key parameters of the most widely used professional cameras on the market.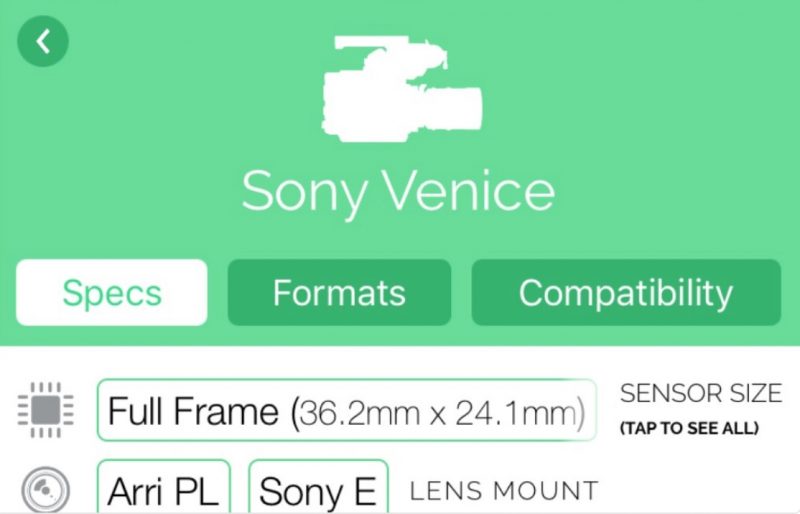 By combining an comprehensive reference guide not only for cameras, but also just about any codec and digital format known to man, you can calculate how much data you can fit on your card or how much hard drive space you'd need for backup.
Cameras + Formats offers some 70+ cameras from all major manufacturers including ARRI, RED, Canon, Sony, Blackmagic Design, Panasonic, and GoPro. The app also allows users to browse by format, from modern standards like Apple ProRes and DNxHD to older ones like MPEG-IMX and Betacam. See this link for a full list of supported cameras and formats.
Recently, the app received a free update, which added support for some of the latest cameras announced in the last six months as well as the new ProRes RAW format.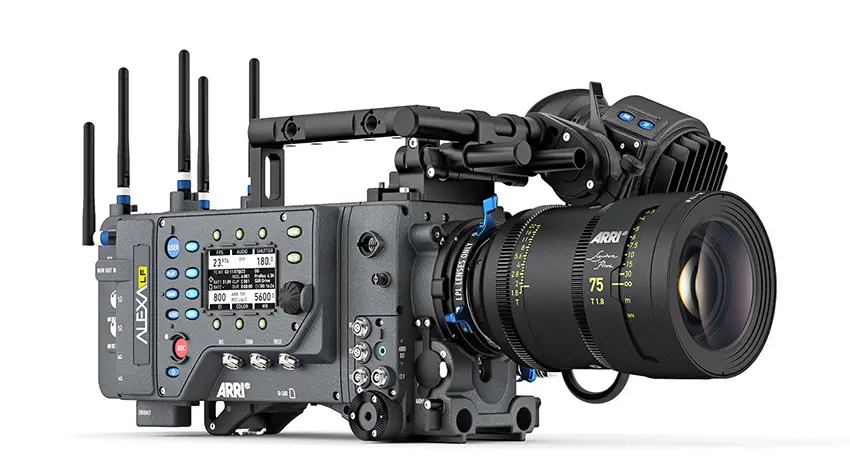 Cameras + Formats Update 3.1 New Additions: 
ARRI Alexa LF
DJI Drones both consumer and professional are now in the app under the "Other" tab.

The full list includes the Phantom 3, Phantom 4, Inspire 1 (X5 & X5R) and Inspire 2 (X4S, X5S, and X7).

Panasonic GH5s
Panavision Millenium DXL2
Red Epic-W (5K Gemini)
Sony a7R III
Sony VENICE 6K FF
ProRes Raw
This version also includes updates to the:

Sony FS7/FS7 II
Panasonic EVA-1
Panasonic Varicam LT, and Premiere Pro compatibility results.

It also fixes an issue that generated incorrect results in the calculator.
Sadly, there is no Android version (yet), as I really wanted to give this app a go. For those of you with iOS mobile devices you can head over to the iOS App Store and get Cameras + Formats for $9.99. You can also follow them on Twitter for the latest developments around the app.
Claim your copy of DAVINCI RESOLVE - SIMPLIFIED COURSE with 50% off! Get Instant Access!