Lexar, popular makers of flash memory solutions, that many thought had thrown in the towel (but were recently acquired by a Chinese company), recently announced a massive 512GB Lexar High-Performance 633x microSDXC™ UHS-I card meets the Application Performance Class 2 (A2) requirements from the latest SD Association's 6.0 specifications.
This card is the largest capacity A2 microSD card on the market, and is surely going to interest GoPro Hero7 Black owners or those flying drones that use the MicroSD card format. Or better yet, those of you who pre-ordered the RED Hydrogen One smartphone… Those of you, who attended the PhotoPlus Expo held at Javits Convention Center in New York City last week, may have spotted this card at the Lexar stand.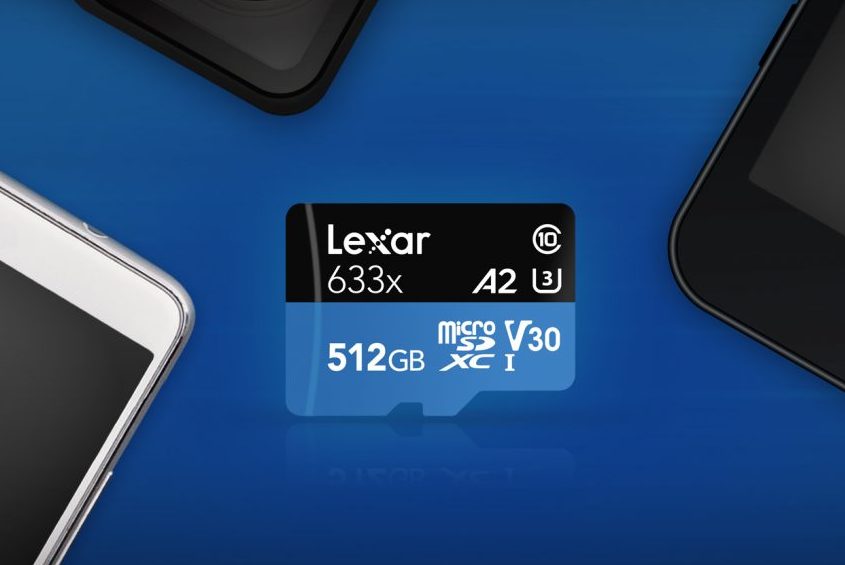 A2 allows app-intensive users to experience higher minimum random write speed of 2000 IOPS and minimum read speed of 4000 IOPS. This ensures blazing speed to run and store apps directly on the A2 memory cards using Android Adoptable storage enabled devices. A2 cards will be identified with the App Performance Class symbol making it easy to recognize and maximize the devices potential.
Lexar A2 633x MicroSD Cards Features
Premium memory solution for tablets, sports camcorders, and smartphones
Quickly captures, plays back, and transfers media files, including:
Transfer speed up to 100MB/s (633x)
Speed Class:

16GB – Class 10, UHS-I (U1)
32GB – Class 10, A1, UHS-I (U1), V10
64GB – Class 10, A1, UHS-I (U3), V30
128GB – Class 10, A1, UHS-I (U3), V30
256GB – Class 10, A1, UHS-I (U3), V30
512GB – Class 10, A2, UHS-I (U3), V30

Includes high-speed, Class 10 card and SD adapter
Limited lifetime warranty for card and one-year limited warranty for adapter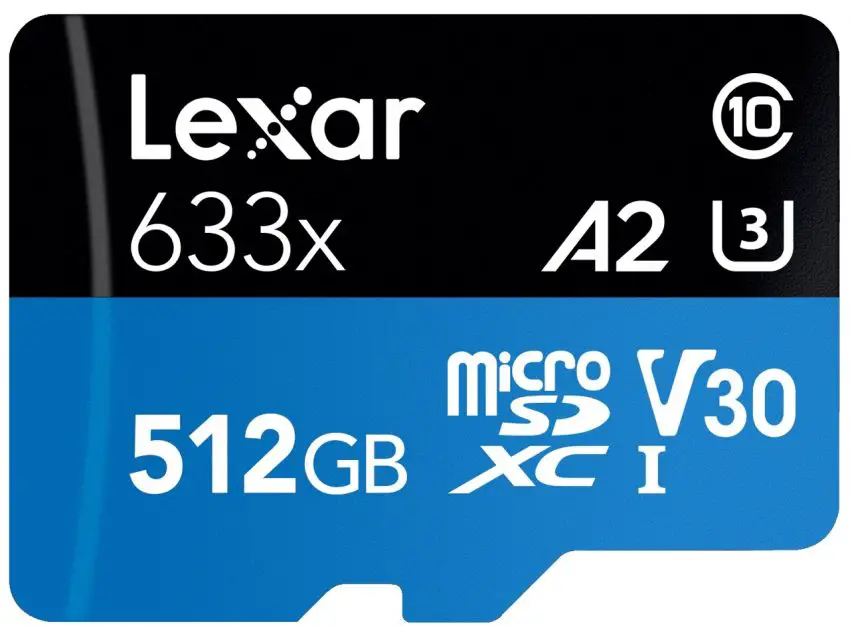 With 512GB, there will be ample room to store continuous memories. The High-Performance 633x microSD are speed rated at Class 10, and leverage UHS-I technology to deliver a transfer speed up to 100MB/s (633x), however these numbers are based on internal testing, and as we all know performance in the real world is going to be less, but fret not, these should suffice for 4K video recording.
"As smartphones integrate more and more into our busy lives, we're relying on them to do more than ever. Having the world's largest A2 microSD card will aptly meet the demands of even the most intense power user with its high-performance and high-storage capacities. We're proud to be part of the digital revolution in continuing to advance the trusted format," said Joel Boquiren, Director of Global Marketing.
The 512GB Lexar High-Performance 633x microSDXC UHS-I card is priced at $299.99 USD and will be available late-October from authorized dealers.
For more information and full specs head over to www.lexar.com
Claim your copy of DAVINCI RESOLVE - SIMPLIFIED COURSE with 50% off! Get Instant Access!