The RED Hydrogen One is easily one of the most awaited smart devices and even cameras of 2018! The new device has been dubbed "RED MEDIA MACHINE" by RED, who up until now have been busy revolutionising digital cinema acquisition technology and preaching high-res 4K+ capture for more than a decade, and a certainly a company all of you are familiar with, have been busy getting the HYDROGEN pre-orders out the door, and also prepping for the official launch in early November.
The Hydrogen smart phone is their first consumer-oriented device, and with it RED are entering a very crowded and tough marketplace. This is not to say that the pro camera arena is less competitive, far from it, however the scale of the consumer acquisition device market is far greater and it can easily make or break a company.
Despite some delays with the launch, as of now (correct me if I am wrong please) Nov 2nd is stated as the date when you can order the device – i.e. the official launch date. However, the good news, is that as of last week (October 18th), according to the official H4Vuser.net forum, Titanium and some Aluminium Hydrogen orders have started to ship to those brave souls, who pre-ordered the devices way back when they were announced a year ago (we posted about this here).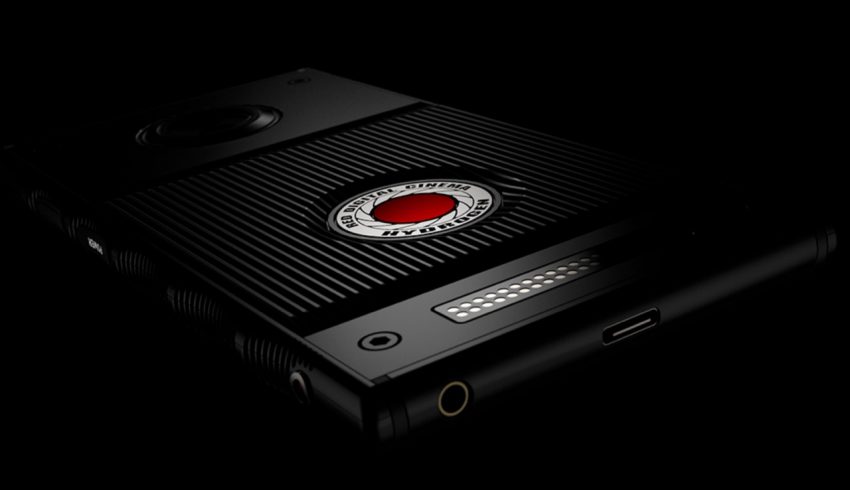 The Hydrogen comes with huge expectations, as with any new product carrying the massive RED logo. It would be an understatement for me to say that we are all expecting great things from the Hydrogen One. If there is one front it has to deliver on – it has to be the camera. Whether it is H4V, 3D, or 2D content – it has to beat everything in its class in order to be anything other than a very niche product. I am not an expert on smart phones, this is just my opinion speaking as a consumer, who will either buy an iOS device or the Hydrogen as my next smart phone depending on a few factors – mainly orbiting around stills and video quality.
Now, I'll go on record, that like some of you out there, I am solely interested in the Hydrogen from a 2D video/moving images acquisition perspective. Yes, the Hydrogen is supposed to have an out-of-this-world H4V (better-than-3D-without-glasses) screen for some truly immersive content, and without discounting and diminishing the value of such content, I just want to say that it is not for me. At least not now.
Maybe it's because I have yet to see what it's all about, or just me being a grumpy old man, who still believes moving pictures should be shot in 24 frames per second through a single lens cuz-thats-the-way-it-should-be… I don't know. Maybe, I'll change my mind once I experience this "revolutionary new technology", but until then, I am purely interested in what the back 2D camera (which can do 3840 x 2160 in 2D video according to the specs) on the Hydrogen can do for stills and video.
Luckily, Michael Cioni, who's been working in Hollywood for over 15 years in the colour grading world at top post-house Light Iron, and more recently being a Senior VP of Innovation at Panavision and also been tightly involved with the RED + Panavision collab called the DXL and more recently the DXL 2 8K camera, recently shared his experience with the RED Hydrogen.
At IBC 2018, Michael took a pre-pro/pre-release version of the Hydrogen for a spin around Amsterdam, captures some awesome photos and shared his experience using the phone as his primary camera during his trip.
Sadly, there are no video samples in the video above, but the stills camera performance is more than impressive and on-par if not better than the current iPhone offerings. RED is a high-end camera company, it makes sense for them to make a top-end smartphone with industry leading capture facilities. I hope they deliver, I really do. On the 2D front. For us, old geezers.
RED HYDROGEN ONE Updated Highlights
Runs on Android OS
Qualcomm Snapdragon 835x Processor
6GB of RAM
128GB storage on the Aluminium/256GB on the Titanium version
2560 x 1440 screen resolution in 2D mode
Dual 8MP front facing cameras

2D stills and video at 3840 x 2160
3D video at 1920 x 1080

Dual 12MP rear cameras

2D stills at 4056 x 3040
2D stills and video at 3840 x 2160
3D video at 1920 x 1080
3D stills at 3840 x 2160

Dual SIM slot / USB-C port
4500 mAh battery!
Headphone Jack (YES!)
Expandable storage via a Micro SD slot
Multi-component modular system (future upgrade)

via the RED pogo pin connectors

Immersive 5.1 Audio experience
Shoots 3D to 4V with a 2D proxy? (without an additional module)
View all traditional 2D content normally at full-screen resolution
View holographic RED Hydrogen 4-view content (H4V)
View stereo 3D content
View 2D/3D VR, AR and MR
Camera Modules planned
Price:

$1,195 Aluminium
$1,595 Titanium

Available to order November 2nd, 2018 (US – AT&T/Verizon, or direct)
RED also recently uploaded a few new videos to their Hydrogen dedicated YouTube channel, showcasing their smartphone's industrial design and insane audio features.
RED Hydrogen One: A3D Sound
RED Hydrogen One: Industrial Design & Modularity
Mark Toia also recently shot this Hydrogen commercial showcasing people's reactions to the H4V display of the Hydrogen:
As I am based in the UK, I find it increasingly difficult to find anyone who has either pre-ordered or even thinking of ordering the Hydrogen. I am due for an update to my ageing OnePlus 3T, which still does a good job as a daily driver, but I really want to either go back to iOS or jump on the RED Hydrogen bandwagon.
However, my choice is getting a bit difficult given the lack of info (or more accurately stated – clarity) on who will support the product outside the States; where I can buy it (in the UK) and all normal things associated with a smart phone purchase. I really don't want to go back to iOS – help me out guys – I have asked on Twitter to no avail – who in the UK has ordered either a TI or AL, received it (or will receive it soon) and is interested in sharing their experience?
Would I be able to get it on GiffGaff? Would any of the big telecoms in the UK support it?
Having to sift through the threads on H4Vuser.net is not helping at this point, and yes I have been on H4V.com, which has a decent FAQ section, but it only lists shipping costs and destinations if you buy direct from RED.
RED Hydrogen users – what are your thoughts so far? iPhone users looking to switch? Make yourselves known in the comments below.
For those who want to learn more – head over to the Hydrogen dedicated website – H4V.com.
Disclaimer: As an Amazon Associate partner and participant in B&H and Adorama Affiliate programmes, we earn a small comission from each purchase made through the affiliate links listed above at no additional cost to you.
Claim your copy of DAVINCI RESOLVE - SIMPLIFIED COURSE with 50% off! Get Instant Access!